Photo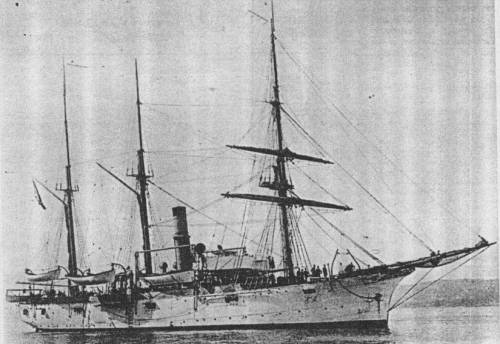 Ranger 1913
Ships
| No | Name | Yard No | Builder | Laid down | Launched | Comm | Fate |
| --- | --- | --- | --- | --- | --- | --- | --- |
|   | Alert |   | Roach, Chester | 9.1873 | 18.9.1874 | 28.5.1875 | submarine tender 1912 |
|   | Huron |   | Roach, Chester | 1873 | 1874 | 15.11.1875 | wrecked 24.11.1877 |
| PG23 | Ranger, 10.1917- Rockport, 2.1918- Nantucket | 146 | Harlan & Hollingsworth, Wilmington | 1873 | 1876 | 27.11.1876 | auxiliary 7.1921 |
Technical data
| | |
| --- | --- |
| Displacement normal, t | 1020 |
| Displacement full, t |   |
| Length, m | 53.3 pp |
| Breadth, m | 9.75 |
| Draught, m | 3.89 mean |
| No of shafts | 1 |
| Machinery | 1 HCRCR, 5 cylindrical boilers |
| Power, h. p. | 380 |
| Max speed, kts | 10 |
| Fuel, t | coal 130 |
| Endurance, nm(kts) |   |
| Armament | 1 x 1 - 279/15 Dahlgren SB, 2 x 1 - 229/15 Dahlgren SB, 1 x 1 - 135/21 60pdr Parrott RML |
| Complement | 148 |
Standard scale images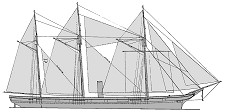 Huron 1875
Graphics
Project history
Classed as iron gunboats in the USN. Huron and Ranger were originally fore and aft rigged, but after the loss of Huron on the North Carolina coast, Ranger was given a barque-rig as Alert.
Modernizations
1880, Ranger: - 1 x 1 - 279/15, 2 x 1 - 229/15

1887, Alert: - 1 x 1 - 135/21; + 1 x 1 - 135/21 Parrott converted BL, 4 small guns
Naval service
Alert was converted to a submarine tender in 1911-12, while Ranger was a surveying ship 1880 to 1891 and from 1909 was mostly employed as a training ship for the State of Massachusetts. Ranger was loaned to the State of Massachusetts as TS for Massachusetts Nautical Training School in April 1909. She was twice renamed in 1917 and 1918, designated in 1920 as gunboat but in July 1921 reclassified as unclassified miscellaneous auxiliary and returned to the Massachusetts as a school ship. In November 1940 she was transferred to the Maritime Commission to be used as school ship at Merchant Marine Academy in New York, stricken that month, renamed Emery Rice in 1942 and finally scrapped in 1958.