Photo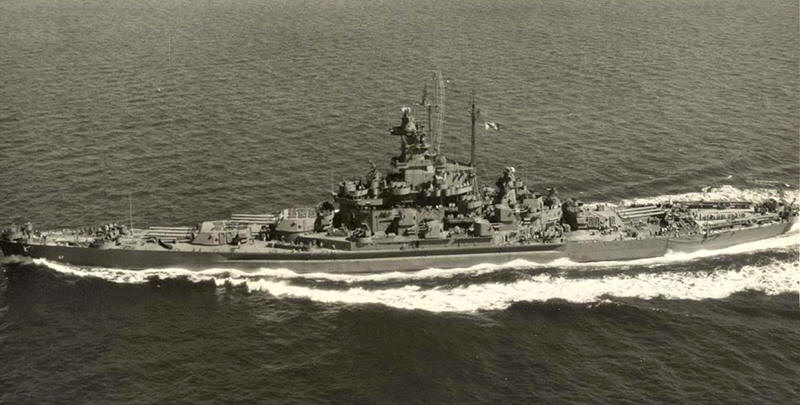 South Dakota off Puget Sound 21.8.1944
Ships
| No | Name | Yard No | Builder | Laid down | Launched | Comm | Fate |
| --- | --- | --- | --- | --- | --- | --- | --- |
| BB57 | South Dakota | 421 | New York SB, Camden | 5.7.1939 | 7.6.1941 | 20.3.1942 | stricken 6.1962 |
| BB58 | Indiana | 378 | Newport News | 20.11.1939 | 21.11.1941 | 30.4.1942 | stricken 6.1962 |
| BB59 | Massachusetts | 1478 | Bethlehem, Quincy | 20.7.1939 | 23.9.1941 | 12.5.1942 | stricken 6.1962, preserved |
| BB60 | Alabama |   | Norfolk N Yd, Portsmouth | 1.2.1940 | 16.2.1942 | 16.8.1942 | stricken 6.1962, preserved |
Technical data
Displacement standard, t

37970

Displacement full, t

44519

Length, m

203.0 wl 207.3 oa

Breadth, m

33.0

Draught, m

10.7 full load

No of shafts

4

Machinery

4 sets General Electric geared steam turbines, 8 Babcock & Wilcox boilers

Power, h. p.

130000

Max speed, kts

27.5

Fuel, t

oil 6959

Endurance, nm(kts)
15000 (15)
Armour, mm

belt: 310 on 22mm plating, lower belt: 310 - 25 on 22mm plating, deck: 146 - 152, upper deck: 38, splinter deck: 19, bulkheads: 287, barbettes: 287 - 439, turrets: 457 face, 184 crown, 241 sides, 305 rear, CT: 406 sides, 184 roof

Armament

BB57: 3 x 3 - 406/45 Mk 6, 8 x 2 - 127/38 Mk 12, 7 x 4 - 28/75 Mk 1, 16 x 1 - 20/70 Mk 4, 8 x 1 - 12.7/90, 2 catapults, 3 seaplanes (OS2U, SOC, SO3C)

BB58: 3 x 3 - 406/45 Mk 6, 10 x 2 - 127/38 Mk 12, 6 x 4 - 40/56 Mk 1.2, 16 x 1 - 20/70 Mk 4, 2 catapults, 3 seaplanes (OS2U, SOC, SO3C)

BB59: 3 x 3 - 406/45 Mk 6, 10 x 2 - 127/38 Mk 12, 6 x 4 - 40/56 Mk 1.2, 35 x 1 - 20/70 Mk 4, 2 catapults, 3 seaplanes (OS2U, SOC, SO3C)

BB60: 3 x 3 - 406/45 Mk 6, 10 x 2 - 127/38 Mk 12, 6 x 4 - 40/56 Mk 1.2, 22 x 1 - 20/70 Mk 4, 2 catapults, 3 seaplanes (OS2U, SOC, SO3C)

Electronic equipment

BB57: SC, SG, 2x Mk 3, 4x Mk 4 radars

BB58 - 60: SC, SG, 2x Mk 8, 4x Mk 4 radars

Complement

1793
Standard scale images

Alabama 1942

Alabama 1944

Massachusetts 1944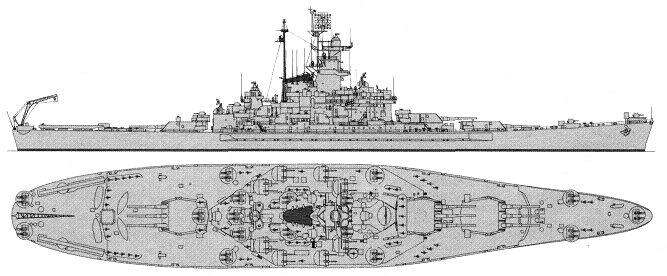 South Dakota 1945
Graphics
Project history
In design of FY1939 programme battleships (future South Dakota class), designers received a task to ensure protection against 406mm shells, correcting the basic lack of the previous North Carolina class. Thus it was required to be stowed in 35000t standard displacement, avoiding appreciable fall of speed. For decision of so complex task a challenge it was necessary to begin designing really from zero level, having borrowed only structure and the scheme of armament arrangement from previous design. Designing has begun in 1937. New hull form became much shorter at the same breadth. At the expense of more cramped machinery the total machinery spaces length was shortened by 17m, that, in turn, allowed to decrease protected spaces length. Though the thickness of the armour, in comparison with predecessors, has increased slightly, new armour distribution scheme ensured much better protection. Main belt (310mm armour on 19mm plating of STS steel) placed sloped under 19° angle outside deeply in the hull and was stretched down to the bottom, gradually tapering to 25mm and connecting with anti-torpedo bulkhead (It was supposed that new underwater protection will sustain explosion of a torpedo with a charge of 317kg TNT). The external side (19mm) thus fulfilled a role of the APC destroyer. Thickness and arrangement of armour decks differed from North Carolina class. As a whole the new scheme appeared more reliable, than on predecessors, and ensured immune zone under 406mm shells in the 90-150 cables interval (4 times more widely, than on North Carolina class). Short hull with smaller L/B ratio demanded installation of more powerful, than on North Carolina class, machinery, but speed has all the same fallen on half-knot.

It was originally supposed to order two ships (ВВ57 and ВВ58), having changed with ВВ59 to the new design (the future Iowa class), however in June, 1938 the decision to build two more 35000t battleships has followed, as design works on a fast battleship went more slowly, than it was expected.

The lead-ship (ВВ57) should become flagship and differed from remaining three by larger conning tower. Because of the increased upper weight number of 127mm mounts on her was shrunk to eight (partly it was indemnified by increase of 28mm MGs number).

28mm MGs, provided by the design, during fitting out were replaced by quadrupled 40mm Boforses, and 12.7mm MGs by 20mm Oerlikons.
Ship protection
113.4m-long inner belt, inclined at 19° to vertical, had 3.2m height and was 310mm thick (on 51mm cement layer and 22mm plating). 19°inclined lower belt was connected with main belt and tapered from 310mm at upper edge to 152mm 2.1m lower than it and then to 25mm at lower edge. Belt was connected with end barbettes by bulkheads. Thickness of fore bulkhead was 287mm, but at lower part of bulkhead it was decreased to 25mm (as lower belt). Aft bulkhead has 287mm thickness only on one level under main deck, its lower part was only 16mm thick but it was connected with steering gear belt. Steering gear compartment had 343mm 19°inclined belt and 287mm bulkhead expanded up to lower (splinter) deck. Flat main armour deck was connected with upper edge of belt and was 154 (near sides)-146mm (near center line) over citadel. One level higher there was 38mm upper deck. Its thickness was decreased to 25-19 mm fwd from No1 barbette. One level lower there was flat 19mm splinter deck. This deck extended aft from No3 barbette and was 157-121mm over steering gear belt. Main gun turrets had 457mm faces, 305mm sides, 300mm rears and 184mm crowns. Barbettes over main deck were 294mm at center line and 440mm at sides. They consisted from two rings (73mm outer and 37mm inner) under main deck. CT had 406mm sides, 373mm fwd and aft parts, 178mm roof and 102mm deck. 5.45m deep underwater protection consisted from 4 compartments and could resist exploding of 317kg TNT. Inner main and lower belts were used as 3rd longitudinal bulkhead.
Modernizations 10.
1942, South Dakota: - 2 x 4 - 28/75, 8 x 1 - 12.7/90; + 4 x 4 - 40/56 Mk 1.2, 20 x 1 - 20/70 Mk 4

11/1942, Indiana: + 4 x 4 - 40/56 Mk 1.2

12/1942, Massachusetts: + 4 x 4 - 40/56 Mk 1.2, 13 x 1 - 20/70 Mk 4

1943, all: - SC, 4x Mk 4 radars; + SG (2nd), SK, 4x Mk 12.22 radars

1/1943, Indiana: + 37 x 1 - 20/70 Mk 4

2/1943, South Dakota: - 5 x 4 - 28/75, 1 x 1 - 20/70; + 13 x 4 - 40/56 Mk 1.2

2/1943, Indiana: + 2 x 4 - 40/56 Mk 1.2

2/1943,Massachusetts: + 2 x 4 - 40/56 Mk 1.2, 13 x 1 - 20/70 Mk 4

2/1943, Alabama: + 4 x 4 - 40/56 Mk 1.2

5/1943, Alabama: + 38 x 1 - 20/70 Mk 4

9/1943, Massachusetts: - 18 x 1 - 20/70

11/1943, Alabama: + 2 x 4 - 40/56 Mk 1.2

12/1943, Indiana: + 7 x 1 - 20/70 Mk 4

1943, South Dakota: - 2x Mk 3 radars; + 2x Mk 8 radars

1944, all: + Mk 27 radar, TDY ECM suite

4/1944, Indiana: + 3 x 1 - 20/70 Mk 4

7/1944, Indiana: - 16 x 1 - 20/70; + 4 x 2 - 20/70 Mk 4

10/1944, Massachusetts: - 17 x 1 - 20/70; + 1 x 4 - 20/70 Mk 4, 1 x 2 - 20/70 Mk 4

12/1944, South Dakota: + 37 x 1 - 20/70 Mk 4

12/1944, Indiana: - 3 x 1 - 20/70

12/1944, Massachusetts: + 6 x 4 - 40/56 Mk 1.2, 6 x 1 - 20/70 Mk 4

12/1944, Alabama: - 8 x 1 - 20/70 Mk 4

3/1945, South Dakota: + 5 x 1 - 20/70 Mk 4

1945, South Dakota, Massachusetts: - SK, 2x Mk 8 radars; + SK-2, SR, 2x Mk 13 radars

1945, Indiana: - 2x Mk 8 radars; + SP, 2x Mk 13 radars

1945, Alabama: - SG, SK, 2x Mk 8 radars; + SK-2, SR, SU, 2x Mk 13 radars

summer 1945, Massachusetts: - 1 x 1 - 20/70

summer 1945, Alabama: + 4 x 1 - 20/70 Mk 4

1/1946, BB57 South Dakota: 3 x 3 - 406/45 Mk 6, 8 x 2 - 127/38 Mk 28, 17 x 4 - 40/60 Mk 2, 77 x 1 - 20/70 Mk 10, 2 catapults, 3 seaplanes, 2x SG, SK-2, SR, 2x Mk 13, 4x Mk 12.22, Mk 27 radars, TDY ECM suite

1/1946, BB58 Indiana: 3 x 3 - 406/45 Mk 6, 10 x 2 - 127/38 Mk 28, 12 x 4 - 40/60 Mk 2, 4 x 2 - 20/70 Mk 24, 44 x 1 - 20/70 Mk 10, 2 catapults, 3 seaplanes, 2x SG, SK, SP, 2x Mk 13, 4x Mk 12.22, Mk 27 radars, TDY ECM suite

1/1946, BB59 Massachusetts: 3 x 3 - 406/45 Mk 6, 10 x 2 - 127/38 Mk 28, 18 x 4 - 40/60 Mk 2, 1 x 4 - 20/70 Mk 15, 1 x 2 - 20/70 Mk 24, 31 x 1 - 20/70 Mk 10, 2 catapults, 3 seaplanes, 2x SG, SK-2, SR, 2x Mk 13, 4x Mk 12.22, Mk 27 radars, TDY ECM suite

1/1946, BB60 Alabama: 3 x 3 - 406/45 Mk 6, 10 x 2 - 127/38 Mk 28, 12 x 4 - 40/60 Mk 2, 56 x 1 - 20/70 Mk 10, 2 catapults, 3 seaplanes, SG, SK-2, SR, SU, 2x Mk 13, 4x Mk 12.22, Mk 27 radars, TDY ECM suite

1946-1948, South Dakota: - 77 x 1 - 20/70, 2 catapults, 3 seaplanes; + 16 x 2 - 20/70 Mk 24

1946-1948, Indiana: - 4 x 2 - 20/70, 44 x 1 - 20/70, 2 catapults, 3 seaplanes

1946-1948, Massachusetts: - 1 x 4 - 20/70, 1 x 2 - 20/70, 31 x 1 - 20/70, 2 catapults, 3 seaplanes

1946-1948, Alabama: - 56 x 1 - 20/70, 2 catapults, 3 seaplanes
Naval service
South Dakota 15.11.1942 was damaged by Japanese ships in battle at Guadalcanal and was under repair till February, 1943; 19.6.1944 she was damaged by Japanese aircraft again (1 bomb hit) and was re-commissioned in August, 1944.

1944

42