Photo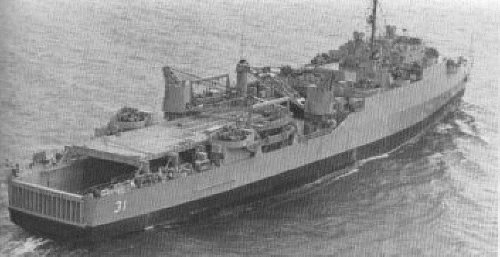 Point Defiance 1955
Ships
| No | Name | Yard No | Builder | Laid down | Launched | Comm | Fate |
| --- | --- | --- | --- | --- | --- | --- | --- |
| LSD28 | Thomaston | 584 | Ingalls, Pascagoula | 3.3.1953 | 9.2.1954 | 17.9.1954 | stricken 2.1992 |
| LSD29 | Plymouth Rock | 585 | Ingalls, Pascagoula | 4.5.1953 | 7.5.1954 | 29.11.1954 | stricken 2.1992 |
| LSD30 | Fort Snelling | 586 | Ingalls, Pascagoula | 17.8.1953 | 16.7.1954 | 24.1.1955 | stricken 2.1992 |
| LSD31 | Point Defiance | 587 | Ingalls, Pascagoula | 23.11.1953 | 28.9.1954 | 31.3.1955 | stricken 2.1992 |
| LSD32 | Spiegel Grove | 593 | Ingalls, Pascagoula | 7.9.1954 | 10.11.1955 | 8.6.1956 | stricken 12.1989 |
| LSD33 | Alamo | 594 | Ingalls, Pascagoula | 11.10.1954 | 20.1.1956 | 24.8.1956 | to Brazil 11.1990 (Rio de Janeiro) |
| LSD34 | Hermitage | 597 | Ingalls, Pascagoula | 11.4.1955 | 12.6.1956 | 14.12.1956 | to Brazil 10.1989 (Ceará) |
| LSD35 | Monticello | 598 | Ingalls, Pascagoula | 6.6.1955 | 10.8.1956 | 29.3.1957 | stricken 2.1992 |
Technical data
Displacement standard, t

6880

Displacement full, t

LSD28-31, 35: 11270

LSD32-34: 12150

Length, m

155.5

Breadth, m

25.6

Draught, m

5.80

No of shafts

2

Machinery

2 sets General Electric geared steam turbines, 2 Babcock & Wilcox boilers

Power, h. p.

24000

Max speed, kts

22.5

Fuel, t

oil

Endurance, nm(kts)

10000(20)

Armament

8 x 2 - 76/50 Mk 33, helicopter deck

Military load

341 troops, 21 LCM(6) or (3 LCU and 6 LCM) or 80 LVT

Electronic equipment

SPS-6, SPS-10, SPG-50, 2x Mk 35 radars

Complement

404
Standard scale images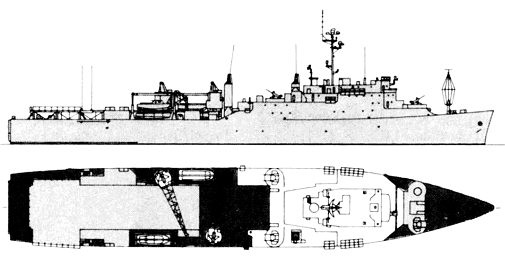 Thomaston 1990

Thomaston 1963

Thomaston 1979

Spiegel Grove 1968
Graphics
Project history
These postwar LSDs were intended to provide a heavy landing craft capacity within the 20kts amphibious force; actually they could make 24kts. Their hull form was more refined, their well decks had a greater depth of water, their machinery (as in an LPD) was located entirely below the well deck rather than in the side walls, and they had mezzanine and super-decks (both portable) for cargo stowage and for helicopter operation. The 119.2x14.6m well deck accommodates three LCU or nine LCM-8 or fifty LVT. The helicopter deck was removable and there were no maintenance facilities; two 50t cranes can reach down to a 975m² mezzanine (vehicle stowage) or the well deck. Bows were strengthened for ice navigation, and the last two units were air conditioned.

The Thomastons were part of a general revitalisation of the amphibious force in the 1950s, traceable to Korean war experience: four were built under the FY52 programme, two under FY54 and two under FY55.
Modernizations
1960s, all: - 2 x 2 - 76/50

1977, all: - 3 x 2 - 76/50, SPG-50, 2x Mk 35 radars; + LN-66 radar

1980s, Plymouth Rock, Fort Snelling, Point Defiance, Spiegel Grove, Alamo, Hermitage, Monticello: + 4x Mk 36 SRBOC decoy RL

1980s, Spiegel Grove, Alamo, Hermitage: + 2 x 6 - 20/76 Mk 15 Phalanx, 2x Mk 90 radars
Naval service
No significant events.