NAVYPEDIA Support the project with paypal
Photo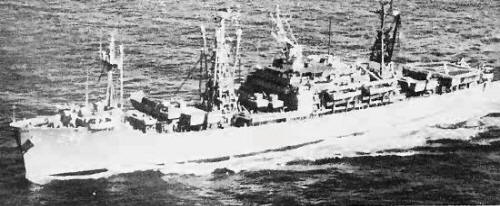 Paul Revere 1969
Ships
| No | Name | Yard No | Builder | Laid down | Launched | Comm | Fate |
| --- | --- | --- | --- | --- | --- | --- | --- |
| APA248, 1.1969- LPA248 | Paul Revere (ex-Diamond Mariner) | 493 | New York SB, Camden | 15.5.1952 | 11.4.1953 | 22.12.1953 // 3.9.1958 | stricken 1.1980, to Spain (Castilla) |
| APA249, 1.1969- LPA249 | Francis Marion (ex-Prairie Mariner) | 495 | New York SB, Camden | 1953 | 13.2.1954 | 25.5.1954 // 6.7.1961 | stricken 1.1980, to Spain (Aragón) |
Technical data
Displacement standard, t
10709
Displacement full, t
16838
Length, m

172.0

Breadth, m

23.2

Draught, m

7.90

No of shafts
1
Machinery

1 set De Laval geared steam turbines, 2 Foster Wheeler boilers

Power, h. p.
22000
Max speed, kts

22

Fuel, t

oil

Endurance, nm(kts)
10000(20)
Armament

4 x 2 - 76/50 Mk 33, helicopter deck

Military load
1657 troops, 1900 t of cargo, 7 LCM(6), 12 LCVP, 3 LCP(L)
Electronic equipment

APA248: SPS-12, SPS-10, 4x Mk 34 radars, WLR-1, ULQ-6 ECM suites

APA249: SPS-40, SPS-10, 4x Mk 34 radars, WLR-1, ULQ-6 ECM suites

Complement
307
Standard scale images

Paul Revere 1963
Graphics
Project history
Paul Revere, Francis Marion and Tulare, the only new AKA and APA construction of the 1950s, were conversions of 'Mariner' cargo hulls (C4-S-1A). Of thirty-five 'Mariners' built, the Navy acquired five in all, the other two being the Polaris missile firing ship Observation Island and the navigational test ship Compass Island, both associated with the Polaris programme. The two attack (personnel) transports were fitted as amphibious squadron flagships or as troop commander or transport division flagships; they could handle landing craft and heavy vehicles with 10t, 30t and 60t cargo booms. In an early example of adaptation to helicopter operation, their helicopter decks were served by cargo elevators. In fact they were the last conventional attack personnel transports, as the transport function was next taken over by a combination of LPH (helicopter carriers) and LPD (landing ship docks with additional troop spaces). They could accommodate 1500 troops each.

Tulare was designed primarily for cargo, although she could carry 575 troops (and 500 vehicles), handling up to twenty-seven landing craft with heavy-lift (60t) booms rigged from her quadruped masts. Like the APAs, she had a helicopter platform.
Modernizations
1977-1978, both: - 4x Mk 34 radars; + LN-66 radar
Naval service
No significant events.
© 2007-2022 - navypedia.org