NAVYPEDIA Support the project with paypal
Photo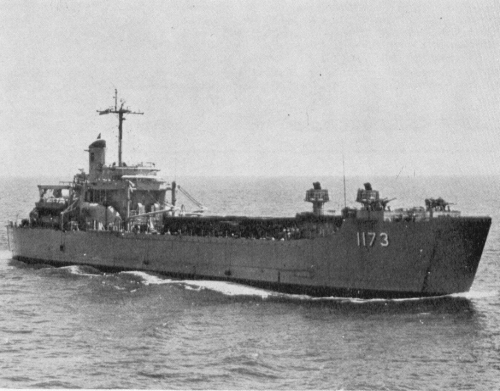 Suffolk County 1971
Ships
| No | Name | Yard No | Builder | Laid down | Launched | Comm | Fate |
| --- | --- | --- | --- | --- | --- | --- | --- |
| LST1171 | De Soto County | 788 | Avondale, New Orleans | 15.9.1956 | 28.2.1957 | 10.6.1958 | to Italy 7.1972 (Grado) |
| LST1173 | Suffolk County |   | Boston N Yd, Charlestown | 15.7.1955 | 5.9.1956 | 15.8.1957 | to MARAD 4.1992 |
| LST1174 | Grant County | 789 | Avondale, New Orleans | 15.3.1956 | 12.10.1956 | 17.12.1957 | to Brazil 1.1973 (Duque de Caxias) |
| LST1175 | York County | 516 | Newport News | 4.6.1956 | 5.3.1957 | 8.11.1957 | to Italy 7.1972 (Caorle) |
| LST1176 | Graham County | 517 | Newport News | 4.2.1957 | 9.9.1957 | 17.4.1958 | patrol craft tender 1972 |
| LST1177 | Lorain County | 872 | American SB, Lorain | 9.8.1956 | 22.6.1957 | 3.10.1958 | to MARAD 12.1994 |
| LST1178 | Wood County | 873 | American SB, Lorain | 1.10.1956 | 14.12.1957 | 5.8.1959 | stricken 2.1989 |
Technical data
Displacement standard, t
3859
Displacement full, t
7854
Length, m

129.9 wl 134.8 oa

Breadth, m

18.9

Draught, m

4.10

No of shafts
2
Machinery

LST1171, 1174-1178: 6 Cooper Bessemer diesels

LST1173: 6 Fairbank Morse diesels

Power, h. p.
15000
Max speed, kts

17.2

Fuel, t

diesel oil

Endurance, nm(kts)
 
Armament

3 x 2 - 76/50 Mk 33, helicopter deck

Military load
23 tanks or 2000t of cargo, 634 marines, 4 LCVP
Electronic equipment
SPS-35, 2x Mk 34 radars
Complement
185
Standard scale images

Suffolk County 1963
Suffolk County 1979

York County 1960
Graphics
Project history
These SCB-119 LSTs of FY54 (prototype) and FY55 showed little speed improvement over their predecessors (17kts at more than double the power) but were designed for better sea keeping, and in particular for less pounding at high sustained speed. They were fully air conditioned, and two of them could carry as many troops as an APA plus an AKA, as well as more vehicles. They were designed to carry four landing craft in davits, a 53.4m pontoon causeway on the side, and two powered pontoon barges and an LCU as deck cargo for side-launching. In addition, they could accept up to five helicopters landing on deck. LST1172 was cancelled in 1955.

Even at 17kts, these ships could not operate effectively with the 20kt amphibious force, and they were discarded with the advent of the fast Newport class LSTs.
Modernizations
None.
Naval service
No significant events.
© 2007-2022 - navypedia.org