NAVYPEDIA Support the project with paypal
Photo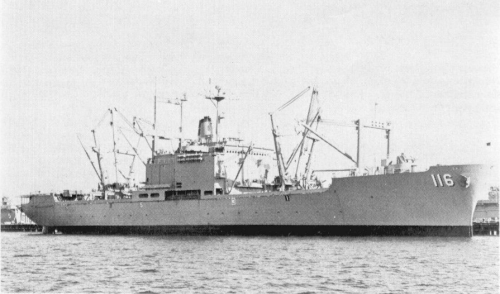 St. Louis 1980
Ships
| No | Name | Yard No | Builder | Laid down | Launched | Comm | Fate |
| --- | --- | --- | --- | --- | --- | --- | --- |
| AKA113, 1.1969- LKA113 | Charleston | 583 | Newport News SB&DD | 5.12.1966 | 2.12.1967 | 14.12.1968 | stricken 8.2015 |
| LKA114 | Durham | 584 | Newport News SB&DD | 10.7.1967 | 29.3.1968 | 24.5.1969 | stricken 8.2015 |
| LKA115 | Mobile | 585 | Newport News SB&DD | 15.1.1968 | 19.10.1968 | 29.9.1969 | stricken 8.2015 |
| LKA116 | St. Louis | 586 | Newport News SB&DD | 3.4.1968 | 4.1.1969 | 22.11.1969 | stricken 8.2015 |
| LKA117 | El Paso | 592 | Newport News SB&DD | 22.10.1968 | 17.5.1969 | 17.1.1970 | stricken 8.2015 |
Technical data
| | |
| --- | --- |
| Displacement standard, t |   |
| Displacement full, t | 20700 |
| Length, m | 175.5 |
| Breadth, m | 25.0 |
| Draught, m | 7.80 |
| No of shafts | 1 |
| Machinery | 1 set Westinghouse geared steam turbines, 2 Combustion Engineering boilers |
| Power, h. p. | 22000 |
| Max speed, kts | 20 |
| Fuel, t | oil |
| Endurance, nm(kts) | 9600(16) |
| Armament | 4 x 2 - 76/50 Mk 33, helicopter deck |
| Military load | 226 troops, 5280 t of cargo, 4 LCM(8), 2 LCPL |
| Electronic equipment | SPS-10F, 2x Mk 34 radars |
| Complement | 334 |
Standard scale images

Charleston 2000

Charleston 1990

Charleston 1979
Graphics
Project history
The first assault cargo ships specifically designed for the role, these ships were built under the FY65 (four units) and FY66 programme. They are considerably larger than the 'Mariner' and 'Victory' class conversions they succeed. Designations were changed from AKA to LKA in January 1969. They carry nine LCM as deck cargo, launching them with two 78t capacity booms; there are also two 40t and eight 15t cranes. There is a helicopter pad aft, but no hangar. They carry 226 troops.
Modernizations
1977-1978, all: - 1 x 2 - 76/50, 2x Mk 34 radars; + LN-66 radar

1990-1992, all: + 2 x 6 - 20/76 Mk 15 Phalanx, SPS-67, 2x Mk 90 radars, SLQ-32(v)1 ECM, 4x Mk 36 SRBOC decoy RL
Naval service
No significant events.
© 2007-2022 - navypedia.org