Photo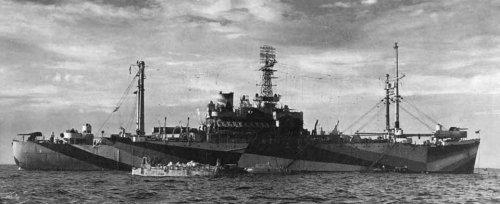 Rocky Mount 1944
Ships
| No | Name | Yard No | Builder | Laid down | Launched | Comm | Fate |
| --- | --- | --- | --- | --- | --- | --- | --- |
| AGC1 | Appalachian | 242 | Federal, Kearny // Todd, Brooklyn | 11.1942 | 29.1.1943 | 10.1943 | stricken 3.1959 |
| AGC2 | Blue Ridge | 243 | Federal, Kearny // Bethlehem, Brooklyn | 12/1942 | 7.3.1943 | 9.1943 | stricken 1.1960 |
| AGC3 | Rocky Mount | 244 | Federal, Kearny // Bethlehem, Hoboken | 12.1942 | 7.3.1943 | 10.1943 | stricken 7.1960 |
| AGC5 | Catoctin (ex-Mary Whitridge) | 231 | Moore, Oakland // Philadelphia N Yd | 1942 | 23.1.1943 | 1.1944 | stricken 12.1959 |
Technical data
Displacement standard, t

8700

Displacement full, t

13910

Length, m

132.6 wl 140.0 a

Breadth, m

19.2

Draught, m

7.32 full load

No of shafts

1

Machinery

AGC1, 2: 1 set General Electric geared steam turbines, 2 Combustion Engineering boilers

AGC3: 1 set De Laval geared steam turbines, 2 Combustion Engineering boilers

AGC5: 1 set General Electric geared steam turbines, 2 Foster Wheeler boilers

Power, h. p.

6600

Max speed, kts

17

Fuel, t

oil 3305

Endurance, nm(kts)

48460(15)

Armament

2 x 1 - 127/38 Mk 12, 4 x 2 - 40/56 Mk 1.2, 14 x 1 - 20/70 Mk 4

Military load

2 LCVP, 4 LCPL, 2 LCPR, 2 LCC, 165 persons of HQ

Electronic equipment

presumably SA or SC or SR, SG or SU, SK, SM or SP radars

Complement

875
Standard scale images

Rocky Mount 1944

Blue Ridge 1955
Graphics
Project history
Amphibious command ships (sometimes were called also as command ships) were equipped with a wide set of a communication facility and landing commander operated all the kinds of forces from these ships: from fire support ships till fighter aviation. Majority of AGCs was built in hulls of standard transports of C2 type, except for converted in 1944 six Treasury class Coast Guard cutters and small seaplane tender Biscayne, converted in 1943. Appalachian class ships were converted from C2-S-B1 hulls.
Modernizations
None.

1/1946, all: 2 x 1 - 127/38 Mk 30, 4 x 2 - 40/60 Mk 1, 14 x 1 - 20/70 Mk 10, SA or SC or SR, SG or SU, SK, SM or SP radars
Naval service
Catoctin was damaged by German aircraft at Southern coast of France 18.8.1944.