NAVYPEDIA Support the project with paypal
Photo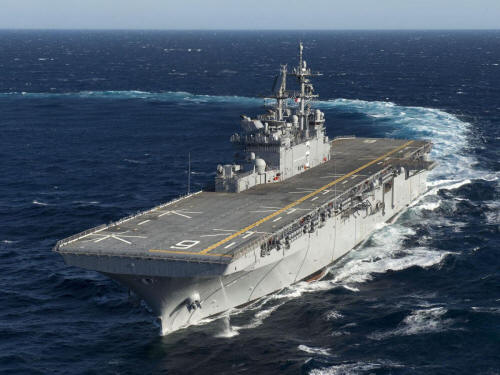 America 2014
Ships
| No | Name | Yard No | Builder | Laid down | Launched | Comm | Fate |
| --- | --- | --- | --- | --- | --- | --- | --- |
| LHA6 | America | 7306 | Huntington Ingalls, Pascagoula | 27.4.2009 | 4.6.2012 | 11.10.2014 | in service (2019) |
| LHA7 | Tripoli | 7307 | Huntington Ingalls, Pascagoula | 5.3.2014 | 1.5.2017 | 2019 | building (2019) |
| LHA8 | Bougainville | 7308 | Huntington Ingalls, Pascagoula | 2018 | 2022 | 2024 | building (2019) |
Technical data
| | |
| --- | --- |
| Displacement standard, t | 34000 |
| Displacement full, t | 45700 |
| Length, m | 237.00 pp 257.4 oa |
| Breadth, m | 32.3 wl 45.7 fd |
| Draught, m | 8.00 |
| No of shafts | 2 |
| Machinery | 2 General Electric LM-2500 gas turbines / 6 Fairbanks-Morse diesel-generators, 2 electric motors |
| Power, h. p. | 70000 / 10000 |
| Max speed, kts | 22 |
| Fuel, t | gas turbine/diesel oil |
| Endurance, nm(kts) | 9500(20) |
| Armament | 2 x 8 ESSM SAM (16 RIM-162), 2 x 21 RAM SAM (42 RIM-116), 3 x 1 - 25/75 Mk 38, 2 x 6 - 20/76 Mk 15 Block 1B, 8 x 1 - 12.7/90, 24 aircraft ((20 F-35B fighters, 6 MH-60 helicopters) or (12 MV-22, 4 UH-1Y, 4 AH-1Z) or (6 F-35B fighters, 4 CH-53K helicopters) |
| Military load | 1687 troops, vehicles, cargo |
| Electronic equipment | SPS-48E, SPS-49(v)5, SPS-73, SPQ-9B, 4x Mk 95, 2x Mk 90, SPN-35, SPN-43 radars, SLQ-32(v)3 ECM suite, 6x Mk 36 SRBOC decoy RL, SLQ-25 Nixie torpedo decoy, ICDS, SSDS Mk 4 and others CCS |
| Complement | 1060 |
Standard scale images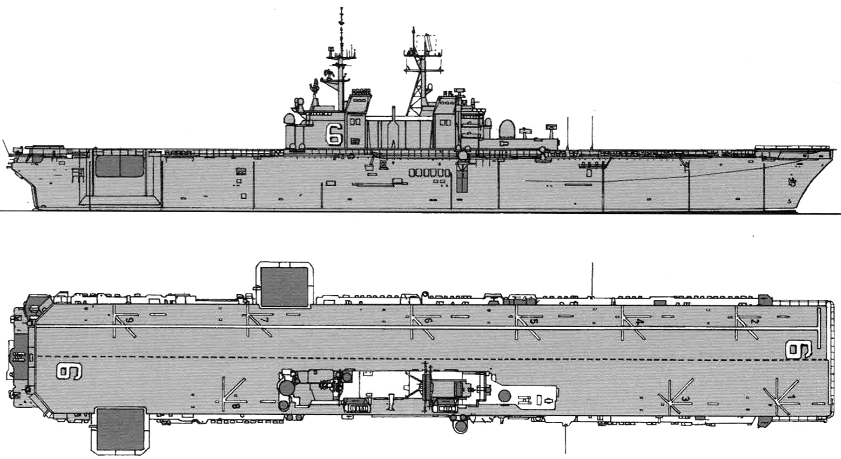 America 2015
Graphics
Project history
Replacement of Tarawa class. This class represents a further evolution of the previous LHA and LHD designs, optimized for aviation: they can carry and operate up to 24 F-35B fighters. Improvements over the Tarawa and Wasp classes include an enlarged hangar deck, enhanced aviation maintenance facilities, additional equipment support and stowage space and increased aviation fuel capacity (3100m³). Propulsion is provided by two LM-2500 gas turbines and two electric auxiliary propulsion motors. Each ship has 4531m³ capacity of cargo holds with 1115m² vehicle parking space. Medical spaces were reduced by two thirds of from the LHD1 class in order to expand the aviation hangar bay. Unlike the Tarawa and Wasp classes these ships do not have a well deck for landing craft.
Modernizations
planned, all: - SPS-48E radar; + SPY-3, SPY-4 radars
Naval service
No significant events.
© 2007-2022 - navypedia.org