Photo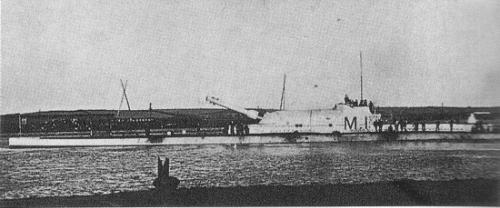 M1 1919
Ships
| Name | No | Yard No | Builder | Laid down | Launched | Comp | Fate |
| --- | --- | --- | --- | --- | --- | --- | --- |
| M1 |   |   | Vickers, Barrow | 7.1916 | 9.7.1917 | 4.1918 | collision 12.11.1925 |
| M2 |   |   | Vickers, Barrow | 7.1916 | 19.10.1918 | 2.1920 | foundered 26.1.1932 |
| M3 |   |   | Armstrong, Elswick | 12/1916 | 19.10.1918 | 7/1920 | sold 4.1932 |
| M4 |   |   | Armstrong, Elswick | 1916 | 20.7.1919 | --- | cancelled 1918 |
Technical data
Displacement standard, t
 
Displacement normal, t

1594 - 1633 / 1946

Length, m

M1, 2: 90.2

M3: 93.2

Breadth, m

7.55

Draught, m

M1, 2: 4.85

M3: 4.80

No of shafts

2

Machinery

2 12-cyl Vickers diesels / 4 electric motors

Power, h. p.

2400 / 1600

Max speed, kts

15 / 9

Fuel, t

diesel oil

Endurance, nm(kts)
3840(10) / 10(9)
Armament

M1, M2: 1 x 1 - 305/40 BL Mk IX, 1 x 1 - 76/45 20cwt QF Mk II, 4 - 450 TT (bow, 8)

M3, M4: 1 x 1 - 305/40 BL Mk IX, 1 x 1 - 76/45 20cwt QF Mk II, 4 - 533 TT (bow, 8)

Complement

65

Diving depth operational, m
30
Standard scale images
M3 1927

M3 1920

M2 1929
Graphics
Project history
Although often referred to as ex-'K' class, these four boats were a fresh design bearing no resemblance to the steam-driven 'K's, and were in fact replacement contracts for K18-21, which had never been laid down. The exact date of ordering is not known, as the dates usually given, February 1916 (M1), May 1916 (M2) and August 1916 (M3 and M4) are the same as K18-21. The true dates may be slightly later, as all four were laid down in July-December. The design was suggested by Commodore Hall, for a monitor submarine armed with a single 305mm/23cal gun, to supplement torpedo attack. Fifty shells could be carried as against no more than eight torpedoes, and a round already loaded could be fired in 30 seconds from periscope depth, or 20 seconds breaking surface. The gun would also be available for shore bombardment. The idea was supported by a committee chaired by Admiral Tudor, but the boats were delayed as it was felt that such an idea in German hands might be dangerous. The committee talked of a 23cal 305mm, and some sources talk of guns from the Majestic class, but the old Mk.I, Mk.II and III 305mm guns were 25cal, and the Majestics' Mk.VIII guns were 35cal. In fact the 40cal Mk.IX guns were part of a plentiful stock held for the Formidable group of pre-dreadnoughts.

After the initial delay M1 was accelerated, followed by M2-4. The main engines and motors were identical to the 'L' class. M3 was lengthened by 3m to permit 533mm TT instead of 450mm. The gun trials were highly successful, the 305mm gun being able to elevate 20°, depress -5° and train 15°. The diving time was only 90 seconds. There was however, no role for them to play by 1918, and when M1 was completed in April 1919 it was suggested that M2-4 should be completed as oversea patrol submarines without 305mm guns. This was vetoed by the First Sea Lord.

M4 was cancelled after the Armistice and was bought on after being launched to clear the slip in 1919 was bought by her builders in November 1921.
Modernizations 7.
1927, M3: - 1 x 1 - 305/40; + 100 mines, surfaced displacement rose up to 1745t.

(10/1925 - 4.1928), M2: - 1 x 1 - 30540; + 1 catapult, 1 Parnall Peto seaplane, surfaced displacement was 1788t.
Naval service
M1 was the only one to see war service. Rammed and sunk 12 November 1925 off Start Point by s/s Vidar. M2 became a seaplane carrier in April 1928 and foundered off Portland 26.1.1932. M3 became a minelayer in 1927, and was sold in 1932.