Photo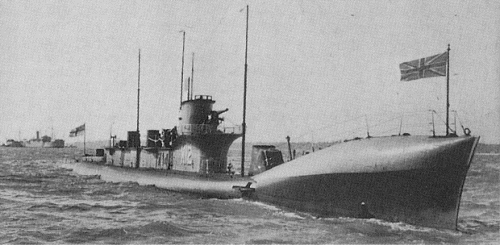 K12 1918
Ships
| Name | No | Yard No | Builder | Laid down | Launched | Comp | Fate |
| --- | --- | --- | --- | --- | --- | --- | --- |
| K1 |   |   | Portsmouth DYd | 11/1915 | 14.11.1916 | 4.1917 | collision 17.11.1917 |
| K2 |   |   | Portsmouth DYd | 11.1915 | 14.10.1916 | 2.1917 | sold 7.1926 |
| K3 |   |   | Vickers, Barrow | 5.1915 | 20.5.1916 | 8.1916 | sold 10.1921 |
| K4 |   |   | Vickers, Barrow | 6.1915 | 15.7.1916 | 1.1917 | collision 31.1.1918 |
| K5 |   |   | Portsmouth DYd | 11.1915 | 16.12.1916 | 5.1917 | sunk 20.1.1921 |
| K6 |   |   | Devonport DYd | 11.1915 | 31.5.1916 | 6.1917 | sold 7.1926 |
| K7 |   |   | Devonport DYd | 11.1915 | 31.5.1916 | 7.1917 | sold 9.1921 |
| K8 |   |   | Vickers, Barrow | 9.1915 | 10.10.1916 | 3.1917 | sold 10.1923 |
| K9 |   |   | Vickers, Barrow | 6.1915 | 8.11.1916 | 5.1917 | sold 7.1926 |
| K10 |   |   | Vickers, Barrow | 6.1915 | 27.12.1916 | 5.1917 | sold 11.1921 |
| K11 |   |   | Armstrong, Elswick | 10.1915 | 16.8.1916 | 2.1917 | sold 11.1921 |
| K12 |   |   | Armstrong, Elswick | 10.1915 | 23.2.1917 | 8.1917 | sold 7.1926 |
| K14 |   |   | Fairfield, Govan | 11.1915 | 8.2.1917 | 5.1917 | sold 12.1926 |
| K15 |   |   | Scotts, Greenock | 4.1916 | 30.10.1917 | 4.1918 | sold 8.1924 |
| K16 |   |   | Beardmore, Dalmuir | 6.1916 | 5.11.1917 | 3.1918 | sold 8.1924 |
| K17 |   |   | Vickers, Barrow | 5.1916 | 10.4.1917 | 3.1917 | collision 31.1.1918 |
| K18 |   |   | Vickers, Barrow | --- | --- | --- | cancelled 1917 |
| K19 |   |   | Vickers, Barrow | --- | --- | --- | cancelled 1917 |
| K20 |   |   | Armstrong, Elswick | --- | --- | --- | cancelled 1917 |
| K21 |   |   | Armstrong, Elswick | --- | --- | --- | cancelled 1917 |
| K22 (ex- K13) |   |   | Fairfield, Govan | 5.1915 | 11.11.1916 | 10.1917 | sold 12.1926 |
Technical data
Displacement standard, t
 
Displacement normal, t

1980 / 2566

Length, m

100.6

Breadth, m

8.10

Draught, m

5.19

No of shafts

2

Machinery

K1, 2, 5 - 7, 11, 12, 14 - 16, 22: 2 sets Brown-Curtis geared steam turbines, 2 Yarrow boilers / 1 diesel-generator / 4 electric motors

K3, 4, 8 - 10, 17: 2 sets Parsons geared steam turbines, 2 Yarrow boilers / 1 diesel-generator / 4 electric motors

Power, h. p.

10500 / 700 / 1440

Max speed, kts

24 / 9.5

Fuel, t

oil

Endurance, nm(kts)
3000(13.5) / 30(4)
Armament

K1 - 4, 6 - 12, 14 - 16, 22: 2 x 1 - 102/40 BL Mk XI, 1 x 1 - 76/45 20cwt QF Mk II, 10 - 450 TT (4 bow, 4 beam, 1 x 2 - 450 deck, 18)

K5: 2 x 1 - 102/40 QF Mk IV, 1 x 1 - 76/45 20cwt QF Mk II, 10 - 450 TT (4 bow, 4 beam, 1 x 2 - 450 deck, 18)

K17: 1 x 1 - 140/50 BL Mk I, 1 x 1 - 76/45 20cwt QF Mk II, 10 - 450 TT (4 bow, 4 beam, 1 x 2 - 450 deck, 18)

Complement

59

Diving depth operational, m
50
Standard scale images
K12 1918
Graphics
Project history
In the spring of 1915 the C-in-C Grand Fleet once again pressed for Fleet Submarines, this time capable of 24 kts. To meet this demand two designs were examined, one from Vickers and the other from the DNC. The DNC design dated back two years, during discussions on Swordfish and Nautilus, and the difficulty of achieving 20kts on existing diesels. It had been extensively tested with models at AEW Haslar but had not been proceeded with. The Vickers proposal was produced in mid-April 1915, as an alternative to a diesel-electric design, which would need no fewer than eight of the new and untried 12-cyl 'J' class diesels. Being a knot slower and less heavily armed, as well as being 300t heavier than the Admiralty design, it was not accepted but Vickers were asked to develop the DNC's design into a new class of fleet submarine. Outline particulars and drawings were handed over early in May 1915, and K3 and K 4 were ordered in June.

More boats were soon ordered: K1, K2 and K5 in August 1915. After a lull another four (K 15-K 18) were ordered in February 1916: the last three were ordered in May 1916 but they and K18 were cancelled before they had been laid down, and the orders were replaced by 'M' class M1-4. Had they been built with their designed armament they would have been the most powerful submarines in the world for some years, but during construction 450mm TT were substituted to avoid the delay of having to design a new torpedo-tube. At this stage the revolving twin TT in the superstructure were added, for use at night, along with two 102mm and a 76mm high-angle gun. Displacement was now up to 1880t, and would increase by another 100t during building.

Although officially described as double-hulled they were more like the early Laubeuf boats, with an external hull abreast of the upper half of the pressure hull. A totally enclosed bridge deckhouse was provided for the first time, to protect personnel. Machinery occupied 35% of the length. An 800hp 'E' class diesel drove a 700hp dynamo, providing auxiliary diesel-electric drive on the surface. This enabled the boat to get under way during the interval between surfacing and getting up steam. It had been hoped to provide a third shaft for this purpose, but it would have been very inefficient. For main electric drive two motors were geared to each shaft.

In service the early boats were found to be very wet, like the 'J' class, and so the bow was raised; a new steering position then had to be built over the wheelhouse to see over the big 'swan' bow. The superstructure TT were removed as they were too close to the waterline to be of any use. One 102mm gun was dropped, and the remaining one and the 76mm AA gun were moved to the superstructure. As a class they acquired a lurid reputation for bad luck and poor design, but most of this can be attributed to the faulty conception which had led to them being built. Fleet submarines had to operate on the surface in close company with surface ships, making collisions highly likely. The funnels and watertight hatches could be closed down in 30 seconds but a comparatively small obstruction could jam a ventilator open, as happened on several occasions. The disastrous 'Battle of May Island' at the end of January 1918 was the result of navigational errors, not design. To mix squadrons of battlecruisers and light cruisers with submarines having 'the speed of a destroyer and the bridge facilities of a picket boat' was asking for trouble, especially when all were steaming fast at night, without lights. The 'K' class were a remarkable technical achievement, however, unmatched by the Germans or any of the Allies.

K 13 foundered on 29 January 1917 in the Gareloch while running trials, under contractors' control; salved in March and renumbered K22 before acceptance in May 1917. It was her jammed helm which set off the chain of collisions off May island, 31 January 1918.
Modernizations
1917 - 1918, K1-12, K14-16, K22: - 1 x 1 - 102/40, 1 x 2 - 450 TT

1917-1918, K17: - 1 x 2 - 450 TT
Naval service
К1 was damaged 17.11.1917 in collision with K4 off the coast of Denmark and sunk by gunfire of cruiser Blonde, К4 was rammed by K6 31.1.1918 off May Island. К17 was rammed by cruiser Fearless off May Island 31.1.1918, К5 was lost by accident in the Bay of Biscay 20.1.1921. 31.1.1918 К14 and K22 received serious damages during group collision at May island.