Photo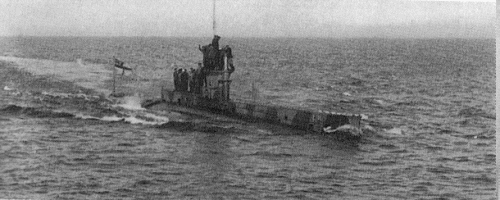 E11 1915
Ships
| Name | No | Yard No | Builder | Laid down | Launched | Comp | Fate |
| --- | --- | --- | --- | --- | --- | --- | --- |
| E9 | I89 |   | Vickers, Barrow | 6.1912 | 29.11.1913 | 6.1914 | scuttled 8.4.1918 |
| E10 | I90 |   | Vickers, Barrow | 7.1912 | 29.11.1913 | 8.1914 | sunk 18.1.1915 |
| E11 | I91 |   | Vickers, Barrow | 7.1912 | 23.4.1914 | 9.1914 | sold 3.1921 |
| E12 | I92 |   | Chatham DYd | 12.1912 | 5.9.1914 | 10.1914 | sold 3.1921 |
| E13 | I93 |   | Chatham DYd | 12.1912 | 22.9.1914 | 12.1914 | sold 12.1921 |
| E14 | I94 |   | Vickers, Barrow | 12.1912 | 7.7.1914 | 12.1914 | sunk 27.1.1918 |
| E15 | I95 |   | Vickers, Barrow | 10.1912 | 23.4.1914 | 10.1914 | sunk 15.4.1915 |
| E16 | I96 |   | Vickers, Barrow | 10.1912 | 23.9.1914 | 2.1915 | sunk 22.8.1916 |
| E17 | I97 |   | Vickers, Barrow | 7.1913 | 16.1.1915 | 4.1915 | wrecked 6.1.1916 |
| E18 | I98 |   | Vickers, Barrow | 1.1914 | 4.3.1915 | 6.1915 | sunk 24.5.1916 |
| E19 | I99 |   | Vickers, Barrow | 11.1914 | 13.5.1915 | 7.1915 | scuttled 8.4.1918 |
| E20 | I69 |   | Vickers, Barrow | 11.1914 | 12.6.1916 | 8.1915 | sunk 5.11.1915 |
| E21 | I70 |   | Vickers, Barrow | 11.1914 | 24.7.1915 | 10.1915 | sold 12.1921 |
| E22 | I79 |   | Vickers, Barrow | 11.1914 | 27.8.1915 | 11.1915 | sunk 25.4.1916 |
| E23 |   |   | Vickers, Barrow | 12/1914 | 28.9.1915 | 12/1915 | sold 9.1922 |
| E24 |   |   | Vickers, Barrow | 1.1915 | 9.12.1915 | 1.1916 | sunk 24.3.1916 |
| E25 |   |   | Beardmore, Dalmuir | 11.1914 | 23.8.1915 | 10.1915 | sold 12.1921 |
| E26 |   |   | Beardmore, Dalmuir | 11.1914 | 11.11.1915 | 10.1915 | sunk 6.7.1916 |
| E27 |   |   | Yarrow, Scotstoun | 1915 | 9.6.1917 | 8/1917 | sold 9.1922 |
| E28 |   |   | Yarrow, Scotstoun | 1915 | --- | --- | cancelled 4.1915 |
| E29 |   |   | Armstrong, Elswick | 12/1914 | 1.6.1915 | 10/1915 | sold 2.1922 |
| E30 |   |   | Armstrong, Elswick | 12.1914 | 29.6.1915 | 11.1915 | sunk 22.11.1916 |
| E31 |   |   | Scotts, Greenock | 12/1914 | 23.8.1915 | 12/1915 | sold 9.1922 |
| E32 |   |   | White, Cowes | 12/1914 | 16.8.1916 | 10/1916 | sold 9.1922 |
| E33 |   |   | Thornycroft, Woolston | 1/1915 | 18.4.1916 | 11/1916 | sold 9.1922 |
| E34 |   |   | Thornycroft, Woolston | 1.1915 | 27.1.1917 | 3.1917 | sunk 20.7.1918 |
| E35 |   |   | John Brown, Clydebank | 12/1914 | 20.5.1916 | 7/1916 | sold 9.1922 |
| E36 |   |   | John Brown, Clydebank | 1.1915 | 16.9.1916 | 11.1916 | sunk 17.1.1917 |
| E37 |   |   | Fairfield, Govan | 12.1914 | 2.9.1915 | 3.1916 | sunk 1.12.1916 |
| E38 |   |   | Fairfield, Govan | 12/1914 | 13.6.1916 | 7/1916 | sold 9.1922 |
| E39 |   |   | Palmers, Jarrow | 12.1914 | 18.5.1916 | 10.1916 | sold 10.1921 |
| E40 |   |   | Palmers, Jarrow | 12.1914 | 9.11.1916 | 5.1917 | sold 12.1921 |
| E41 |   |   | Cammell Laird, Birkenhead | 12/1914 | 22.10.1915 | 6/1916 | sold 9.1922 |
| E42 |   |   | Cammell Laird, Birkenhead | 12/1914 | 22.10.1915 | 6/1916 | sold 9.1922 |
| E43 |   |   | Swan Hunter, Wallsend | 12.1914 | 11.11.1915 | 2.1916 | sold 1.1921 |
| E44 |   |   | Swan Hunter, Wallsend | 1.1915 | 21.2.1916 | 7.1917 | sold 10.1921 |
| E45 |   |   | Cammell Laird, Birkenhead | 1/1915 | 25.1.1916 | 8/1916 | sold 9.1922 |
| E46 |   |   | Cammell Laird, Birkenhead | 1/1915 | 4.4.1916 | 10/1916 | sold 9.1922 |
| E47 |   |   | Fairfield, Govan | 1.1915 | 29.5.1916 | 10.1916 | sunk 20.8.1917 |
| E48 |   |   | Fairfield, Govan / Beardmore, Dalmuir | 2.1915 | 2.8.1916 | 2.1917 | sold 7.1928 |
| E49 |   |   | Swan Hunter, Wallsend | 2.1915 | 18.9.1916 | 12.1916 | sunk 12.3.1917 |
| E50 |   |   | John Brown, Clydebank | 3.1915 | 13.11.1916 | 1.1917 | sunk 1.2.1918 |
| E51 |   |   | Scotts, Greenock | 3/1915 | 30.11.1916 | 1/1917 | sold 10.1931 |
| E52 |   |   | Denny, Dumbarton | 3.1915 | 25.1.1917 | 3.1917 | sold 1.1921 |
| E53 |   |   | Beardmore, Dalmuir | 2/1915 | 1916 | 3/1916 | sold 9.1922 |
| E54 |   |   | Beardmore, Dalmuir | 2.1915 | 1916 | 5.1916 | sold 12.1921 |
| E55 |   |   | Denny, Dumbarton | 12/1914 | 5.2.1916 | 3/1916 | sold 9.1922 |
| E56 |   |   | Denny, Dumbarton | 12/1914 | 19.6.1916 | 8/1916 | sold 6.1923 |
Technical data
Displacement standard, t
 
Displacement normal, t

667 / 807

Length, m

E9 - 18: 55.2

E19 - 56: 55.6

Breadth, m

4.61

Draught, m

3.81

No of shafts

2

Machinery

2 8-cyl Vickers diesels / 2 electric motors

Power, h. p.

1600 / 840

Max speed, kts

15 / 9

Fuel, t

diesel oil 38

Endurance, nm(kts)
3000(10) /
Armament

E9 - 19: 5 - 450 TT (2 bow, 2 beam, 1 stern, 10)

E20: 1 x 1 - 152/14 30cwt siege howitzer, 5 - 450 TT (2 bow, 2 beam, 1 stern, 10)

E21 - 23, 25 - 27, 29 - 33, 35 - 40, 42 - 44, 47 - 50, 52 - 56: 1 x 1 - 76/28 12pdr 8cwt QF Mk I, 5 - 450 TT (2 bow, 2 beam, 1 stern, 10)

E24, 34, 41, 45, 46, 51: 1 x 1 - 76/28 12pdr 8cwt QF Mk I, 3 - 450 TT (2 bow, 1 stern, 6), 20 mines

Complement

31

Diving depth operational, m
30
Standard scale images

E34 1916
Graphics
Project history
Five more 'E' class were proposed for the 1911-12 Programme, but with numerous improvements suggested by experience with the 'D's and early 'E's. However in August 1914, to speed production the Admiralty proposed that E7 and E8 should be completed to the basic design, and that only the essential improvements should be incorporated into E9. As mass-production was planned Chatham Dockyard's E12 was to be the pattern for all builders except Vickers. The E9 design was made 0.9m longer to permit a second 450mm TT in the bow. Although the 'D' class had their tubes 'over-and-under' to allow a finer bow-form, the 'Improved E' design reverted to a side-by-side configuration as this afforded more protection to the bow caps and shutters, and made for easier loading. The foremost watertight bulkhead was also moved 0.6m aft to simplify loading. The engines were moved forward, the conning tower was enlarged to provide a steering position, and a third watertight bulkhead was provided. E9-11 and E14-16 were immediately approved to be built to this design but Chatham DYd produced a design which was a compromise between the original E1 class and the modified Vickers design. A single bow tube was the most important change, but as E12 became the pattern for wartime production at some stage the twin tubes must have been reinstated, for records show clearly that war-built 'E's had two TT forward.

When war broke out the contracts for E17 and E18 were authorised and had gone to Vickers, but Fisher was anxious to build many more submarines. On 11 November 1914 a conference between the Admiralty and representatives of the shipbuilders met to allocate future construction. Out of this came contracts for E19-56: 6 from Vickers, 4 from Beardmore, 2 from Scott, 2 from Yarrow, 2 from Armstrong, 1 from White, 2 from Thornycroft, 3 from John Brown, 4 from Fairfield, 2 from Palmer, 4 from Cammell Laird, 1 from White, 2 from Scott and 3 from Denny. This total included two 'E' class already ordered for Turkey from Beardmore; they were re-allocated as E25 and E26. E27 and E28 were cancelled in April 1915 to allow Yarrow to carry on with more important work, but E27 was reinstated in August. From E19 all were given a 'plough' bow to improve seakeeping, and a variety of guns were fitted, as supplies allowed. Experience in the Sea of Marmora showed the need for guns, and various weapons were hurriedly installed, such as E20's 152mm howitzer (fitted by the builders), E11 's and E12's 102mm (supplied by Malta DYd). Some of the North Sea boats received high-angle 76mm or 12pdrs in 1916-17. Early in 1916 E22 was fitted with a launching ramp on her after superstructure to fly off two Sopwith Baby seaplanes; the idea was to launch them well inside the Heligoland Bight on a reconnaissance mission. In the Sea of Marmora several boats carried spare torpedoes lashed to the casing. The upper rudder was removed from all during the war.
Modernizations
1915, E11, E12, E14: + 1 x 1 - 102/40 BL Mk VIII

1915, E21, E25: - 1 x 1 - 76/28; + 1 x 1 - 102/40 BL Mk VIII

1916, E46: - 1 x 1 - 76/28; + 1 x 1 - 76/50 12pdr 18cwt QF Mk I

early 1916, E22: + flying-off ramp for Sopwith Baby recon plane, 2 Baby seaplanes.

1917, E48: - 1 x 1 - 76/28; + 1 x 1 - 102/50 QF Mk IX

1917 - 1918, 18 submarines served in the Northern sea: + 1 x 1 - 40/37 2pdr QF Mk III
Naval service
Е14 (27.1.1918 off Kum Kale, Dardanelles), Е16 (22.8.1916 in the North Sea), Е24 (24.3.1916 in the North Sea), Е34 (20.7.1918 in the North Sea), Е49 (12.3.1917 off Shetlands) and Е50 (1.2.1918 in the North Sea) were mined. E15 ran aground 15.4.1915 at Kephez Point, Dardanelles and was destroyed by Turkish coastal artillery, Е18 (by decoy vessel K off Bornholm), Е20 (by submarine UB14 in Sea of Marmora)and Е22 (by submarine UB18 in the North Sea) were sunk by German ships 24.5.1916, 5.11.1915 and 25.4.1916 respectively. 6 submarines were lost for unknown reasons: Е10 (18.1.1915, North Sea), E26 (6.7.1916, North Sea), Е30 (22.11.1916, North Sea), Е36 (17.1.1917, North Sea), Е37 (1.12.1916, North Sea) and Е47 (20.8.1917, North Sea). Е41 was rammed by E4 and both sunk 15.8.1916 but both were salvaged and repaired later. Е17 wrecked 6.1.1916 off the Texel. Е13 ran ashore on Danish coast 18.8.1915 and was interned till November 1918. Е9 and Е19 are scuttled 8.4.1918 at Helsingfors in order to avoid capture by Germans.