Photo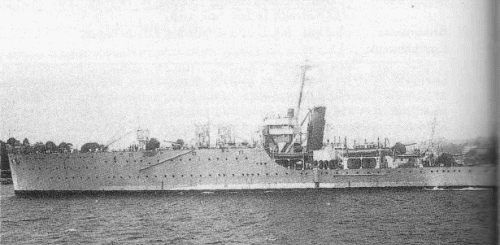 Albatross 1939
Ships
| Name | No | Yard No | Builder | Laid down | Launched | Comp | Fate |
| --- | --- | --- | --- | --- | --- | --- | --- |
| Albatross (RAN, 9.1938 - RN) | I22 | 106 | Cockatoo DYd, Australia | 5.5.1926 | 23.2.1928 | 23.1.1929 | repair ship 4.1944 |
Technical data
| | |
| --- | --- |
| Displacement standard, t | 4800 |
| Displacement full, t | 6350 |
| Length, m | 135.3 |
| Breadth, m | 18.6 wl 23.7 by sponsons |
| Draught, m | 5.26 deep load |
| No of shafts | 2 |
| Machinery | 2 sets Parsons geared steam turbines, 4 Yarrow boilers |
| Power, h. p. | 12000 |
| Max speed, kts | 21 |
| Fuel, t | oil 942 |
| Endurance, nm(kts) | 12150(10) |
| Armament | 4 x 1 - 120/40 QF Mk VIII, 4 x 1 - 47/40 3pdr Hotchkiss Mk I, 4 x 1 - 40/39 2pdr QF Mk II, 9 seaplanes (Seagull) |
| Complement | 450 |
Air group
| Year | 1929 | 1939 |
| --- | --- | --- |
| Recon flying boats | 9 Seagull | 6 Walrus |
Standard scale images

Albatross 1940
Graphics
Aircraft facilities
There were hangar and compressed air catapult. Aircraft fuel stowage was 37,700l.
Project history
Albatross was designed in Australia for RAN and was the largest ship built in dominion at the moment of completion. Significantly revised design of first seaplane/aircraft carrier Ark Royal was taken for a basis. The single-level hangar was arranged fwd from a superstructure. An aviation petrol stowage was 37,732l.
Modernizations 12.
1940: catapult was replaced by new of powder type.

1943: + 6 x 1 - 20/70 Oerlikon Mk III, type 286 radar
Naval service
Ship was converted to repair ship for escorts in 11.1943 - 4.1944. AA armament was strengthened: old single pompoms were replaced by 2 quadruple 40mm pompoms and 6 20mm Oerlikons. Albatross was damaged by torpedo 11.8.1944 and never completely repaired and used as a hulk; she eventually sold mercantile in 1946.

Many thanks to Wolfgang Stöhr for additional information on this page.