Photo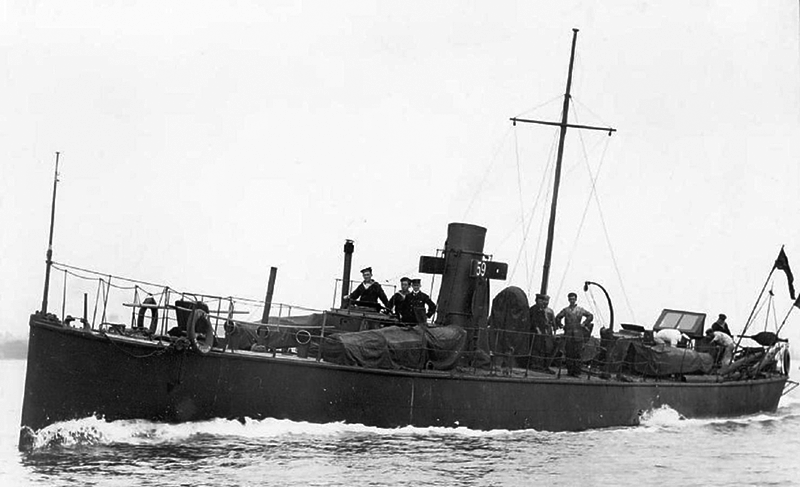 TB59
Ships
| Name | Yard No | Builder | Laid down | Launched | Comp | Fate |
| --- | --- | --- | --- | --- | --- | --- |
| TB26, 1906 - TB026 | 218 | Thornycroft, Chiswick | 1885 | 22.10.1885 | 1886 | BU 1919 |
| TB27, 1906- TB027 | 219 | Thornycroft, Chiswick | 1885 | 26.10.1885 | 1886 | BU 1919 |
| TB28 | 220 | Thornycroft, Chiswick | 1885 | 7.11.1885 | 1886 | lost 29.7.1898 |
| TB29, 1906- TB029 | 221 | Thornycroft, Chiswick | 1885 | 19.11.1885 | 1886 | BU 1919 |
| TB41, 1906- TB041 | 222 | Thornycroft, Chiswick | 1885 | 1885 | 6/1886 | BU 1919 |
| TB42, 1906- TB042 | 223 | Thornycroft, Chiswick | 1885 | 4.12.1885 | 6/1886 | BU 1919 |
| TB43, 1906- TB043 | 224 | Thornycroft, Chiswick | 1885 | 1885 | 6/1886 | BU 1919 |
| TB44, 1906- TB044 | 225 | Thornycroft, Chiswick | 1885 | 1885 | 6/1886 | BU 1919 |
| TB45, 1906- TB045 | 226 | Thornycroft, Chiswick | 1885 | 21.12.1885 | 7/1886 | BU 1919 |
| TB46, 1906- TB046 | 227 | Thornycroft, Chiswick | 1885 | 4.1.1886 | 1886 | lost 27.12.1915 |
| TB47, 1906- TB047 | 228 | Thornycroft, Chiswick | 1886 | 28.6.1886 | 1886 | BU 1908 |
| TB48, 1906- TB048 | 229 | Thornycroft, Chiswick | 1886 | 1886 | 1886 | BU 1915 |
| TB49, 1906- TB049 | 230 | Thornycroft, Chiswick | 1886 | 1886 | 8/1886 | BU 1919 |
| TB50, 1906- TB050 | 231 | Thornycroft, Chiswick | 1886 | 17.6.1886 | 9/1886 | BU 1920 |
| TB51, 1906- TB051 | 232 | Thornycroft, Chiswick | 1886 | 30.7.1886 | 1886 | BU 1913 |
| TB52, 1906- TB052 | 233 | Thornycroft, Chiswick | 1886 | 1886 | 9/1886 | BU 1919 |
| TB53, 1906- TB053 | 234 | Thornycroft, Chiswick | 1886 | 16.9.1886 | 1886 | BU 1913 |
| TB54, 1906- TB054 | 235 | Thornycroft, Chiswick | 1886 | 28.8.1886 | 1886 | BU 1919 |
| TB55, 1906- TB055 | 236 | Thornycroft, Chiswick | 1886 | 29.8.1886 | 1886 | BU 1920 |
| TB56 | 237 | Thornycroft, Chiswick | 1886 | 1.10.1886 | 1886 | lost 17.5.1906 |
| TB57, 1906- TB057 | 238 | Thornycroft, Chiswick | 1886 | 2.10.1886 | 1886 | BU 1919 |
| TB58, 1906- TB058 | 239 | Thornycroft, Chiswick | 1886 | 18.10.1886 | 1886 | BU 1919 |
| TB59, 1906- TB059 | 240 | Thornycroft, Chiswick | 1886 | 11.11.1886 | 1886 | BU 1913 |
| TB60, 1906- TB060 | 241 | Thornycroft, Chiswick | 1886 | 10.12.1886 | 1886 | BU 1919 |
Technical data
Displacement normal, t

70

Displacement full, t
93
Length, m

38.9 oa 38.1 pp

Breadth, m

3.81

Draught, m

2.52

No of shafts

1

Machinery

1 2-cyl VC, 1 locomotive boiler

Power, h. p.

700-750

Max speed, kts

19.5 - 21.5

Fuel, t

coal 20

Endurance, nm(kts)
 
Armament

TB26-29, 41-49: 3 x 2 - 25/40 Nordenfelt Mk I, 1 - 356 TT (bow), 2 x 2 - 356 TT

TB50-60: 3 x 2 - 25/40 Nordenfelt Mk I, 2 x 2 - 356 TT

Complement

16
Graphics
Project history
As the danger of war increased firstly four, then another 20 repeats of TB25 were ordered from Thornycrofts. They were identical in all respects except that ihp varied from 700 to 750 and speed from 19.5 to 21.5kts; the last few were not completed by the time that the defect of the 'boll nose' bow was 'universally condemned', and their completion was delayed by having the straight bow without the fixed tube substituted. The earlier boats were soon taken out of service to have this essential modification made.
Modernizations
1886, early boats: - 1 - 356 TT

1901, almost all: were reboilered with water-tube boilers

1915-1917, many: - 3 x 2 - 25/40; + 1 x 1 - 47/40 3pdr Hotchkiss Mk I, DCR
Naval service
TB28 was stranded and then expended as a target at Cape Town in 1898, but most of the others were refitted with water-tube boilers in the early years of the new century. TB56 sank in 1906, but many others survived to be used for local patrol during the 1914-18 war. Some were rearmed with a 3pdr fitted on an AA mounting, and most seem to have been given a depth charge armament. TB046 sank in tow in 1915, but was raised and put back into service.