Photo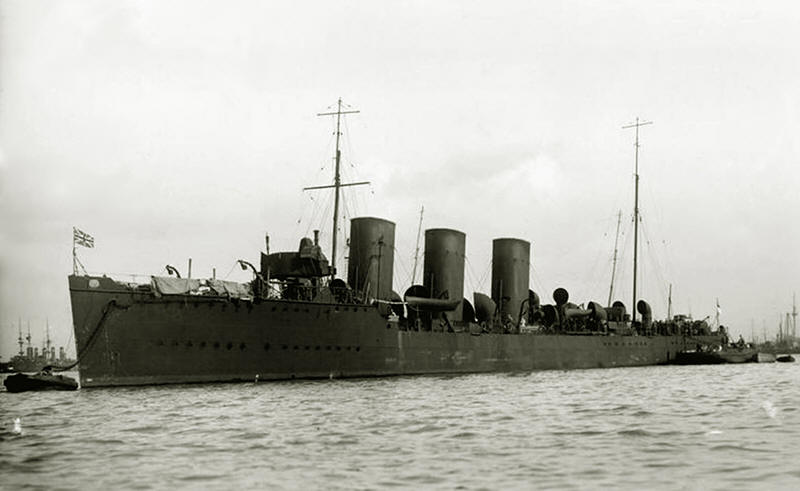 Swift 1910
Ships
| Name | No | Yard No | Builder | Laid down | Launched | Comp | Fate |
| --- | --- | --- | --- | --- | --- | --- | --- |
| Swift (ex-Flying Scud) | H54, H3A, D60 | 671 | Cammell Laird, Birkenhead | 10.1906 | 7.12.1907 | 2.1910 | sold for BU 11.1921 |
Technical data
| | |
| --- | --- |
| Displacement normal, t | 2170 |
| Displacement full, t | 2390 |
| Length, m | 107.8 oa 105.2 pp |
| Breadth, m | 10.4 |
| Draught, m | 3.20 |
| No of shafts | 4 |
| Machinery | 4 Parsons steam turbines, 12 Laird boilers |
| Power, h. p. | 30000 |
| Max speed, kts | 35 |
| Fuel, t | oil 282 |
| Endurance, nm(kts) |   |
| Armament | 4 x 1 - 102/40 BL Mk VIII, 2 x 1 - 450 TT |
| Complement | 126 |
Graphics
Project history
At Admiral Fisher's instigation the Controller asked DNC in October 1904 to produce a design for a destroyer based on the 'River' class bur capable of 36kts, using turbines and oil or coal. The DNC's reply was predictable; the hull weight was inadequate, as it was no more than 20t heavier than the previous turbine-driven destroyer (HMS Eden) and would have less strength than the 30-knotters. In January 1905 a revised design was rushed through at two hours' notice: displacement was up to 1140t and 19,000shp would give 33.5kts. To meet the First Sea Lord's request for 2.5kts more a second legend was prepared shortly afterwards: 1350t and 29,000shp. The specialist firms were not happy with the invitation to tender, particularly as they were given only four weeks to produce a design. Only after considerable argument was the Cammell Laird design accepted in December 1905, but with the builders' proviso that many amendments would be needed. Guns were changed from 12pdr to 102mm, sided on the forecastle and two on the centreline aft. The name Flying Scud was dropped in April 1906. Trials proved that the design was over-ambitious, and despite endless changes of propellers, raising the funnels and other expedients she failed to reach her contract speed, and was good for just a fraction over 35kts. The cost was heavy oil consumption, over 27.5t per hour. The absurd speeds of38-39kts quoted in contemporary reference books can only be attributed to official lies put about at the First Sea Lord's instigation to cover up the failure of his favourite project. She was finally accepted in February 1910 after nearly two years of trials, and the Board graciously agreed to limit the penalties to £5000. In service she proved a good seaboat, but the full bow form and lack of flare made her wet. The flimsy bridge also made it hard for her to maintain full speed in a seaway, and the vast areas od steam pipes made her vulnerable to the smallest shells. Like Fisher's other favourites she was technically interesting but at £233,764 was a very expensive solution to the problem.
Modernizations
7.1915: + minesweeping gear

1916: - 2 x 1 - 102/40; + 1 x 1 - 152/45 BL Mk VII; bridge was enlarged and strengthened

7/1917: - 1 x 1 - 152/45; + 2 x 1 - 102/40 BL Mk VIII
Naval service
Swift was badly damaged in action with German destroyers in the English Channel 20.4.1917 and was under repair till July.