Photo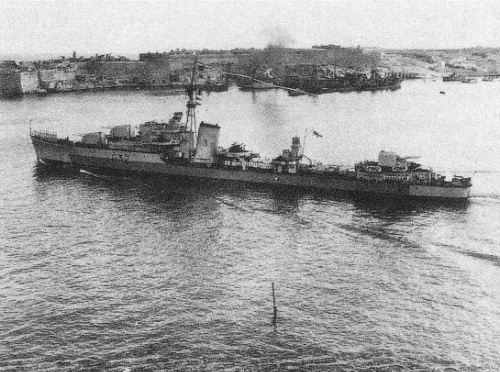 Lookout 1945
Ships
| Name | No | Yard No | Builder | Laid down | Launched | Comp | Fate | Modification |
| --- | --- | --- | --- | --- | --- | --- | --- | --- |
| Gurkha (ex-Larne) | F63 |   | Cammell Laird, Birkenhead | 10/1938 | 8.7.1940 | 2/1941 | sunk 17.1.1942 | "L" group |
| Laforey | F99 |   | Yarrow, Scotstoun | 3/1939 | 15.2.1941 | 8/1941 | sunk 30.3.1944 | "L" group |
| Lance | F87, G87 |   | Yarrow, Scotstoun | 3/1939 | 28.11.1940 | 5/1941 | CTL 9.4.1942 | "L" group |
| Legion | F74, G74 |   | Hawthorn Leslie, Hebburn | 11/1938 | 26.12.1939 | 12/1940 | sunk 26.3.1942 | "L" group |
| Lightning | F55, G55 |   | Hawthorn Leslie, Hebburn | 11/1938 | 22.4.1940 | 5/1941 | sunk 12.3.1943 | "L" group |
| Lively | F40, G40 |   | Cammell Laird, Birkenhead | 12/1938 | 28.1.1941 | 7/1941 | sunk 11.5.1942 | "L" group |
| Lookout | F32 |   | Scotts, Greenock | 11/1938 | 4.11.1940 | 1/1942 | BU 1.1948 | "L" group |
| Loyal | F15, G15 |   | Scotts, Greenock | 11/1938 | 8.10.1941 | 10/1942 | damaged 12.10.1944, never repaired, BU 1948 | "L" group |
| Mahratta (ex-Marksman) | G23 |   | Scotts, Greenock | 8/1941 | 28.7.1942 | 4/1943 | sunk 25.2.1944 | "M" group |
| Marne | G35, 1948- D135 |   | Vickers-Armstrong, Tyne | 10/1939 | 30.10.1940 | 12/1941 | to Turkey 3.1959 (Mareşal Fevzi Çakmak) | "M" group |
| Martin | G44 |   | Vickers-Armstrong, Tyne | 10/1939 | 12.12.1940 | 4.1942 | sunk 10.11.1942 | "M" group |
| Matchless | G52, 1948- D252 |   | A. Stephens, Linthouse | 9/1940 | 4.9.1941 | 2/1942 | to Turkey 3.1959 (Kılıç Ali Paşa) | "M" group |
| Meteor | G73, 1948- D273 |   | A. Stephens, Linthouse | 9/1940 | 3.11.1941 | 8/1942 | to Turkey 3.1959 (Piyale Paşa) | "M" group |
| Milne | G14, 1948- D58 |   | Scotts, Greenock | 1/1940 | 30.12.1941 | 8/1942 | to Turkey 3.1959 (Alp Arslan) | "M" group |
| Musketeer | G86, 1948- D186 |   | Fairfield, Govan | 12/1939 | 2.12.1941 | 9/1942 | accommodation ship 1955, BU 12.1955 | "M" group |
| Myrmidon | G90 |   | Fairfield, Govan | 12/1939 | 2.3.1942 | 7.1942 | to Poland 11.1942 (Orkan) | "M" group |
Technical data
Max speed, kts, kn

36

Displacement standard, t

1920 - 1935

Displacement full, t

2660 - 2725 (later 2810 - 2840)

Length, m

105.3 pp 110.5 oa

Breadth, m

11.2

Draught, m

4.34 - 4.39 (later 4.52) deep load

No of shafts

2

Machinery

2 sets Parsons geared steam turbines, 2 Admiralty 3-drum boilers

Power, h. p.

48000

Fuel, t

oil 537

Endurance, nm(kts)
5500(15)
Armament

Gurkha, Lance, Lively, Legion: 4 x 2 - 102/45 QF Mk XVI, 1 x 4 - 40/39 2pdr QF Mk VIII, 2 x 1 - 20/70 Oerlikon Mk II/IV, 2 x 4 - 12.7/62, 2 x 4 - 533 TT, 8 DCT, 2 DCR (110 DC)

Laforey, Lightning, Lookout, Loyal, "M" class except Mahratta: 3 x 2 - 120/50 QF Mk XI, 1 x 1 - 102/45 QF Mk V, 1 x 4 - 40/39 2pdr QF Mk VIII, 2 x 1 - 20/70 Oerlikon Mk II/IV, 2 x 4 - 12.7/62, 2 x 2 - 12.7/62, 1 x 4 - 533 TT, 2 DCT, 1 DCR (45 DC)

Mahratta: 3 x 2 - 120/50 QF Mk XI, 1 x 1 - 102/45 QF Mk V, 1 x 4 - 40/39 2pdr QF Mk VIII, 6 x 1 - 20/70 Oerlikon Mk II/IV, 1 x 4 - 533 TT, 2 DCT, 1 DCR (45 DC)

Electronic equipment

presumably "L" class except Loyal, Marne, Martin: type 285, type 286 radars, type 128 sonar

presumably Loyal and "M" class except Marne and Martin: type 285, type 291 radars, type 128 sonar

Complement

190 - 226
Standard scale images

Myrmidon 1942

Lance 1942

Loyal 1944

Musketeer 1943
Graphics
Project history
By the moment of the beginning of designing of destroyers of 1937 ("L" class) and 1939 ("M" class) Programmes limitations any more did not hold down British designers. Therefore, when the Admiralty has made the demand to create the new ships equipped completely closed gun mounts (i.e. protected from a bad weather) and capable to develop higher speed (by 10kts more than King George V class battleships), a task have tried to solve directly, at the expense of a enlarging. So, one of variants of sketch design provided something an intermediate between destroyer and cruiser with 3200t standard displacement, 90 000hp machinery, 42kts speed and six 133mm DP guns in three turrets. Fortunately, prudence has won, and they were stopped on much more modest variant on the basis of "J" class destroyer, with some improvement of general performances. The main difference from a prototype should become new turret-shape gun mounts (no turrets) with 50° maximal elevation angle. Guns were of new model, with increased to 50cal bore length and with heavier 28kg shell. It was supposed to equip also ships by second quadruple pompom, but when it was found out, that thus it was necessary to leave one of TT, this idea have refused. Growth of the upper weight (to that promoted almost on 10t heavier mounts and new directors) has forced to return to quadruple TTs. The delay with producing of new artillery has increased also to an overload problem: hulls were built faster. This lagging could lead to failure of limits for series readiness, and in summer of 1940 first 4 ships (Gurkha, Lance, Legion and Lively) have decided to finish building with the changed structure of artillery with four twin 102mm mounts (two on regular positions in a bow, two more on the increased aft superstructure). As addition to regular antiaircraft armament 2 Oerlikons were installed.

The remained 12 ships have received designed 120mm mounts but have lost one TT in favour of AA 102mm gun.
Modernizations
1942, all survived: - 2 x 4 - 12.7/62; + 2 x 1 - 20/70 Oerlikon Mk II/IV

late 1942, Laforey, Lightning, Lookout, Loyal, "M" class but Mahratta: - 2 x 2 - 12.7/62; + 2 x 1 - 20/70 Oerlikon Mk II/IV

1943 - 1944, Laforey, Lookout, Loyal, "M" class: - 4 x 1 - 20/70; + 4 x 2 - 20/70 Oerlikon Mk II/IV

1943 - 1944, almost all earlier ships: - type 286 radar; + type 291 radar

1943 - 1944, some: + type 292 radar

1943 - 1945, some: + type 271 or type 273 radar

1944, Loyal, Lookout, Mahratta, Marne, Matchless, Meteor, Milne, Musketeer: - 1 x 1 - 102/45; + 1 x 4 - 533 TT

1/1946: 3 x 2 - 120/50 Mk XX, 1 x 4 - 40/39 Mk VII, 4 x 2 - 20/70 Mk V, 2 x 1 - 20/70 Mk III, 2 x 4 - 533 TT, 2 DCT, 1 DCR (45), type 271 or type 273 radar, type 285, type 291, may be type 292 radars, type 128 sonar
Naval service
Gurkha was sunk by German submarine U133 at coast of Libya 17.1.1942. Legion was damaged by bombs 23.3.1942, ran aground, salvaged 25.3.1942 but again damaged 26.3.1942 and never repaired. Lance was badly damaged by German aircraft 5 and 9.4.1942 off Malta (in a drydock) and never repaired. Lively was sunk by German aircraft at Sollum 11.5.1942. Martin was sunk by German submarine U431 N of Algiers 10.11.1942. Lightning was sunk by German MTBs S55 and S158 N of Algiers 12.3.1943. Marksman, ordered by Scott's in 1940, in May of next year, being in high pre-launching availability, was completely destroyed during German air raid. She was laid down on the same Yard under a new name as Mahratta and sunk by German submarine U956 25.2.1944 in Barents Sea. Laforey was sunk by German submarine U223 N of Sicily 30.3.1944. Loyal was mined 12.10.1944 off NE coast of Italy, and never repaired. Matchless was badly damaged by a torpedo in June, 1942. Marne 12.11.1942 was badly damaged by a torpedo from German submarine U515 (stern was broken off), repair lasted till January, 1944.