NAVYPEDIA Support the project with paypal
Photo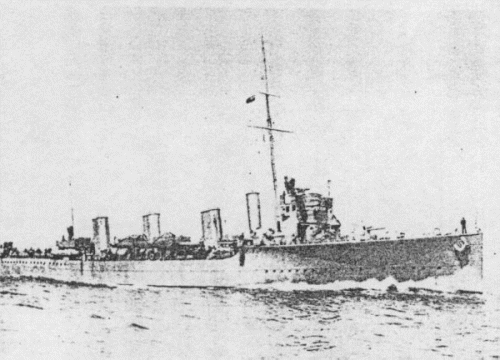 Tipperary 1915
Ships
| Name | No | Yard No | Builder | Laid down | Launched | Comp | Fate |
| --- | --- | --- | --- | --- | --- | --- | --- |
| Faulknor (ex-Almirante Simpson) | H84, H31, D16 |   | White, Cowes | 2.1912 | 26.2.1914 | 8.1914 | to Chile 5.1920 (Almirante Riveros) |
| Broke (ex-Almirante Goni) | H98, H23, D10 |   | White, Cowes | 10.1912 | 25.5.1914 | 10.1914 | to Chile 5.1920 (Almirante Uribe) |
| Botha (ex-Almirante Williams Rebolledo) | H5C, G60, F61, F50, D80 |   | White, Cowes | 6.1912 | 2.12.1914 | 3.1915 | to Chile 5.1920 (Almirante Williams) |
| Tipperary (ex-Almirante Riveros) | H6C |   | White, Cowes | 1912 | 5.3.1915 | 5.1915 | sunk 1.6.1916 |
Technical data
Displacement normal, t

1610

Displacement full, t

2000

Length, m

100.8

Breadth, m

9.91

Draught, m

3.53

No of shafts

3

Machinery

3 sets Parsons independent reduction steam turbines, 6 White-Forster boilers

Power, h. p.

30000

Max speed, kts

31

Fuel, t

coal 433 + oil 83

Endurance, nm(kts)
 
Armament

Faulknor, Broke: 6 x 1 - 102/40 QF Mk VI, 1 x 1 - 40/39 2pdr QF Mk II, 2 x 1 - 7.7/94, 4 x 1 - 533 TT

Botha, Tipperary: 6 x 1 - 102/40 QF Mk VI, 1 x 1 - 40/39 2pdr QF Mk II, 2 x 1 - 7.7/94, 2 x 2 - 533 TT

Complement

197
Standard scale images

Faulknor 1915
Graphics
Project history
Plans to use the new Arethusa class light cruisers as flotilla leaders were quickly dropped as the Grand Fleet was so short of scouting cruisers. There were, however, four big destroyers out of a batch of six ordered from J S White in Cowes by Chile in 1912. These were bought immediately on the outbreak of war; two were well advanced and the other two were on the stocks. The second pair, named Botha and Tipperary were bought in September 1914. The distribution of armament was altered; twin TT instead of four singles, and single 102mm guns on the forecastle and quarterdeck. In all four the 11.2pdr QF AA Vickers guns were replaced by 2pdr pom-poms.
Modernizations 3.
1918, Broke; 1919, Faulknor, Botha: - 4 x 1 - 102/40; + 2 x 1 - 120/45 BL Mk I
Naval service
Tipperary was sunk 1.6.1916 by gunfire of German ships at Jutland. Remaining three destroyers were transferred to Chile in May, 1920.
© 2007-2023 - navypedia.org