NAVYPEDIA Support the project with paypal
Photo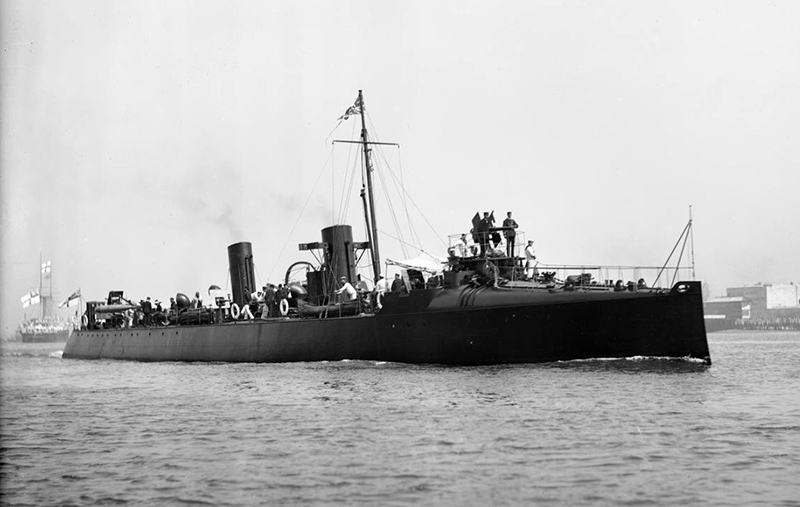 Ardent
Ships
| Name | No | Yard No | Builder | Laid down | Launched | Comp | Fate |
| --- | --- | --- | --- | --- | --- | --- | --- |
| Ardent |   | 297 | Thornycroft, Chiswick | 12.1893 | 16.10.1894 | 4.1895 | sold 10.1911 |
| Boxer | H4C, D16 | 298 | Thornycroft, Chiswick | 3.1894 | 28.11.1894 | 6.1895 | collision 8.2.1918 |
| Bruizer |   | 299 | Thornycroft, Chiswick | 4.1894 | 27.2.1895 | 6.1895 | sold 5.1914 |
Technical data
Displacement normal, t
265
Displacement full, t

295

Length, m

61.5 oa 58.1 pp

Breadth, m

5.79

Draught, m

2.16

No of shafts

2

Machinery

2 3-cyl VTE, 3 Thornycroft boilers

Power, h. p.

Ardent, Bruizer: 4500

Boxer: 4200

Max speed, kts

27

Fuel, t

coal 57

Endurance, nm(kts)
865(11)
Armament

1 x 1 - 76/40 12pdr 12cwt QF Mk I, 5 x 1 - 57/40 6pdr Hotchkiss Mk I, 2 x 1 - 450 TT (4)

Complement

53
Standard scale images

Ardent 1895
Graphics
Project history
Before the Havock had completed it was decided to order another six destroyers from Thornycroft and Yarrow. Another nine were ordered from other builders making up, a few months later, the 1893/94 Programme. Apart from a slight increase in size the main difference was that the gun armament was increased by 2 57mm guns. The first six (the Thornycroft and Yarrow boats) had a bow tube fitted, but it was found to throw up clouds of spray in anything except a flat calm, had a bad effect on seakeeping and was removed during the completion.

Ardent reached 29.182 knots on trials held on 9 November 1894 at the measuring mile at Maplin Sound. The boilers generated steam at a pressure of 210 pounds per square inch, and the shafts reached 407 revolutions per minute. Boxer conducted tests on 25 January 1895, receiving 29.076 per measuring mile and 29.175 knots during a three-hour test. Bruiser conducted the test on 29 March 1895, reaching 27.809 knots of the mile and 27.97 knots of the three-hour test. The Ardent class were larger versions of the Daring, also with two funnels.
Naval service
Boxer 8.2.1918 collided with s/s St. Patrick in English Channel and sunk.




© 2007-2023 - navypedia.org