Photo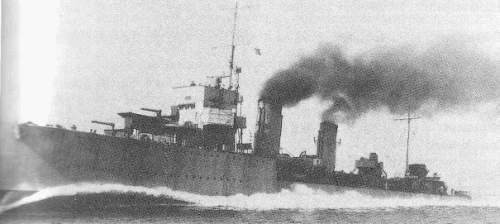 Amazon 1926
Ships
| Name | No | Yard No | Builder | Laid down | Launched | Comp | Fate |
| --- | --- | --- | --- | --- | --- | --- | --- |
| Amazon | D39 |   | Thornycroft, Woolston | 1/1925 | 27.1.1926 | 9/1926 | target ship 8.1944, BU 1948 |
Technical data
| | |
| --- | --- |
| Max speed, kts, kn | 37 |
| Displacement standard, t | 1352 |
| Displacement full, t | 1812 (later 1980) |
| Length, m | 95.0 pp 98.5 oa |
| Breadth, m | 9.63 |
| Draught, m | 3.84 (later 4.09) deep load |
| No of shafts | 2 |
| Machinery | 2 sets Brown-Curtis geared steam turbines, 3 Yarrow boilers |
| Power, h. p. | 39500 |
| Fuel, t | oil 428 |
| Endurance, nm(kts) | 3400(15) |
| Armament | 4 x 1 - 120/45 BL Mk I/II, 2 x 1 - 40/39 2pdr QF Mk II, 2 x 3 - 533 TT |
| Complement | 138 |
Standard scale images

Amazon 1926
Graphics
Project history
The first RN destroyers created taking into account experience of World war One were Amazon and Ambuscade. They were built under the 1924 Programme and designed by builders; Admiralty has stipulated only fulfilment of some obligatory conditions on armament, endurance range, seaworthiness and habitability, in remaining full freedom had been awarded for designers. At the same armament, as on "Modified W" class ships, new destroyers should exceed them in maximal speed by 2-3kts (37 against 34-35), have more freeboard (2.6m against 1.9), more spacious all-metal bridge and better habitability.

Machinery of new ships had many innovations: separated cruising and reverse turbines, usage of high-pressure steam (Yarrow), and superheated steam (Thornycroft, first time in world practice).

During designing specific features of each of these firms in the approach to creation of fast ships were showed become already traditional. Prototypes have appeared successful and were close enough on the elements, however Yarrow ship could solve a task in view, having stowed in smaller displacement, and thanks to it to lower engine power. At the same time Amazon, built by Thornycroft, having 200t more displacement, has appeared notably more cheaply the contender. Besides at the expense of the bigger dimensions he benefited in seaworthiness a little. As a whole both ships represented a little increased "Modified W" class with more powerful machinery and improved conditions of habitability.
Modernizations 11.
1939: 50 t of solid ballast were loaded; - 1 x 3 - 533 TT; + 1 x 1 - 76/45 QF Mk I/II/III/IV, 2 DCT, 1 DCR (20 DC), type 128 sonar

1942: + type 286 radar

1943: - 2 x 1 - 120/45, 2 x 1 - 40/39, type 286 radar, type 128 sonar; + 4 x 1 - 20/70 Oerlikon Mk II/IV, 1 x 24 - 178 Hedgehog ASWRL, 2 DCT, 1 DCR (70 DC totally), type 286PU radar, type 144 sonar

mid-1943: - 1 x 1 - 76/45, 1 x 3 - 533 TT; DC stowage increased up to 95 pcs.
Naval service
In 8.1944 she became a target ship for aviation.