Photo

Magnificent 1957
Ships
| Name | No | Yard No | Builder | Laid down | Launched | Comp | Fate |
| --- | --- | --- | --- | --- | --- | --- | --- |
| Terrible | 93 |   | Devonport DYd | 19.4.1943 | 30.9.1944 | 5.2.1949 // --- | to Australia before completion12/1948 (Sydney) |
| Magnificent | 21, 1948- R36 | 1228 | Harland & Wolff, Belfast | 29.7.1943 | 16.11.1944 | 21.5.1948 // 6.1957 | to Canada before completion 4.1948 - 6.1957, stricken 1961 |
| Powerful | 95 | 1229 | Harland & Wolff, Belfast | 27.11.1943 | 27.2.1945 | 17.1.1957 // --- | to Canada before completion 1952 (Bonaventure) |
| Majestic | 77 | 885 | Vickers-Armstrong, Barrow | 15.4.1943 | 28.2.1945 | 8.11.1955 // --- | to Australia before completion 1949 (Melbourne) |
| Hercules | 49 | 61 | Vickers-Armstrong, Tyne | 12.10.1943 | 22.9.1945 | 4.3.1961 // --- | to India before completion 1.1957 (Vikrant) |
| Leviathan | 97 | 1703 | Swan Hunter, Wallsend | 18.10.1943 | 7.6.1945 | --- | suspended 5.1946, BU incomplete 1961 |
Technical data
| | |
| --- | --- |
| Displacement standard, t | 14000 |
| Displacement full, t | 17780 |
| Length, m | 192.0 pp 211.8 oa |
| Breadth, m | 24.4 |
| Draught, m | 7.01 deep load |
| No of shafts | 2 |
| Machinery | 2 sets Parsons geared steam turbines, 4 Admiralty 3-drum boilers |
| Power, h. p. | 40000 |
| Max speed, kts | 25 |
| Fuel, t | oil 3000 |
| Endurance, nm(kts) | 12000(14) |
| Armament | 19 x 1 - 40/60 Mk III, 6 x 4 - 40/39 Mk VII, 37 aircraft (Seafire, Firefly, Sea Hornet, Sea Fury fighters, Firebrand torpedo bombers) |
| Electronic equipment | type 79B, type 281B radars, type 144 sonar |
| Complement | 1300 |
Standard scale images
Magnificent 1963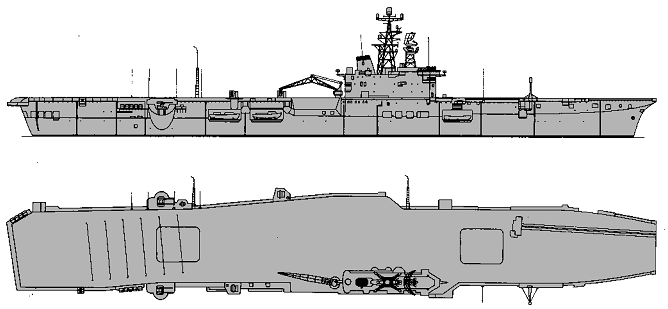 Bonaventure (Canada) 1968
Graphics
Aircraft facilities(fd - 5,131m², ha - 2,142m² / 11,355m³)
(fd - 5,131m², ha - 2,142m² / 11,355m³): Flight deck: 210.3x24.4m; hangar: 135.6x15.8x 5.3m. Two lifts: 16.5x10.4m, 6.8t. 1 catapult BH-III (6.4t plane was launched at 122 km/h). Aircraft fuel stowage: 341,000l.
Project history
Improved version of war-built Colossus class with strengthened flight deck and reduced fuel and petrol stowage. Terrible and Magnificent were sold to Canada and Australia and completed under original design. Other ships were completed with many modifications. Incomplete Leviathan was cannibalized to provide spares for sister-ships.
Protection
There were mantlets around aircraft torpedoes warheads rooms only. Their thickness was 10mm. Longitudinal watertight bulkheads covered the machinery.

Many thanks to Wolfgang Stöhr for additional information on this page.

Many thanks for Borys Estrin for additional information.