Photo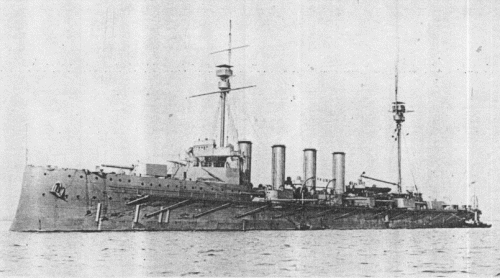 Achilles as completed
Ships
| Name | No | Yard No | Builder | Laid down | Launched | Comp | Fate |
| --- | --- | --- | --- | --- | --- | --- | --- |
| Cochrane | 19, 41, N10 | 435 | Fairfield, Govan | 24.3.1904 | 20.5.1905 | 18.2.1907 | wrecked 14.11.1918 |
| Achilles | 24, 00, N03 | 750 | Armstrong, Elswick | 22.2.1904 | 17.6.1905 | 22.4.1907 | TS late 1918, sold 5.1921 |
| Natal | 69 | 316 | Vickers, Barrow | 6.1.1904 | 30.9.1905 | 5.3.1907 | explosion 31.12.1915 |
| Warrior | 18 | 239 | Pembroke DYd | 5.11.1903 | 25.11.1905 | 12.12.1906 | sunk 1.6.1916 |
Technical data
| | |
| --- | --- |
| Displacement normal, t | 13550 |
| Displacement full, t |   |
| Length, m | 146.3 pp 154.0 oa |
| Breadth, m | 22.4 |
| Draught, m | 7.62 |
| No of shafts | 2 |
| Machinery | 2 4-cyl VTE, 19 Yarrow and 6 cylindrical boilers |
| Power, h. p. | 23000 |
| Max speed, kts | 23 |
| Fuel, t | coal 2050 |
| Endurance, nm(kts) | 5800(14) |
| Armour, mm | belt: 152 - 76, upper belt: 152, bulkheads: 152 - 51, decks: 38 - 19, turrets: 190 - 114, barbettes: 152, ammunition tubes: 76, CT: 254 |
| Armament | 6 x 1 - 234/47 BL Mk X, 4 x 1 - 190/50 BL Mk II, 26 x 1 - 47/50 3pdr Vickers Mk I, 3 - 450 TT (sub, 1 bow, 2 beam) |
| Complement | 712 |
Standard scale images

Cochrane 1908
Graphics
Project history
Constructed under the 1903/04 Programme, these vessels were modified versions of the Duke of Edinburgh class in which the broadside 152mm guns were omitted in favour of four 190mm guns mounted in single turrets in the upper deck amidships. The 152mm battery armour was retained to protect the turret bases and the 190mm turrets were provided with the same protection as the 234mm turrets. The remaining armour was identical to that in the Duke of Edinburgh except that the upper deck amidships was reduced to 19mm in thickness. The additional top-weight involved in these modifications resulted in a lowering of the level of stability, making them very steady ships, good gun platforms and excellent seaboats. These features, combined with the ability to fight all their guns in almost any weather, gained them, in contrast to their half-sisters, a very high reputation.
Ship protection
They had a full length waterline belt which was 152mm thick over 79.3m amidships reducing to 102mm forward and 76mm aft. The upper belt in the place of former central battery had 152mm thickness and bulkheads and effectively increased the height of the side armour amidships to the level of the upper deck. The engine room hatch between the lower and main decks was protected by 51mm plating. The wing barbettes reduced to 76mm behind the battery armour and the turrets had 190mm faces, 140mm sides and 114mm backs. Deck protection was very weak with a 19mm lower deck increasing to 38mm over the steering gear, a 25mm main deck reducing to 19mm under the former central battery, and a 19mm upper deck amidships.
Modernizations
1910-1912, all: funnels were raised

1916-1917, Cochrane, Achilles: - 16 x 1 - 47/50; + 1 x 1 - 76/45 20cwt QF Mk I, foremast became tripod.
Naval service
By the Armistice Achilles was reduced to Stokers` TS and was put on sale list in July 1920. Cochrane ran aground in the Mersey 14.11.1918 and became a total loss, wreck was demolished by June 1919. Natal while lying under refit at Cromarty 31.12.1915 was destroyed by an internal explosion (faulty cordite), 404 lives were lost. Warrior was heavily damaged by German gunfire during the opening action at Jutland 31.5.1916, taken in tow by seaplane carrier Engadine but foundered next day.

Many thanks to Wolfgang Stöhr for additional information on this page.