Photo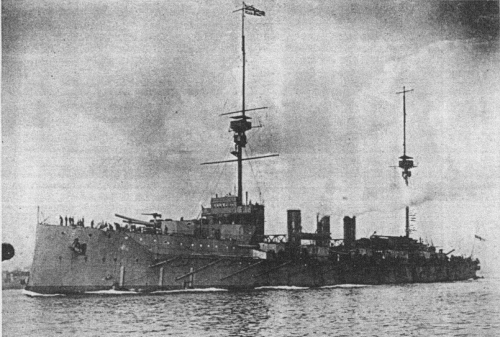 Shannon as built with short funnels
Ships
| Name | No | Yard No | Builder | Laid down | Launched | Comp | Fate |
| --- | --- | --- | --- | --- | --- | --- | --- |
| Minotaur | 91, 87, 71, N73 |   | Devonport DYd | 2.1.1905 | 6.6.1906 | 1.4.1908 | sold 4.1920 |
| Shannon | 92, 8A, 74, N25 |   | Chatham DYd | 2.1.1905 | 20.9.1906 | 10.3.1908 | accommodation ship 1920, sold 12.1922 |
| Defence | 05 | 240 | Pembroke DYd | 22.2.1905 | 24.4.1907 | 9.2.1909 | sunk 31.5.1916 |
Technical data
Displacement normal, t

14600

Displacement full, t

 

Length, m

149.4 pp 158.2 oa

Breadth, m

Minotaur, Defence: 22.7

Shannon: 23.0

Draught, m

7.92

No of shafts

2

Machinery

Minotaur: 2 4-cyl VTE, 24 Babcock boilers

Shannon, Defence: 2 4-cyl VTE, 24 Yarrow boilers

Power, h. p.

27000

Max speed, kts

23

Fuel, t

coal 2060

Endurance, nm(kts)

8150(10)

Armour, mm
belt: 152 - 76, decks: 38 - 19, turrets: 203 - 114, barbettes: 190 - 76, ammunition tubes: 76 - 51, CT: 254
Armament

2 x 2 - 234/50 BL Mk XI, 10 x 1 - 190/50 BL Mk II/V, 16 x 1 - 76/50 18cwt QF Mk I, 5 - 450 TT (sub, 1 bow, 4 beam)

Complement

755
Standard scale images

Minotaur 1909
Graphics
Project history
These ships, provided under the 1904/05 Programme, were the last and largest British armoured cruisers of the conventional type. They were enlarged Warriors with displacement increased by 1000t to allow for a heavier armament, which involved some reductions in the level of protection. The result was outwardly impressive but they were overgunned and under protected and the extra weight might well have been employed lo better effect in additional deck protection. The 234mm guns were carried in twin turrets fore and aft and the 190mm guns in ten single turrets equally disposed on each side of the upper deck. The anti-torpedo boat armament was considerably improved by the fitting of 76mm guns, which were disposed on the forward and after superstructures and turret roofs. The Shannon had a modified hull form and was 0.3m wider than her sisters with slightly less draught, which resulted in some loss of speed, and, despite achieving the highest power on trial, she recorded the lowest speed, making 22.5kts compared with 22.9kts (Defence) and 23kts (Minotaur).
Ship protection
The main belt was 152mm for a length of 83.0m amidships reducing to 102mm forward and 76mm aft. No side armour was provided between the main and upper decks, and the ammunition hoists for the 190mm turrets were provided with 178mm armour tubes between these decks reducing to 51mm behind the side armour between the main and lower decks. The 190mm barbettes were 178mm on the outboard side and 76mm inboard while the turrets had 203mm faces, 152mm sides and 114mm rears. The 234mm turrets had 203mm faces and 178mm sides and rears, while the barbettes were a uniform 178mm with 76mm floors. The forward 234mm ammunition hoist was protected by a 178mm tube from the barbette to the main deck and then reduced to 51mm, while aft the tube was 102mm only, being entirely behind the side armour. Deck protection was very weak with a 19mm protective deck increasing to 38mm over the steering gear and a main deck of 19mm amidships and 25mm fore and aft. Besides the forward 254mm CT they were fitted with an after CT protected by 76mm armour, both positions having a 76mm communication tube down to the protective deck.
Modernizations
1909, all: funnels were raised by 4.6m

1917, Minotaur, Shannon: foremast became tripod; + 2 x 1 - 76/45 20cwt QF Mk I
Naval service
Defence was sunk by gunfire of German battleship Friedrich der Grosse at Jutland 31.5.1916, all hands lost. Shannon was damaged in collision with battleship Prince George in Portsmouth in December 1909, recommissioned in March 1912. She served as accommodation ship attached to HMS Actaeon until paid off in 1922.

Many thanks to Wolfgang Stöhr for additional information on this page.