Photo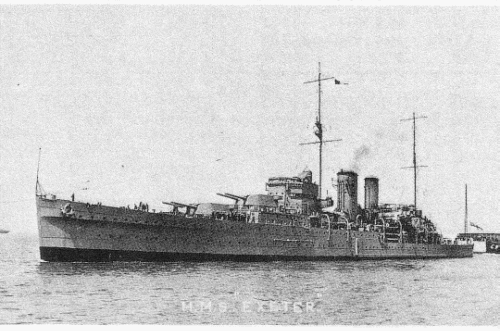 Exeter 1939
Ships
| Name | No | Yard No | Builder | Laid down | Launched | Comp | Fate |
| --- | --- | --- | --- | --- | --- | --- | --- |
| Exeter | 68 |   | Devonport DYd | 1.8.1928 | 18.7.1929 | 23.7.1931 | sunk 1.3.1942 |
Technical data
| | |
| --- | --- |
| Max speed, kts, kn | 32 |
| Displacement standard, t | 8390 |
| Displacement full, t | 10490 (later about 11000) |
| Length, m | 164.6 pp 175.3 oa |
| Breadth, m | 17.7 |
| Draught, m | 6.17 deep load (later 6.43) |
| No of shafts | 4 |
| Machinery | 4 sets Parsons geared steam turbines, 8 Admiralty 3-drum boilers |
| Power, h. p. | 80000 |
| Fuel, t | oil 1900 |
| Endurance, nm(kts) | 10000(14) |
| Armour, mm | box protection to magazines: 127 - 25, belt: 76, bulkheads: 89, barbettes: 25, turrets: 25, deck: 38 - 25 |
| Armament | 3 x 2 - 203/50 BL Mk VIII, 4 x 1 - 102/45 QF Mk V, 4 x 1 - 47/40 Hotchkiss Mk I, 2 x 1 - 40/39 2pdr QF Mk II, 2 x 3 - 533 TT |
| Complement | 630 |
Standard scale images

Exeter 1941
Graphics
Project history
Cruisers were ordered under 1926 (York) and 1927 (Exeter) Programmes. Last 'Washington' cruisers built for Royal Navy. They were moderated version of Norfolk class with three turrets and improved protection. Having practically identical technical data, York and Exeter, appreciably differed outwardly: York with the pitched masts and funnels looked much more elegant than angular Exeter.
Protection
There was 76mm armoured belt 4.0m-deep protected machinery spaces. It was closed by 89mm bulkheads (there was 64mm armour on 25mm plating). Magazines were protected by 140 (127mm armour on 13mm plating)mm sides, 76mm transverse bulkheads and 76mm platform deck. Armoured deck over machinery and steering gear was 38mm thick (25mm armour on 13mm plating).
Modernizations
1932: + 2 catapults E-II-H, 2 Fairey IIIF seaplanes (replaced by Walrus 1937)

9/1933: - 2 x 1 - 40/39

1935: + 2 x 4 - 12.7/62

1939: - 4 x 1 - 47/40

3/1941: - 4 x 1 - 102/45; + 4 x 2 - 102/45 QF Mk XVI, 2 x 8 - 40/39 2pdr QF Mk VIII, type 279 radar
Naval service
Exeter was damaged by 283mm shells in battle with German cruiser Admiral Graf Spee at La Plata 13.12.1939, repair has held about half a year. She was demolished by gunfire of Japanese cruisers Nachi and Haguro off Sumatra 1.3.1942, abandoned and when was scuttled she taken torpedo hit from destroyer Ikazuchi.

Many thanks to Wolfgang Stöhr for additional information on this page.