Photo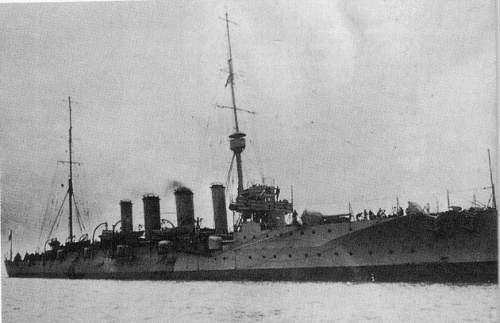 Liverpool 1911
Ships
| Name | No | Yard No | Builder | Laid down | Launched | Comp | Fate |
| --- | --- | --- | --- | --- | --- | --- | --- |
| Glasgow |   | 467 | Fairfield, Govan | 25.3.1909 | 30.9.1909 | 9.1910 | sold for BU 4.1927 |
| Gloucester | 58, 68 | 495 | Beardmore, Dalmuir | 15.4.1909 | 28.10.1909 | 10.1910 | sold for BU 5.1921 |
| Liverpool | 44, 80 | 389 | Vickers, Barrow | 17.2.1909 | 30.10.1909 | 10.1910 | sold for BU 5.1921 |
| Newcastle |   | 820 | Armstrong, Elswick | 14.4.1909 | 25.11.1909 | 9.1910 | sold for BU 5.1921 |
| Bristol | 99, 20 | 390 | John Brown, Clydebank | 23.3.1909 | 23.2.1910 | 12.1910 | sold for BU 5.1921 |
Technical data
Displacement normal, t

4800

Displacement full, t

5300

Length, m

138.1

Breadth, m

14.3

Draught, m

4.70

No of shafts

Bristol: 2

others: 4

Machinery

Bristol: 2 Brown-Curtis steam turbines, 12 Yarrow boilers

others: 4 Parsons steam turbines, 12 Yarrow boilers

Power, h. p.

22000

Max speed, kts

25

Fuel, t

coal 1350 + oil 250

Endurance, nm(kts)
5070(16)
Armour, mm

deck: 51 - 19, CT: 51, gun shields: 102

Armament

2 x 1 - 152/50 BL Mk XI, 10 x 1 - 102/50 BL Mk VII, 4 x 1 - 47/40 3pdr Hotchkiss Mk I, 2 - 450 TT (beam)

Complement

480
Standard scale images

Bristol 1918
Graphics
Project history
The Bristol class were the first true cruisers built for the RN since the turn of the century, for the big armoured cruisers had in reality been 2nd class battleships, with little thought given to the main roles of scouting and patrol work normally done by cruisers. To make matters worse Fisher had decreed that large destroyers like the Swift could perform the cruiser role, and only when it became painfully obvious that this was impossible did the Admiralty resume the design and construction of medium-sized cruisers. The original design was to have been armed with unshielded 102mm guns but with the German 3rd class cruisers very much in mind the Board decreed that two 152mm guns should be added. The guns were logically disposed, two shielded 152mm forward and aft, and five shielded 102mm p&s in the waist.

The main drawbacks of the design proved to be the large metacentric height needed to preserve stability in the damaged state, and the cramped accommodation. The high metacentre made them very lively gun-platforms, while Fisher's insistence on placing officers' accommodation forward, however sound in the tactical sense, encroached on the ratings' already limited recreation space. After the ships were well advanced, firing trials against the old turret ship Edinburgh showed that such thin armoured decks by themselves offered no protection against modem high-explosive shells, as they could riddle the sides easily, and if they burst above the deck could send lethal splinters down through holes in the deck. These criticisms notwithstanding, the Bristol class gave a good account of themselves in service and provided the starting point for some of the most successful cruisers ever built for the RN. As the five ships spent so much time on foreign stations during the war and because they were comparatively cramped they never received the alterations given to later 'Town' classes.
Ship protection
For protection against shellfire they were given 51mm plating over the magazines and machinery spaces, thinning to 19mm elsewhere. The machinery spaces had additional protection from coal bunkers.
Modernizations
1915 - 1916, all: + 1 x 1 - 76/45 20cwt QF Mk I
Naval service
Bristol ran aground at Plymouth 22.12.1912, salvaged this month, paid off in June 1919. Glasgow sank German light cruiser Dresden at Juan Fernandez Island 14.3.1915, paid off in 1920 and served as drill ship for stokers in 1921 - 3.1926. She was disarmed in 1.1925. Gloucester was paid off in April 1919. Liverpool went to reserve in June 1919. Newcastle was decommissioned in February 1920.

Many thanks to Wolfgang Stöhr for additional information on this page.