Photo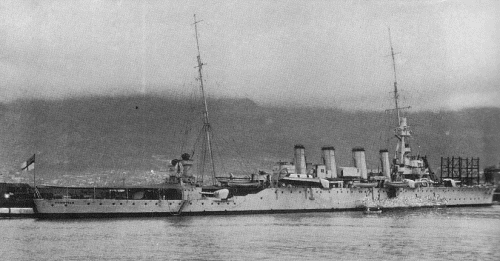 Birmingham early 1920s
Ships
| Name | No | Yard No | Builder | Laid down | Launched | Comp | Fate |
| --- | --- | --- | --- | --- | --- | --- | --- |
| Nottingham | 35 | 248 | Pembroke DYd | 13.6.1912 | 18.4.1913 | 4.1914 | sunk 19.8.1916 |
| Lowestoft | 17, 83 |   | Chatham DYd | 29.7.1912 | 28.4.1913 | 4.1914 | sold for BU 1.1931 |
| Birmingham | 45, 16, 28 | 851 | Armstrong, Elswick | 10.6.1912 | 7.5.1913 | 2.1914 | sold for BU 2.1931 |
| Adelaide (RAN) |   | 44 | Cockatoo DYd, Australia | 20.11.1915 | 27.7.1922 | 31.7.1922 | depot ship 5.1945, sold for BU 2.1949 |
Technical data
Displacement normal, t

RN ships: 5530

Adelaide: 5550

Displacement full, t

RN ships: 5920 - 6100

Adelaide: 6160

Length, m

RN ships: 139.3

Adelaide: 141.0

Breadth, m

15.2

Draught, m

4.90

No of shafts

4

Adelaide: 2

Machinery

4 Parsons steam turbines, 12 Yarrow boilers

Adelaide: 2 sets Parsons geared steam turbines, 12 Yarrow boilers

Power, h. p.

RN ships: 25000

Adelaide: 25500

Max speed, kts

25.5

Fuel, t

RN ships: coal 1165 + oil 235

Adelaide: coal 860 + oil 550

Endurance, nm(kts)
RN ships: 4140(16)
Armour, mm

belt: 51 on 25mm plating, deck: 38 - 10, CT: 102, gun shields: 102

Armament

RN ships: 9 x 1 - 152/45 BL Mk XII, 4 x 1 - 47/40 3pdr Hotchkiss Mk I, 2 - 533 TT (beam, sub)

Adelaide: 9 x 1 - 152/45 BL Mk XII, 1 x 1 - 76/45 20cwt QF Mk I, 1 x 1 - 76/40 12pdr 12cwt QF Mk I, 4 x 1 - 47/40 3pdr Hotchkiss Mk I, 2 - 533 TT (beam, sub)

Complement

480
Standard scale images

Birmingham 1914

Adelaide 1942
Graphics
Project history
For the 1912 Programme three near-repeats of the Chatham class were approved. The only alterations were to add a second 152mm on the forecastle, side by side to improve ahead fire, and additional flare on the forecastle to reduce spray. Also they received new 45cal 152mm guns. Like the Chatham class they proved highly successful in service and they were retained in the post-war Fleet. Lowestoft was completed with a tripod foremast carrying a spotting platform, and in December 1914 a new light pattern of director was fitted. Birmingham was similarly fitted in 1916-17.

Adelaide was the oldest cruiser (considering from the moment of the design approval and laid down date) of British Empire served in the Second World War. She was built in Australia for fleet of this dominion under the design of cruiser Birmingham of 1910 and became obsolete in days of the First World War, because of last circumstance completion was conducted very slowly.
Protection
Armoured belt protected ship at full length, its thickness was 76mm (summary) abreast machinery spaces and 51mm at ship ends. It extended to main deck (and to upper deck abreast machinery). Protective deck was 19mm thick over machinery and 38mm over steering gear. Its thickness over other ship parts was 10 mm.
Modernizations
1915, all completed: + 1 x 1 - 76/45 20cwt QF Mk I

1937, Adelaide: - 1 x 1 - 76/40

(Cockatoo, 1938 - 3.1939), Adelaide: Two boilers with their funnel were removed, other boilers were only oil-fired. Fuel stowage was 1420t of oil, engines power felt to 23500hp and maximal speed to 24.3kts; - 1 x 1 - 152/45, 2 - 533 TT; + 3 x 1 - 102/45 QF Mk V

7/1942, Adelaide: + 6 x 1 - 20/70 Oerlikon Mk II/IV, type 271 radar

9/1943, Adelaide: - 1 x 1 - 152/45, 1 x 1 - 102/45; + 4 DCT, type 285, SC radars. Gun shields were changed to new more light ones.
Naval service
Birmingham rammed and sank German submarine U15 9.8.1914. Nottingham was torpedoed three times by German submarine U52 19.8.1916 in 120nm SE of Firth of Forth (38 dead).

Many thanks to Wolfgang Stöhr for additional information on this page.