Photo

Vanguard
Ships
| Name | No | Yard No | Builder | Laid down | Launched | Comp | Fate |
| --- | --- | --- | --- | --- | --- | --- | --- |
| Vanguard | 23 | 567 | John Brown, Clydebank | 2.10.1941 | 30.11.1944 | 9.8.1946 | stricken 6.1960 |
Technical data
| | |
| --- | --- |
| Displacement standard, t | 44500 |
| Displacement full, t | 51420 |
| Length, m | 231.6 pp 248.2 oa |
| Breadth, m | 32.9 |
| Draught, m | 9.38 (10.62 deep load) |
| No of shafts | 4 |
| Machinery | 4 sets Parsons geared steam turbines, 8 Admiralty 3-drum boilers |
| Power, h. p. | 130000 |
| Max speed, kts | 30 |
| Fuel, t | 4423 oil |
| Endurance, nm(kts) | 8250(15) |
| Armour, mm | main belt: 356 - 343, bulkheads: 305, barbettes: 330 - 279, turrets: 330 (face) - 229 - 178 (sides) - 152 (roof), CT: 76 -64, secondary gunhouses: 38 - 25, main deck: 152 - 127, lower deck: 127 - 63 fore and 114 aft |
| Armament | 4 x 2 - 381/42 RP.12 Mk I/N, 8 x 2 - 133/50 RP.10 Mk I*, 4 x 1 - 47/40 Mk I*, 10 x 6 - 40/60 RP.50 Mk I, 1 x 2 - 40/60 STAAG, 11 x 1 - 40/60 Mk VII |
| Electronic equipment | type 960, type 277, type 293, type 268, type 930, 2x type 274, 4x type 275, 11x type 262 radars |
| Complement | 1893 - 1975 |
Standard scale images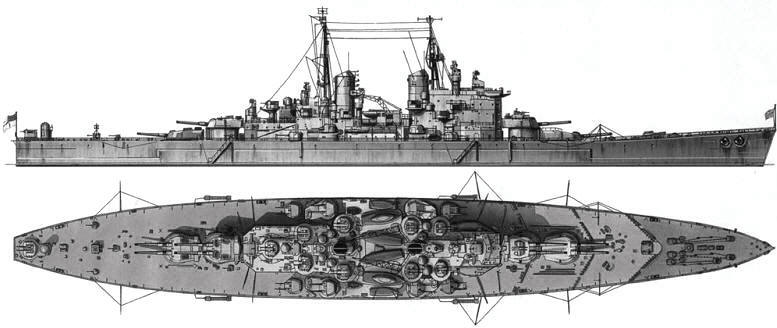 Vanguard 1946

Vanguard 1946
Graphics
Project history
British became able during the war period not only to laid down, but also to launch, and after the war to complete the Vanguard, last battleship of Royal Navy. Her designing was conducted around main guns. Four 381mm turrets from Courageous class battlecruisers, rebuilt to aircraft carriers, from the middle 1920 were stored in naval arsenals. Admiralty did not know, what to do with them for a long time. At last, in the beginning of 1939, the basic design of a fast battleship for East fleet capable is made to struggle against Japanese battle and heavy cruisers, was ready. With a beginning of war the design have put aside, however in 1941 when the circumstances in the Far East began to be heated, it have quickly finished with usage of ready constructive decisions applied on King George V class.
Protection
External vertical main belt was 7.3m in height and 140m in length, it protected citadel between end barbettes. Upper part, about 5m in height, was 356mm abreast magazines and 343mm abreast machinery. Lower part, about 2.5m in height, tapered from upper to lower edges from 356mm to 114mm abreast magazines and from 343mm to 114mm abreast machinery. Lower stripe of belt extended at 164m. Its thickness was 343 - 305 - 260 (upper edge) / 114mm (lower edge) fore and aft. Thickness of bulkheads was 305mm. Additional 64 - 51mm splinter belt was 2.45m in height fore and 3.4m aft and extended to 3.5m from stem and to steering gear. Magazines had vertical 37mm splinter Protection. Flat main deck within citadel was 152mm over magazines and 127mm over machinery, it connected with upper edge of main belt. There was a lower deck outside citadel, connected with upper edge of lengthened parts of lower belt strike. It extended fore up to stem and has thickness 127 - 64mm; its aft part was 114mm thick, closed by 102mm bulkhead. Last longitudinal bulkhead was 44-37mm thick, underwater Protection deep was 4.75m.
Modernizations
1947: - 1 x 2 - 40/60 (fitted again later in 1947 )

1951: - 9 x 1 - 40/60

1954: - 1 x 6 - 40/60; + 2 x 1 - 40/60 Mk VII

1956: - 4 x 1 - 40/60
Naval service
no significant events

Many thanks to Wolfgang Stöhr for additional information on this page.