Photo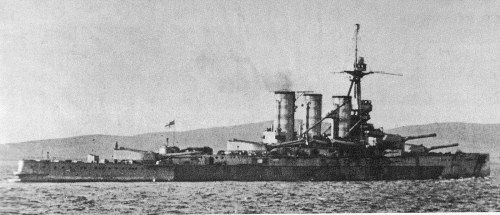 Tiger 1915
Ships
| Name | No | Yard No | Builder | Laid down | Launched | Comp | Fate |
| --- | --- | --- | --- | --- | --- | --- | --- |
| Tiger | 42, A4, 91 | 418 | John Brown, Clydebank | 20.6.1912 | 15.12.1913 | 10.1914 | sold for BU 3.1932 |
Technical data
| | |
| --- | --- |
| Displacement normal, t | 28430 |
| Displacement full, t | 35710 |
| Length, m | 214.6 |
| Breadth, m | 27.6 |
| Draught, m | 8.70 mean |
| No of shafts | 4 |
| Machinery | 4 Brown-Curtis steam turbines, 39 Babcock & Wilcox boilers |
| Power, h. p. | 85000 |
| Max speed, kts | 28 |
| Fuel, t | 2450 coal + 2450 oil |
| Endurance, nm(kts) | 4650(10) |
| Armour, mm | belt: 229 - 76, bulkheads: 102 - 51, turrets: 229 (face and sides) - 203 (rear) - 82 - 64 (roof), barbettes: 229 - 203 (over main deck) - 102 - 76 (under main deck), casemates: 152 - 127, deck: 76 - 25, CT: 254 (all sides) - 76 (roof) |
| Armament | 4 x 2 - 343/45 BL Mk V, 12 x 1 - 152/45 BL Mk VII, 2 x 1 - 76/45 20cwt QF Mk I, 4 x 1 - 47/40 3pdr Hotchkiss Mk I, 4 - 533 TT (beam, 20) |
| Complement | 1121 |
Standard scale images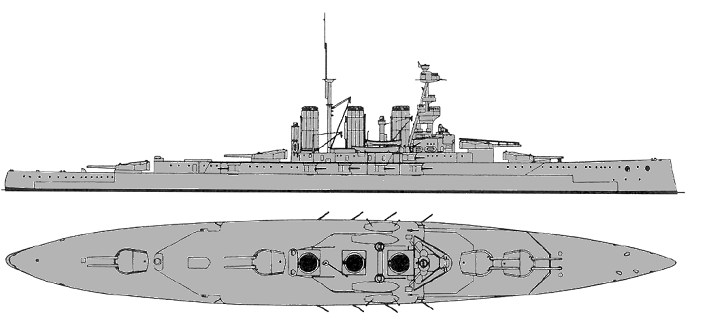 Tiger 1918
Graphics
Project history
Under the 1911-12 Estimates there was provision for only one battlecruiser under improved Queen Mary design. Considerable attention was paid to correcting some of the obvious defects of the earlier ships, notably the layout of main armament and the provision of powerful secondary armament. Unfortunately the quest for ever-higher speed led to an increase in power to 85000hp with an overload limit of 108000hp to boost speed from 28kts to 30kts. The folly of such a design criterion became evident on trials late in 1914, at 91103hp Tiger reached 28.4kts but 104635hp pushed this up only to 29.1kts. As she burned about 1245t of fuel daily at 59500hp, a huge increase in bunker capacity was necessary simply to give her an endurance comparable to Lion class.

'Q' turret was rearranged aft, 152mm battery was very similar to Iron Duke but instead of the useless pair of 152mm guns right aft Tiger received additional embrasure a deck above the main deck battery at its fwd end.
Protection
229mm main belt (between main and lower decks) with 3.5m height extended from CT to the after end of machinery spaces. Belt between CT and inner end of barbette "A" was 152mm, 127mm abreast barbette "A" and 102mm fwd from barbette "A", ending in 9m to stem. Aft part of main belt was 127mm abreast barbette "Y" and 102mm aft from barbette, ending in 8m to stern. Ends of main belt were closed by 102mm bulkheads, ends of 127mm parts also were closed by 102-51mm bulkheads. Full length of main belt was 198m (93% of length by wl). There was 76mm lower belt with 1.15m height between barbettes "A" and "Y". Thickness of upper belt (between main and upper decks) was 152mm between CT and aft end of machinery spaces, 127mm abreast barbettes "B" and "Y" and 102mm at other parts, it was closed by 102-51mm fwd and 102mm aft bulkheads twice (at ends of 152mm and 102mm parts) and has some length than main belt. Secondary casemates were protected by 152mm armor (127mm at casemates ends). Casemates had 127mm fwd and 102mm aft bulkheads. Two upper 152mm guns had 152mm vertical and 25mm horizontal protection. Thickness of upper deck was 25mm between barbette "A" and main fore bulkhead and between barbette "Y" and stern, increasing to 38mm amidships over the citadel. Forecastle deck was 25mm over secondary battery and 38mm over another part of forecastle. Main deck extended between 102mm bulkheads and was 25mm. Lower deck was 25mm with 25mm slopes within 102mm bulkheads, but its thickness was increased to 76mm between fwd bulkhead and stem. Another part of lower deck was 51mm. Splinter screens for magazines under main belt were 38 - 64mm. Funnel uptakes had 44 - 13mm splinter protection.
Modernizations
1918: fore topmast was moved to the derrick post; + flying-off platform on 'B' turret

1919: - flying-off platform

1/1924: fuel stowage was 3394t of oil only; - 2 x 1 - 76/45; + 4 x 1 - 102/45 QF Mk V

11/1924: - 2 x 1 - 102/45

1/1925: - 2 x 1 - 102/45; + 4 x 1 - 76/45 20cwt QF Mk I

3/1928: + 2 x 1 - 40/39 2pdr QF Mk II

9/1928: - 2 x 1 - 40/39

3/1929: fuel stowage was 3300t of oil and 300t of coal; - 4 x 1 - 76/45; + 4 x 1 - 102/45 QF Mk V
Naval service
Tiger was 24.1.1915 hit by six heavy shells at the battle of the Dogger Bank and was under repair till the February. At Jutland 31.5.1916 she was hit 15 times by heavy shells and was under repair till the July. She served as sea-going gunnery TS in 1924 - 1929 and was paid off in March 1931.

Many thanks to Wolfgang Stöhr for additional information on this page.