Photo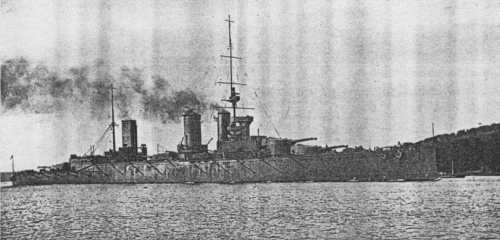 Queen Mary 1913
Ships
| Name | No | Yard No | Builder | Laid down | Launched | Comp | Fate |
| --- | --- | --- | --- | --- | --- | --- | --- |
| Queen Mary | 14 | 818 | Palmers, Jarrow | 6.3.1911 | 20.3.1912 | 8.1913 | sunk 31.5.1916 |
Technical data
| | |
| --- | --- |
| Displacement normal, t | 26770 |
| Displacement full, t | 31650 |
| Length, m | 214.4 |
| Breadth, m | 27.1 |
| Draught, m | 8.50 mean |
| No of shafts | 4 |
| Machinery | 4 Parsons steam turbines, 42 Yarrow boilers |
| Power, h. p. | 75000 |
| Max speed, kts | 27.5 |
| Fuel, t | coal 3600 + oil 1170 |
| Endurance, nm(kts) | 5610(10) |
| Armour, mm | belt: 229 - 102, bulkheads: 102, turrets: 229 (face and sides) - 203 (rear) - 82 - 64 (roof), barbettes: 229 (over main deck) - 76 (under main deck), deck: 64 - 25, over magazines: 89, CT: 254 (face and sides) - 178 (rear) - 76 (roof) |
| Armament | 4 x 2 - 343/45 BL Mk V, 14 x 1 - 102/50 BL Mk VII, 4 x 1 - 47/40 3pdr Hotchkiss Mk I, 2 - 533 TT (beam) |
| Complement | 997 |
Standard scale images

Queen Mary 1915
Graphics
Project history
Half-sister of Lion class, built under the 1910 Programme with many internal improvements later extended in the Tiger. These included higher power, 636kg shells for main guns and different arrangement of the 102mm belt armour. However, apart from having round funnels and a single-decked 102mm battery she appeared identical. Her battleship equivalents were King George V class. On trials Queen Mary made 28.1kts with 83000shp. The heavier shells improved the accuracy of the guns but in spite of the great range of the guns, sights only allowed for a maximum 15° elevation. This was not rectified in the Grand Fleet and the battlecruisers until 1916, when super-elevation 6° prisms were fitted to the central sight in each turret.
Protection
229mm main belt (between main and lower decks) with 3.5m height extended from CT to the after end of machinery spaces. Belt between CT and inner end of barbette "B" was 152mm, 127mm between barbettes "A" and "B" and 102mm fwd from barbette "A", ending in 15m to stem. Aft part of main belt was 127mm abreast barbette "Y" and 102mm aft from barbette, ending in 23m to stern. Ends of main belt were closed by 102mm bulkheads. Full length of main belt was 176m (83% of length by wl). Thickness of upper belt (between main and upper decks) was 152mm between CT and aft end of machinery spaces, 127mm abreast barbette "B" and 102mm at other parts, it was closed by 102mm bulkheads and has the same length than main belt. Upper deck was taken to the upper edge of upper belt and has thickness 25-19mm (51mm between barbettes "A" and "B"). 38-31mm forecastle deck covered middle part of hull. Main deck over citadel was 25mm with 25mm slopes, 31mm with 31mm slopes between barbette "Y" and aft 102mm bulkhead and 64mm with 64mm slopes between 102mm bulkheads and ships ends. Funnel uptakes had 19mm splinter protection. Fwd secondary battery (6 guns) had 51mm fwd and 76mm aft bulkheads, 76mm sides and 25mm roof. Aft secondary battery (8 guns) had no protection.
Modernizations
1914: struts halfway up the pole foremast, topmasts were lowered

10/1914: + 1 x 1 - 76/45 20cwt QF Mk I, 1 x 1 - 57/40 6pdr Hotchkiss Mk I

early 1915: - 4 x 1 - 47/40

12/1915: director control was fitted
Naval service
At Jutland 31.5.1916 Queen Mary came under fire from German battlecruisers Derfflinger and Seydlitz. Two hits of 305mm shells in the vicinity of 'A' and 'B' turrets and other on 'Q' turret initiated explosion of 'A' and 'B' magazines, destroying the forward part of the ship as far as the foremast. As the shattered hull listed to port a further explosion sent the remains to the bottom, only 38 minutes after the start of the battle. 1266 men were lost.

Many thanks to Wolfgang Stöhr for additional information on this page.