Photo

Orion 1918
Ships
| Name | No | Yard No | Builder | Laid down | Launched | Comp | Fate |
| --- | --- | --- | --- | --- | --- | --- | --- |
| Orion | 52, 91, 86 |   | Portsmouth DYd | 29.11.1909 | 20.8.1910 | 1/1912 | sold for BU 12.1922 |
| Thunderer | 32, A3, 36 | 60L | Thames IW, Leamouth | 13.4.1910 | 1.2.1911 | 6.1912 | sold for BU 12.1926 |
| Monarch | 55, 88, 60 | 828 | Armstrong, Elswick | 1.4.1910 | 30.3.1911 | 3.1912 | stricken 1.1925 |
| Conqueror | 06, 47, 95 | 500 | Beardmore, Dalmuir | 5.4.1910 | 1.5.1911 | 11/1912 | sold for BU 12.1922 |
Technical data
Displacement normal, t

22200

Displacement full, t

25870

Length, m

177.1

Breadth, m

27.0

Draught, m

7.60 mean

No of shafts

4

Machinery

Orion, Thunderer, Conqueror: 4 Parsons steam turbines, 18 Babcock & Wilcox boilers

Monarch: 4 Parsons steam turbines, 18 Yarrow boilers

Power, h. p.

27000

Max speed, kts

21

Fuel, t

coal 3300 + oil 800

Endurance, nm(kts)
6730(10)
Armour, mm

belt: 305 - 203, bulkheads: 254 - 76, turrets: 279 (face) - 203 (sides and rear) - 102-76 (roof), barbettes: 254 -178 (over main deck) - 178-76 (under main deck), deck: 102 - 45, CT: 254 (face and sides) - 76 (roof)

Armament

5 x 2 - 343/45 BL Mk V, 16 x 1 - 102/50 BL Mk VII, 4 x 1 - 47/40 3pdr Hotchkiss Mk I, 3 - 533 TT (2 beam, 1 stern)

Complement

752
Standard scale images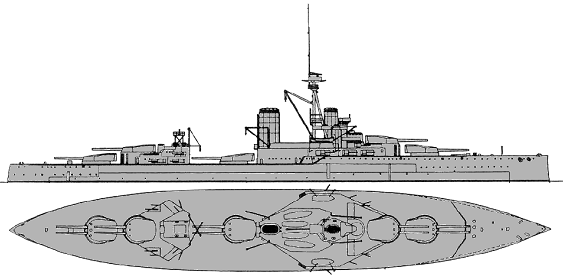 Orion 1912

Conqueror 1918
Graphics
Project history
Under 1909 Programme 4 much larger battleships and one battlecruiser were approved. Dissatisfaction with 305/50mm guns led the Director of Naval Ordnance to press for a return to 343mm gun last seen in the Naval Defence Act battleships. The increase in calibre not only gave greater range and much greater hitting power but improved shooting. By keeping the muzzle velocity down the designers were able to eliminate much of the tendency of the shell to 'wobble' in fight, improving accuracy at extreme range, and it had the additional benefit of reducing barrel wear. For comparatively small increase in weight and size the 343/45mm gun offered a significant advantage over German 305mm guns. The provision of a heavier shell (636kg instead of 568kg) further improved the ballistics of the gun, and with 20° elevation had no difficulty in ranging out to 21.8km. There were other improvements in design, and clearly the new battleships benefited from a slight relaxation in the tempo of battleship building. The cumbersome layouts seen in the early dreadnoughts gave way to an all-centreline disposition, with superimposed turrets fwd and aft. Side armour was extended up to main deck, thus curing a major weakness of all earlier dreadnoughts, and splinter protection was given to the boats. There was one inexplicable weakness in the layout: the tripod mast was stepped between the funnels, as it had been in the Dreadnought, Colossus and Hercules. The problem of smoke interference with fire control was well known, and the only reason that can be found in the same one as before - it provided a convenient position to place the booms for boats.

One common weak point of later British dreadnoughts was their lack of beam. As compared with German dreadnoughts there was insufficient beam to provide the scale of underwater protection found in German ships, and DNC's staff did consider adding beam in order to improve subdivision against torpedoes. An increase of beam was vetoed by Naval Staff, who wished to restrict metacentric height and thereby improved the ship as gunnery platform. Another reason was the need to keep 21kts speed. Beam was only permitted to increase to the point where it provided initial stiffness and preserved the correct metacentric height. Thunderer was the second ship fitted with the Scott Director system, which permitted the guns to be fired from the central fire control position, placed high on the tripod mast. In competition with Orion she scored six times as many hits than latter.
Protection
Main belt has 305mm thickness between barbettes "A" and "Y", 152-102mm belt extended fwd from barbette "A", ending in 13m from stem, and aft from barbette "Y", ending in 14m from stern, armour height was 6.25m at full length. Lower belt with some length as main belt extended between main and middle decks. Its thickness was 229mm (between barbettes "A" and "Y")-152-102-64mm. Upper belt extended between barbettes "A" and "Y" between main and upper decks. Its thickness was 203mm. 305mm main belt was closed by fore 152mm and after 254mm bulkheads. Upper belt has 203mm bulkheads. Second fore 102mm bulkhead was at the end of 102mm part main belt, its thickness between main and upper decks was 38mm. End of 64mm after part of lower belt was closed by 64mm bulkhead. Upper deck between barbettes "A" and "Y" was 38mm. Main deck was 64mm between first and second fore bulkheads and first and second aft bulkheads, 25mm middle deck with 25mm slopes closed citadel. Lower deck was 102-76mm aft from barbette "Y" and 64-25mm fwd from barbette "A". Funnel uptakes had 38-25mm splinter protection.
Modernizations
1915, all: reducing of topmasts.

1916, all: + extra armour over magazines.

1917, all: + flying-off platforms (Orion - on "B" & "Q" turrets, Thunderer and Conqueror - on "B" & "X" turrets, Monarch - on "B" turret).

late 1917, Conqueror: + 1 x 1 - 102/50 BL Mk VII (AA), 1 x 1 - 76/45 20cwt QF Mk I (AA)

late 1917, Monarch, Orion, Thunderer: + 1 x 1 - 76/45 20cwt QF Mk I (AA)

5/1921, Thunderer: - 8 x 1 - 102/50.
Naval service
Conqueror was seriously damaged bow in collision with Monarch 27.12.1914. Thunderer since 5.1921 served as TS. Conqueror, Orion and Monarch were all discarded to comply with Washington Treaty, but Thunderer served as cadets`TS till 1926.

Many thanks to Wolfgang Stöhr for additional information on this page.

Many thanks for Borys Estrin for additional information.