Photo

Nelson 1927
Ships
| Name | No | Yard No | Builder | Laid down | Launched | Comp | Fate |
| --- | --- | --- | --- | --- | --- | --- | --- |
| Nelson | 28 | 991 | Armstrong, Elswick | 28.12.1922 | 3.9.1925 | 8.1927 | stricken 2.1948, sold for BU 5.1948 |
| Rodney | 29 | 904 | Cammell Laird, Birkenhead | 28.12.1922 | 17.12.1925 | 11.1927 | BU 3.1948 |
Technical data
Displacement standard, t

Nelson: 33313

Rodney: 33730

Displacement full, t

41250 (with buoyancy spaces filled)

Length, m

201.2 pp 216.4 oa

Breadth, m

32.3

Draught, m

8.56 mean, 10.2 extra deep load

No of shafts

2

Machinery

2 sets Brown-Curtis geared steam turbines, 8 Admiralty 3-drum boilers

Power, h. p.

45000

Max speed, kts

23

Fuel, t

Nelson: 3805 oil

Rodney: 3770 oil

Endurance, nm(kts)
14500(10)
Armour, mm

main belt: 356 - 330, bulkheads: 305 - 102, funnel uptakes: 229 - 203, barbettes: 381 - 305, turrets: 406 (face) - 280 - 229 (sides) - 229 (rear) - 184 (roof), CT: 356 (sides) - 305 (face) - 254 (rear) - 165 (roof) - 102 (deck), communication tube: 152, secondary barbettes: 25, secondary turrets: 38 - 25, deck: 159 - 95

Armament

3 x 3 - 406/45 BL Mk I, 6 x 2 - 152/50 BL Mk XXII, 6 x 1 - 120/40 QF Mk VIII, 4 x 1 - 47/40 3pdr Hotchkiss Mk I, 8 x 1 - 40/39 2pdr QF Mk II, 2 - 622 TT (fwd)

Complement

1314; 1361 as flagship
Standard scale images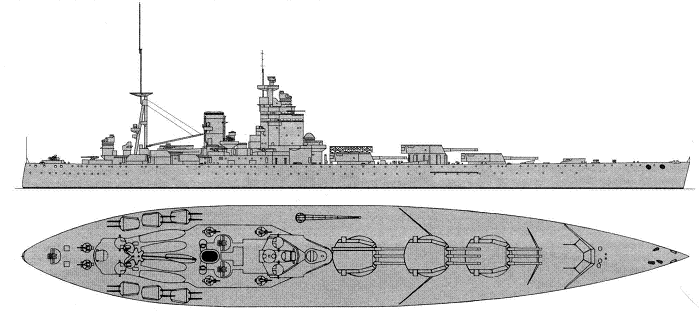 Rodney 1939

Nelson late 1945
Graphics
Project history
Japan and the USA commenced building of superdreadnoughts with 406mm artillery soon after the First World War, and Admiralty does not remain other choice how to join into a new winding of naval arms race. The design of the huge battlecruiser have been developed in 1920-1921, it has received code number G3. Such four ships even had time to order, however the Washington conference of 1922 has stopped building of these ships. At the same time UK was authorised to build two ships within the limits of the established limitations (35000t standard displacement and 406mm artillery). Designers were repelled from project G3 at creation of new battleships, retaining an original arrangement of all main artillery in fore part of the ship. It was possible to retain armour and armaments practically without changes at the expense of a speed restriction in 23kts . Armour, for the first time in British practice, corresponded to a principle "all or nothing". The belt was placed in the hull on some distance from side plating and was declined inside at 18°. Internal anti-torpedo protection was designed for resist of explosion of 340kg TNT. All three main gun turrets (designed and ordered for G3 type battlecruisers) have been grouped in a fore end, thus superfiring "B" turret had the wide fire sector limited only 30° on a stern. Six 152mm twin turrets placed aside in two pyramidal groups at the after end. 6 120mm guns and provided by the design but not installed 4 octuple 40mm pompoms were intended for AA defence.
Protection
Internal main 330mm (356mm abreast magazines) belt was 3.96m-deep and protected 117.0m of ship length between barbette "A" and secondary magazines. Belt was internal and inclined at 18° to vertical, its lower edge connected with 30°-sloped plate, this plate connected with 15°-inclined longitudinal 38mm bulkhead. Distance between this bulkhead and ship side (deep of underwater protection) was 3.05-3.7m. Main belt was closed by bulkheads. Fore bulkhead was 305mm between main and intermediate decks, aft bulkhead was 254mm. Second fore bulkhead was 203mm and extended between intermediate deck and platform under breakwater construction, aft bulkhead of steering room has 102mm thickness.

There was flat main deck inside citadel, connected with upper edge of main belt. Its thickness was 159mm over magazines and 95mm over machinery. Intermediate deck laid outside the citadel between first and second fore and aft bulkheads. Fore part of this deck was flat and has 178mm thickness, aft part was 108mm with 108mm slopes.

Barbettes were 381mm at beam sides and 305mm at fore and aft sides. Communication tube of CT had 152mm protection. Funnel uptakes were protected by 229 - 203mm armor. Secondary battery was protected very light, its gunhouses had 38mm faces and 25mm sides, rears and crowns.

Underwater protection was 3.1m deep and included 38mm longitudinal bulkhead. It could resist exploding of 340kg TNT.
Modernizations
1932, Rodney; 1934, Nelson: - 8 x 1 - 40/39; + 1 x 8 - 40/39 2pdr QF Mk VIII

1935, both: + 2 x 4 - 12.7/62

1935, Rodney; 1937, Nelson: + 1 x 8 - 40/39 2pdr QF Mk VIII

1936, Rodney: + 1 catapult on turret "X", 1 seaplane

1/1938, Nelson: additional 70mm or 76mm lower deck fitted fwd from 305mm fore bulkhead, this bulkhead extended by 102mm plate to double bottom.

11/1938, Rodney: + 1 x 8 - 40/39 2pdr QF Mk VIII, type 79Y radar

8/1940, Nelson: + 1 x 8 - 40/39 2pdr QF Mk VIII, 2 x 4 - 40/39 2pdr QF Mk VIII, 4 x 20 - 178 UP rockets projectors, type 281 radar. Full displacement was 43300t

8/1940, Rodney: - type 79Y radar; + 2 x 1 - 20/70 Oerlikon Mk II/IV, type 279 radar

8/1941, Rodney: - 2 x 1 - 20/70, type 279 radar; + 2 x 8 - 40/39 2pdr QF Mk VIII, 1 x 4 - 40/39 2pdr QF Mk VIII, type 271, type 281, type 284 radars

3/1942, Nelson: - 4 x 20 - 178 UP, 2 - 622 TT; + 1 x 8 - 40/39 2pdr QF Mk VIII, 13 x 1 - 20/70 Oerlikon Mk II/IV, type 273, 5x type 282, 4x type 283, type 284, 2x type 285 radars

5/1942, Rodney: - 2 x 4 - 12.7/62, type 271 radar; + 17 x 1 - 20/70 Oerlikon Mk II/IV, type 273, 5x type 282, 4x type 283, type 285 radars, displacement: 36000/43140t

mid-1942, Rodney: + 4 x 1 - 20/70 Oerlikon Mk II/IV

8/1942, Rodney: - 1 catapult with seaplane; + 35 x 1 - 20/70 Oerlikon Mk II/IV

late 1942, Rodney: + 5 x 1 - 20/70 Oerlikon Mk II/IV

autumn 1943, Nelson: - 2 x 4 - 12.762; + 28 x 1 - 20/70 Oerlikon Mk II/IV

1943 - 1944, Nelson: - 2 x 4 - 40/39; + 2 x 8 - 40/39 2pdr QF Mk VIII

early 1944, Nelson: + type 650 ECM suite

6/1944, Rodney: + 2 x 1 - 20/70 Oerlikon Mk II/IV, type 650 ECM suite

1944 - 1945, Rodney: - 5 x 1 - 20/70; + 5 x 2 - 20/70 Oerlikon Mk II/IV

1/1945, Nelson: + 4 x 4 - 40/56 Bofors Mk 1.2, 24 x 1 - 20/70 Oerlikon Mk II/IV, displacement: 37000/44054t

4/1945, Nelson: - 4 x 1 - 20/70

1/1946, Nelson: 3 x 3 - 406/45 Mk I, 6 x 2 - 152/50 Mk XVIII, 6 x 1 - 120/40 HA Mk XII, 4 x 4 - 40/60 Mk 2, 6 x 8 - 40/39 Mk VIA, 65 x 1 - 20/70 Mk III, type 273, type 281, 5x type 282, 4x type 283, type 284, 2x type 285 radars, type 650 ECM suite

1/1946, Rodney: 3 x 3 - 406/45 Mk I, 6 x 2 - 152/50 Mk XVIII, 6 x 1 - 120/40 HA Mk XII, 5 x 8 - 40/39 Mk VIA, 1 x 4 - 40/39 Mk VII, 5 x 2 - 20/70 Mk V, 58 x 1 - 20/70 Mk III, 2 - 622 TT (fwd), type 273, type 281, 5x type 282, 4x type 283, type 284, type 285 radars, type 650 ECM suite

1946, Nelson: - 61 x 1 - 20/70
Naval service
Nelson was stricken by a magnetic mine in early December, 1939 and was 9 months under repair. She was again damaged by Italian aircraft torpedo 27.9.1941 and was under repair till April 1942. She was mined next time during support of Allies landing in Normandy 18.6.1944 and was out of service till January, 1945.

Many thanks to Wolfgang Stöhr for additional information on this page.

1928 (A.Dashyan)