Photo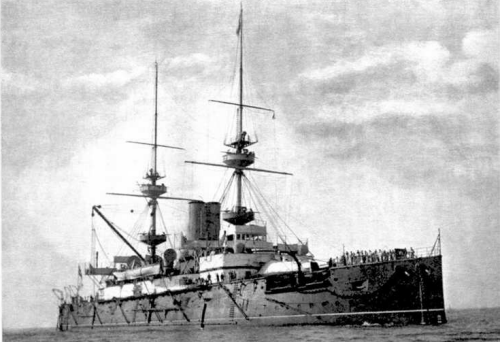 Prince George
Ships
| Name | No | Yard No | Builder | Laid down | Launched | Comp | Fate |
| --- | --- | --- | --- | --- | --- | --- | --- |
| Magnificent | D13, P83, P3A |   | Chatham DYd | 18.12.1893 | 19.12.1894 | 12.1895 | tender 2.1911, TS 5.1912 - 7.1913, troopship 2.1915, sold for BU 5.1921 |
| Majestic | D04 |   | Portsmouth DYd | 2.1894 | 31.1.1895 | 12.1895 | sunk 27.5.1915 |
| Prince George | D46, P86, P9A |   | Portsmouth DYd | 10.9.1894 | 22.8.1895 | 11.1896 | auxiliary sickbay / depot ship early 1916, sold for BU 9.1921 |
| Victorious | D48, P65, P3C |   | Chatham DYd | 28.5.1894 | 19.10.1895 | 11.1896 | disarmed 2.1915, repair ship, sold for BU 12.1922 |
| Jupiter | D50, P50, N64 | 273 | Thomson, Clydebank | 26.4.1894 | 18.11.1895 | 5.1897 | gunnery TS 1910 - 1913, accommodation ship 1918, sold for BU 1.1920 |
| Mars | D42, P01, P6A | 603 | Laird, Birkenhead | 2.6.1894 | 30.3.1896 | 6.1897 | troopship 2.1915, sold for BU 5.1921 |
| Hannibal | D36, P45, N54 | 231 | Pembroke DYd | 1.5.1894 | 28.4.1896 | 4.1898 | troopship 1915, sold for BU 1.1920 |
| Caesar | D27, P02, P10 |   | Portsmouth DYd | 25.3.1895 | 2.9.1896 | 1.1898 | sold for BU 11.1921 |
| Illustrious | D40, P40, P97 |   | Chatham DYd | 11.3.1895 | 17.9.1896 | 4.1898 | ammunition ship 1916, sold for BU 6.1920 |
Technical data
Displacement normal, t

14560 - 14890

Displacement full, t
15730 - 16060
Length, m

118.9 pp 128.3 oa

Breadth, m

22.9

Draught, m

8.23

No of shafts

2

Machinery

2 3-cyl VTE, 8 cylindrical boilers

Power, h. p.

natural draught: 10000

forced draught: 12000

Max speed, kts

natural draught: 16

forced draught: 17

Fuel, t

coal 2200

Endurance, nm(kts)

7500(10)

Armour, mm

Harvey nickel steel; belt: 229, bulkheads: 356 - 305, gun houses: 254, barbettes: 356, casemates: 152, decks: 102 - 64, CT: 356

Armament

2 x 2 - 305/35 BL Mk VIII, 12 x 1 - 152/40 QF Mk I/II, 16 x 1 - 76/40 12pdr 12cwt QF Mk I, 12 x 1 - 47/40 3pdr Hotchkiss Mk I, 5 - 450 TT (1 bow, 4 beam)

Complement

672
Graphics
Project history
The largest class of battleships ever built, provided under the Spencer Programme of 1893, and split between the 1893-94 and 1894-95 Estimates. They combined the basic features of the Royal Sovereign class with the improvements already adopted in Renown. In addition a new 305mm wire-wound gun was substituted for the 343mm gun of the earlier class providing some saving in weight which was employed to enlarge the secondary and light gun batteries. The 305mm gun proved superior to the 343mm except in shell weight, and was to remain the standard British battleship main gun for 16 years.

The bridge was fitted around the base of foremast, with the CT in the clear area fwd of it, thus avoiding the danger of damaged bridgework falling across the CT, but in the last three ships, Hannibal, Illustrious and Caesar, the old system of mounting the bridge above the CT was reverted to. Early ships had pear-shaped barbettes with fixed loading positions fore and aft, although all-round loading was possible using the limited supply of ready-use ammunition. Caesar and Illustrious were fitted with new mountings which provided all-round loading, and had circular barbettes. Eight of 152mm guns were mounted on the main deck and four on the upper deck, all being housed in casemates.

Ships of class proved to be good seaboats, with an easy roll, and manoeuvred well. They were good steamers but had a high fuel consumption. On trials all exceeded their designed speed, but trials were run light, and at natural draught they made 15.8-16.9kts and at forced draught 17.6-18.7kts.
Ship protection
All vertical armour was of Harvey nickel steel. Compared with Renown the main and upper belts were combined into a single belt 67.1m long and 4.9m deep, of uniform 229mm thickness, and fully enclosed gun houses were provided over the barbettes. The belt was closed by 356mm fwd and 305mm aft bulkheads, and the protective decks remained at the same levels as before, being 76mm on the flat and 102mm on the slope amidships, and 64mm fwd and aft. The barbettes reduced to 178mm behind the belt. All 152mm guns were installed in 152mm casemates.
Modernizations
1906, Hannibal; 1908, Caesar, Illustrious, Majestic, Magnificent, 1909, Mars, Prince George, Victorious; 1910 Jupiter: maximum fuel stowage was 2000t of coal and 400t of oil.

1915, Prince George: + 2 x 1 - 76/45 20cwt QF Mk I

1915, Majestic, Prince George: + 2? x 1 - 152/14 30cwt siege howitzer
Naval service
Hannibal strucked submerged reef off Devon coast in August 1909 and suffered severe damage, in October 1909 she collided with TB105. She was disarmed in early 1915 to provide 305mm turrets for the new monitors Prince Eugene and Sir John Moore, and was converted to a troopship with 4 152mm guns. Illustrious was disarmed in 1916 and reduced to harbour service as an ammunition ship. Jupiter after refit in 1909-1910 became sea-going gunnery TS, but in January 1913 reverted to service as battleship. She was used as icebreaker at Archangel (Russia) in 1915 and in 1918 converted to accommodation ship until paid off in 1919. Majestic was twice torpedoed by German submarine U21 27.5.1915 off Gaba Tepe (Dardanelles), rolled over and sank within 7 minutes. Magnificent became tender to Vivid (turret drill ship) in February 1911, and sea-going gunnery TS in May 1912. She was slightly damaged by grounding in June 1913 and in February 1915 arrived to dockyard to be disarmed. Her 305mm turrets were fitted on monitors General Craufurd and Prince Eugene, and Magnificent was used as troop transport and since late 1915 was reduced to various subsidiary duties. By 1918 she was an ammunition store and paid off in 1919. Mars together with Magnificent arrived at dockyard in February 1915 to landing of her 305mm turrets for monitors Earl of Peterborough and Sir Thomas Picton. She since September 1915 served as troop transport and was paid off in 1916 and became a depot ship. Prince George in December 1909 suffered severe damage in a collision with cruiser Shannon. In 1915 she suffered severe damage during bombardments of Dardanelles from fire of Turkish field guns. Early 1916 she was disarmed and was later used as auxiliary sickbay, destroyer depot ship and other subsidiary duties, being renamed Victorious II in July 1918. In February 1919 she was reverted to original name and was sold in 1921 but foundered off Kamperduin (Camperdown) 30.12.1921 while on passage to Germany for BU. Victorious in collision with Majestic in fog on June 1910 sustained damage to sternwalk and starboard engine. In February 1915 she was sent to dockayard to be disarmed, providing 305mm turrets for monitors Prince Rupert and General Wolfe. She was converted to repair ship in March 1916 and renamed Indus II in 1920.

Many thanks to Wolfgang Stöhr for additional information on this page.