Photo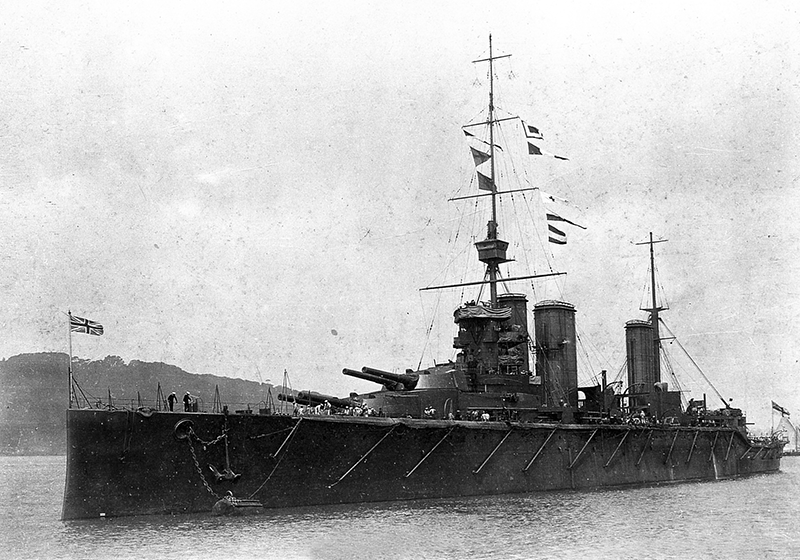 Lion 1912
Ships
| Name | No | Yard No | Builder | Laid down | Launched | Comp | Fate |
| --- | --- | --- | --- | --- | --- | --- | --- |
| Lion | 22, 79, 67 |   | Devonport DYd | 29.9.1909 | 6.8.1910 | 5.1912 | sold for BU 31.1.1924 |
| Princess Royal | 29, 95, 68 | 407 | Vickers, Barrow | 2.5.1910 | 24.4.1911 | 11/1912 | sold for BU 12.1922 |
Technical data
| | |
| --- | --- |
| Displacement normal, t | 26270 |
| Displacement full, t | 30945 |
| Length, m | 213.4 |
| Breadth, m | 27.0 |
| Draught, m | 8.40 mean |
| No of shafts | 4 |
| Machinery | 4 Parsons steam turbines, 42 Yarrow boilers |
| Power, h. p. | 70000 |
| Max speed, kts | 27 |
| Fuel, t | coal 3500 + oil 1135 |
| Endurance, nm(kts) | 5610(10) |
| Armour, mm | belt: 229 - 102, bulkheads: 102, turrets: 229 (face and sides) - 203 (rear) - 82 - 64 (roof), barbettes: 229 (over main deck) - 76 (under main deck), deck: 64 - 25, over magazines: 89, CT: 254 (face and sides) - 178 (rear) - 76 (roof) |
| Armament | 4 x 2 - 343/45 BL Mk V, 16 x 1 - 102/50 BL Mk VII, 4 x 1 - 47/40 3pdr Hotchkiss Mk I, 2 - 533 TT (beam) |
| Complement | 997 |
Standard scale images

Lion 1912

Lion 1918
Graphics
Project history
The battlecruiser equivalents of Orion class reflected their improvements in armament, with 343mm guns on the centreline. They were 6kts faster, and to achieve that the power was increased in 2.5 times, but in spite of an increase of 7600t in displacement they had grave weaknesses. instead of eliminating the midships 343mm turret the aft superimposed mounting was deleted, giving a cumbersome arrangement of magazine and shellroom between two groups of boilers, and restricted arcs of fire for 'Q' turret. The tripod mast was sited abaft the fore funnel, but whereas the Orion class had only 6 boilers served by that funnel, in the Lions there were 14 boilers. The worst error, however, was to provide armour protection only against 280mm shellfire, and only in limited areas. The vast hull was totally vulnerable to 305mm shells, and in some areas the side armour could be pierced by 280mm as well. The worst deficiencies were masked by a policy of official lying about the armour protection (leaks to the Press suggested a 'battleship scale' and the term 'capital ship' was coined, suggesting that they were fast battleships). But the problems with smoke could not be disguised; on her preliminary trials the Lion`s tripod became so hot that personnel could not leave the fire control platform. On the initiative of the new First Lord, Churchill, both Lion and incomplete Princess Royal were altered. Official leaks also greatly exaggerated the speed of the class, Princess Royal being credited with 33.5kts mean (34.7kts maximum) and Lion was credited with having exceeded 31kts. The truth is that neither ship was capable of 28kts except by forcing the boilers. Even when Princess Royal was ordered to go for maximum power in 1913 the staggering total of 96240shp only yielded 28.06kts, and the strain on her machinery meant that she was ever after the 'lame duck' of the battlecruiser force.

Only Lion had the fore funnel ahead of the tripod, until taken in hand in February 1912. Both ships were commissioned with light pole masts, but these were soon stiffened by light struts. In 1915 these gave way to proper tripod legs as the masthead control platforms were enlarged.
Protection
229mm main belt (between main and lower decks) with 3.5m height extended from CT to the after end of machinery spaces. Belt between CT and inner end of barbette "A" was 152mm, 127mm abreast barbette "A" and 102mm fwd from barbette "A", ending in 15m to stem. Aft part of main belt was 127mm abreast barbette "Y" and 102mm aft from barbette, ending in 20m to stern. Ends of main belt were closed by 102mm bulkheads. Full length of main belt was 176m (83% of length by wl). Thickness of upper belt (between main and upper decks) was 152mm between CT and aft end of machinery spaces, 127mm abreast barbette "B" and 102mm at other parts, it was closed by 102mm bulkheads and has the same length than main belt. Upper deck was taken to the upper edge of upper belt and has thickness 25-19mm. 38-31mm forecastle deck covered middle part of hull. Main deck over citadel was 25mm with 25mm slopes, 31mm with 31mm slopes between barbette "Y" and aft 102mm bulkhead and 64mm with 64mm slopes between 102mm bulkheads and ships ends. Funnel uptakes had 44 - 13mm splinter protection.
Modernizations
1912, Lion: fore funnel was moved aft, fore mast and superstructure were reconstructed.

1914, Lion: - 1 x 1 - 47/40

10/1914, both: + 1 x 1 - 57/40 6pdr Hotchkiss Mk I (AA)

1/1915, both: + 1 x 1 - 76/45 20cwt QF Mk I

4/1915, both: - 2 x 1 - 47/40

7/1915, Lion: - 1 x 1 - 57/40; + 1 x 1 - 76/45 20cwt QF Mk I

8/1915, Lion: - 1 x 1 - 47/40

late 1915, Princess Royal: - 1 x 1 - 57/40, 2 x 1 - 47/40; + 1 x 1 - 76/45 20cwt QF Mk I

1916, both: adding of 25mm plates to upper deck near all barbettes, to lower deck near barbettes "B" and "Y" and to turrets` roofs.

4/1917, Lion: - 1 x 1 - 102/50; + 1 x 1 - 76/45 20cwt QF Mk I

4/1917, Princess Royal: - 1 x 1 - 102/50, 2 x 1 - 76/45; + 2 x 1 - 102/50 BL Mk VII (AA)

1918, both: + flying-off platforms on turrets "Q" & "X"

6/1919, Lion: + 4 x 1 - 47/40 3pdr Hotchkiss Mk I

6/1919, Princess Royal: - 2 x 1 - 102/50; + 2 x 1 - 76/45 20cwt QF Mk I, 4 x 1 - 47/40 3pdr Hotchkiss Mk I, 2 x 1 - 40/39 2pdr QF Mk II

3/1922, Princess Royal: - 2 x 1 - 40/39
Naval service
Lion was hit by 16 280mm and 305mm shells from battlecruisers Blücher, Derfflinger and Seydlitz at the Dogger bank 24.1.1915, suffering serious damage. Port engine room was flooded, eventually starboard turbines stopped and cruiser was towed home by battlecruiser Indomitable. She suffered much more serious damage being hit by 13 305mm shells from Lützow at Jutland 31.5.1916, "Q" turret was demolished completely, it had to be removed for repair and Lion went to sea with three turrets from July till September 1916. Princess Royal was hit by 8 305mm and 1 280mm shells at Jutland 31.5.1916 (battlecruiser Derfflinger, battleships Markgraf and Posen) but ship remained operational.

Many thanks to Wolfgang Stöhr for additional information on this page.