Photo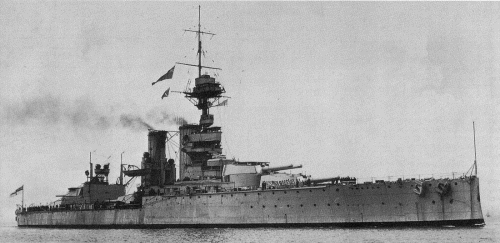 Centurion 1917
Ships
| Name | No | Yard No | Builder | Laid down | Launched | Comp | Fate |
| --- | --- | --- | --- | --- | --- | --- | --- |
| King George V (ex-Royal George) | 61, 77, 70 |   | Portsmouth DYd | 16.1.1911 | 9.10.1911 | 11.1912 | sold for BU 12.1926 |
| Centurion | 21, 35, 83 |   | Devonport DYd | 16.1.1911 | 18.11.1911 | 5.1913 | radio-controlled target ship 1927, scuttled 9.6.1944 |
| Ajax | 40, 05, 46 | 438 | Scotts, Greenock | 27.2.1911 | 21.3.1912 | 3.1913 | sold for BU 11.1926 |
| Audacious | 54 | 775 | Cammell Laird, Birkenhead | 2/1911 | 14.9.1912 | 10/1913 | sunk 27.10.1914 |
Technical data
Displacement normal, t

23000

Displacement full, t

25700

Length, m

182.1

Breadth, m

27.1

Draught, m

8.70 mean

No of shafts

4

Machinery

Ajax, King George V: 4 Parsons steam turbines, 18 Babcock & Wilcox boilers

Audacious, Centurion: 4 Parsons steam turbines, 18 Yarrow boilers

Power, h. p.

31000

Max speed, kts

21

Fuel, t

coal 2870 - 3150 + oil 800

Endurance, nm(kts)
6730(10)
Armour, mm

belt: 305 - 203, bulkheads: 254 - 102, turrets: 279 (face) - 203 (sides and rear) - 102 - 76 (roof), barbettes: 254 - 178 (over main deck) - 178  - 76 (under main deck), deck: 102 - 25, CT: 279 (face and sides) - 76 (roof)

Armament

5 x 2 - 343/45 BL Mk V, 16 x 1 - 102/50 BL Mk VII, 4 x 1 - 47/40 3pdr Hotchkiss Mk I, 3 - 533 TT (2 beam, 1 stern)

Complement

782
Standard scale images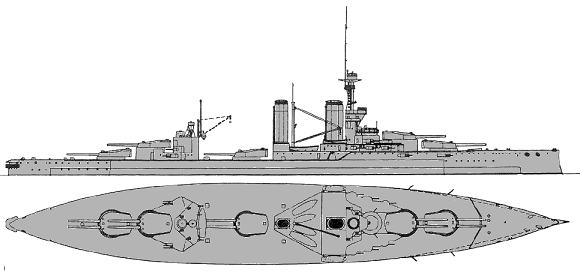 King George V 1914

King George V 1918
Graphics
Project history
4 battleships of the 1910 Programme were to have been repeat Orions but fortunately the lessons from the Lion's trials were available and the design was altered to a pole foremast stepped ahead of the for funnel. It was widely felt that the 102mm secondary guns should have been replaced by 152mm, in the light of the growing threat from torpedo boats and destroyers, but that would have meant an extra 2000t at a time when the Government was trying to reduce naval expenditure. However the increase in dimensions did permit a slight improvement in deck armour. King George V and Centurion were completed with a light pole foremast but the last pair were completed for director firing and had to have struts halfway up the mast, Centurion was then altered in similar fashion but King George V merely received stiffening flanges and was finally given a full tripod only in 1918. Although the 343mm Mk V gun was repeated in new ships it was modified to fire a 636kg shell, which further improved its long-range shooting.
Protection
Main belt had 305mm thickness between barbettes "A" and "Y", 152-102mm belt extended fwd from barbette "A", ending in 13m from stem, and aft from barbette "Y", ending in 14m from stern, armour height was 6.25m at full length. Lower belt with some length as main belt extended between main and middle decks. Its thickness was 229mm (between barbettes "A" and "Y") - 152 - 102 - 64mm. Upper belt extended between barbettes "A" and "Y" between main and upper decks. Its thickness was 203mm. 305mm main belt was closed by fore 152mm and after 254mm bulkheads. Upper belt has 203mm bulkheads. Second fore 102mm bulkhead was at the end of 102mm part main belt, its thickness between main and upper decks was 38mm. End of 64mm after part of lower belt was closed by 64mm bulkhead. Upper deck between barbettes "A" and "Y" was 38mm. Main deck was 64mm between first and second fore bulkheads and first and second aft bulkheads, 25mm middle deck with 25mm slopes closed citadel. Lower deck was 102-76mm aft from barbette "Y" and 64 - 25mm fwd from barbette "A". Funnel uptakes had 38-25mm splinter protection.
Modernizations
1915, all survived: - 4 x 1 - 102/50; + 2 x 1 - 102/50 BL Mk VII (AA)

1918, all survived: + flying-off platforms on turrets "B" & "X"
Naval service
Audacious was sunk 27.10.1914 in Irish sea off Lough Swilly being stricken one German mine (laid by minelayer Berlin) because of a weak underwater protection. Ajax was paid off into reserve in 1924. Centurion collided with and sank an Italian merchantman on trials in December 1912 and was under repair until March 1913. She also went into reserve in 1924, paid off in April 1926 and converted to radio-controlled target ship to replace Agamemnon and used for guns up to 203mm calibre until April 1941. Then she was converted to dummy battleship resembling the new Anson and sailed to India in 1942, then reduced to static AA battery in Suez Canal until 1944. Finally she was sunk as blockship in 'Mulberry' harbour off Normandy 9.6.1944. King George V was in reserve in 1919-1923, then she served as gunnery TS till December 1926. All ships of class were sold for BU to offset completion of Nelson and Rodney under terms of Washington Treaty.

Many thanks to Wolfgang Stöhr for additional information on this page.