Photo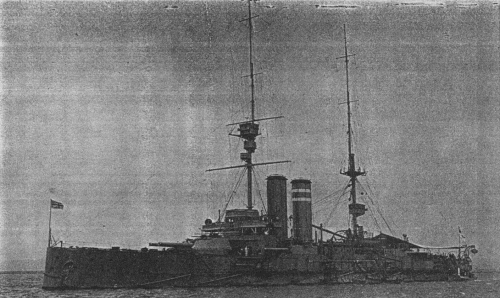 Hibernia with wireless rig
Ships
| Name | No | Yard No | Builder | Laid down | Launched | Comp | Fate |
| --- | --- | --- | --- | --- | --- | --- | --- |
| Commonwealth | 31, 44, 31, N88 | 423 | Fairfield, Glasgow | 17.6.1902 | 13.5.1903 | 3.1905 | sea-going gunnery TS 1919, sold for BU 11.1921 |
| King Edward VII | 66 |   | Devonport DYd | 8.3.1902 | 23.7.1903 | 2.1905 | sunk 6.1.1916 |
| Dominion | 41, 54, 41, N90 | 290 | Vickers, Barrow | 23.5.1902 | 25.8.1903 | 7.1905 | accommodation ship 4.1918, sold for BU 5.1921 |
| Hindustan | 62, 71, N67 | 359 | John Brown, Clydebank | 25.10.1902 | 19.12.1903 | 7.1905 | depot ship late 1914 - 5.1918, sold for BU 5.1921 |
| New Zealand, 12.1911- Zealandia | 73, 2C, 19, N89 |   | Portsmouth DYd | 9.2.1903 | 4.2.1904 | 7.1905 | accommodation ship 1919, sold for BU 11.1921 |
| Britannia | 27, 21, N40 |   | Portsmouth DYd | 4.2.1904 | 10.12.1904 | 9.1906 | sunk 9.11.1918 |
| Africa | 25, 02, N07 |   | Chatham DYd | 27.1.1904 | 20.5.1905 | 11.1906 | accommodation ship 4.1919, sold for BU 6.1920 |
| Hibernia | 60, 70, N66 |   | Devonport DYd | 6.1.1904 | 17.6.1905 | 1.1907 | accommodation ship 1919, sold for BU 11.1921 |
Technical data
Displacement normal, t

Commonwealth: 15610

King Edward VII: 15630

Dominion: 15645

Hindustan: 15885

New Zealand: 15585

Britannia: 15810

Africa: 15740

Hibernia: 15795

Displacement full, t

17009 - 17290

Length, m

129.5 pp 138.3 oa

Breadth, m

23.8

Draught, m

7.72

No of shafts

2

Machinery

Commonwealth, Dominion: 2 4-cyl VTE, 16 Babcock & Wilcox boilers

King Edward VII: 2 4-cyl VTE, 10 Babcock & Wilcox + 6 cylindrical boilers

Hindustan, Britannia, Africa, Hibernia: 2 4-cyl VTE, 12 Babcock & Wilcox + 3 cylindrical boilers

New Zealand: 2 4-cyl VTE, 12 Niclausse + 3 cylindrical boilers

Power, h. p.

18000

Max speed, kts

18.5

Fuel, t

coal 2150 + oil 400

Endurance, nm(kts)

7000(10)

Armour, mm

belt: 229 - 203, bulkheads: 305 - 203, gun houses: 305 - 203, barbettes: 305, medium gun houses: 229 - 127, secondary battery: 178, decks: 64 - 25, CT: 305

Armament

Commonwealth, King Edward VII, Dominion: 2 x 2 - 305/40 BL Mk IX, 4 x 1 - 234/47 BL Mk X, 10 x 1 - 152/45 BL Mk VII, 14 x 1 - 76/45 12pdr 20cwt QF Mk I, 14 x 1 - 47/40 3pdr Hotchkiss Mk I, 4 - 450 TT (beam)

Hindustan, New Zealand: 2 x 2 - 305/40 BL Mk IX, 4 x 1 - 234/47 BL Mk X, 10 x 1 - 152/45 BL Mk VII, 14 x 1 - 76/45 12pdr 20cwt QF Mk I, 14 x 1 - 47/50 3pdr Vickers Mk I, 4 - 450 TT (beam)

Britannia, Africa, Hibernia: 2 x 2 - 305/40 BL Mk IX, 4 x 1 - 234/47 BL Mk X, 10 x 1 - 152/50 BL Mk XI, 14 x 1 - 76/50 12pdr 18cwt QF Mk I, 14 x 1 - 47/50 3pdr Vickers Mk I, 4 - 450 TT (beam)

Complement

777
Graphics
Project history
First three ships were provided under the 1901-02 Estimates, Hindustan and New Zealand under the 1902-03 Estimates and the remainder under the 1903-04 Estimates. The designed load displacement was 16350t. They were the first class to show any major departure in design from the standard pre-dreadnought type, being over 1000t larger than previous ships to accommodate an intermediate armament of 4 234mm guns. These were mounted in single turrets on the upper deck abreast the fore and main masts.

These ships were criticised for not adopting a uniform secondary 234mm battery, but fire control with 305mm and 234mm guns proved impracticable because of difficulty of distinguishing between shell splashes. They were completed with fire control platforms on fore and main masts in place of the fighting tops on earlier ships.

Variation in boilers was largely for comparison and represented the last phase of the 'battle of the boilers'. On trials all ships exceeded designed power and reached 18.1-19.3kts. They were the first British battleships fitted with balanced rudders since 1870s, and proved very handy, with a turning circle of 310m at 15kts, but they were difficult to keep on a steady course, which earned them the title of 'the wobbly eight'. They had a higher level of stability than previous ships and had a slightly faster roll but were still good gun platforms. They were good seaboats but were wet in heavy weather.
Ship protection
Casemate protection of 152mm guns was abandoned in favour of central battery with 178mm walls and bulkheads, which effectively increased the height of the side armour by one deck. Deck protection was the same as that in London class, except that the 51mm protective plating on main deck under the battery was omitted, and a 25mm upper deck over the battery substituted. The 234mm turrets had 229mm walls and 127mm backs and were mounted on shallow 102-51mm barbettes. The remaining armour was arranged as in London but the belt reverted to two thicknesses of 229mm at the waterline and 203mm above for a 86.9m length. Towards the bow the side armour reduced from 178mm, 127mm and 102mm to 76mm at the stem, while aft a uniform 76mm strake extended from the main belt to the stern. The barbettes reduced to 203mm and 152mm behind the side armour, the gun houses had 203mm walls and 305mm faces.
Modernizations
1917, Africa, Hibernia; 1918, Commonwealth, Zealandia: - 10 x 1 - 152/50; + 4 x 1 - 152/50 BL Mk XI a deck higher

1918, Commonwealth: bulges were fitted.
Naval service
Africa in April 1912 was been fitted with temporary seaplane runway over forecastle. In April 1919 she was reduced to accommodation ship. Britannia in January 1915 ran aground on Inchkeith and suffered severe damage. She was torpedoed 9.11.1918 by German submarine UB50 off Cape Trafalgar and sank in 3,5 hours. Commonwealth collided with Albermarle in February 1907 and grounded in August 1907. From 1919 to 1921 she served as seagoing gunnery TS. Dominion ran aground in the Gulf of St. Lawrence in August 1906 and was repaired at Bermuda. She was unsuccessfully attacked by German submarine in May 1916 and spent remainder of war on the Thames, since April 1918 as accommodation ship at Chatham. Hibernia in May 1912 was fitted with temporary runway over forecastle, and the first seaplane flight from the British warship was made from Hibernia 4.5.1912. In 1919 she became the accommodation ship. Hindustan since late 1914 till May 1918 stationed in Swin as depot ship for ships taking part in the Zeebrugge and Ostend raids. King Edward VII was mined 6.1.1916 off Cape Wrath, both engine rooms flooded, and she capsized some 12hrs later. Zealandia served as accommodation ship since 1919.

Many thanks to Wolfgang Stöhr for additional information on this page.