Photo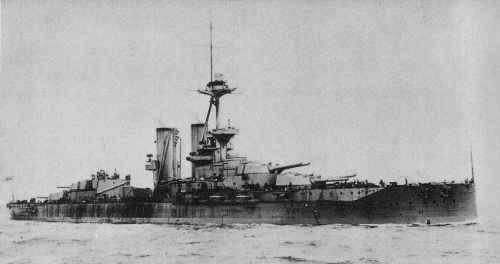 Emperor of India 1914
Ships
| Name | No | Yard No | Builder | Laid down | Launched | Comp | Fate |
| --- | --- | --- | --- | --- | --- | --- | --- |
| Iron Duke | 94, 76, 14 |   | Portsmouth DYd | 12.1.1912 | 12.10.1912 | 3.1914 | gunnery TS 1931, depot ship 1939, sold for BU 3.1946 |
| Marlborough | 79, 85, 66 |   | Devonport DYd | 25.1.1912 | 24.10.1912 | 6.1914 | sold for BU 6.1932 |
| Benbow | 75, 14, 51 | 510 | Beardmore, Dalmuir | 30.5.1912 | 12.11.1913 | 10.1914 | sold for BU 3.1931 |
| Emperor of India (ex-Delhi) | 11, 60, 16 | 429 | Vickers, Barrow | 31.5.1912 | 27.11.1913 | 11.1914 | sunk as target 1.9.1931 |
Technical data
Displacement normal, t

25000

Displacement full, t

30380

Length, m

189.8

Breadth, m

27.4

Draught, m

9.00 mean

No of shafts

4

Machinery

Iron Duke, Benbow: 4 Parsons steam turbines, 18 Babcock & Wilcox boilers

Marlborough, Emperor of India: 4 Parsons steam turbines, 18 Yarrow boilers

Power, h. p.

29000

Max speed, kts

21.25

Fuel, t

coal 3250 + oil 1050

Endurance, nm(kts)
7780(10)
Armour, mm

belt: 305 - 102, bulkheads: 203 - 38, turrets: 279 (face) - 203 (sides and rear) - 102 - 76 (roof), barbettes: 254 - 178 (over main deck) - 178  - 76 (under main deck), deck: 64 - 25, CT: 305 (face and sides) - 76 (roof)

Armament

5 x 2 - 343/45 BL Mk V, 12 x 1 - 152/45 BL Mk VII, 2 x 1 - 76/45 20cwt QF Mk I, 4 x 1 - 47/40 3pdr Hotchkiss Mk I, 4 - 533 TT (beam)

Complement

995 - 1022
Standard scale images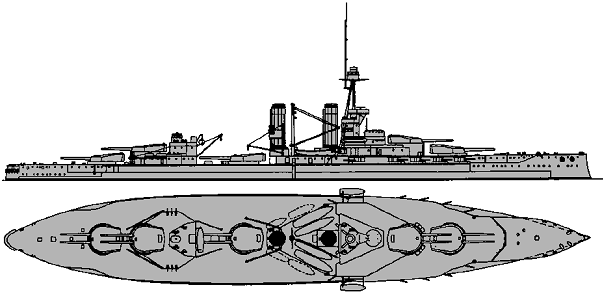 Iron Duke 1916

Emperor of India 1918
Graphics
Project history
1911 Programme battleships received 152mm guns as secondary and 533mm torpedoes. They were generally similar to King George V class, but slightly longer, beamier and deeper, the extra length being necessary to preserve buoyancy against the heavier weight of 152mm battery, both forward and aft. The extra length forward also moved the secondary guns further aft to reduce interference in bad weather. By the time the design was finalized the need for a big director and fire control top was recognized, and so the ships were given a heavy tripod foremast, but the funnels were much thinner than before. Also Iron Duke class ships were the first ships with AA guns, as 2 76mm guns were mounted on the aft superstructure for use against airships.

Torpedo nets were removed from Iron Duke before commission, rest ships were built without nets. The stern TT was finally dropped in this class but the sitting of the aftermost 152mm guns, right aft under the quarterdeck, showed little appreciation of what could happen in rough weather. The purpose of the aft pair of 152mm guns was to fire at torpedo boats silhouetted against the setting sun, but in practice the ports were washed out in anything short of flat calm. They and the forward guns were in revolving shields, which could be closed by hinged plates, but these proved too fragile and were constantly washed away. During the winter of 1914/15 it was found necessary to unship them completely and water then entered freely, finding its way below into messdecks and working spaces. Problem was fixed aboard Iron Duke by installation of dwarf walls at the rear of the gun battery and India-rubber joints between the revolving shield and the fixed plating of the embrasure. Later this was applied on Tiger and Queen Elizabeth class. The after 152mm gun positions were totally useless and were removed early in the war. They were plated over and a new unarmoured embrasures were provided amidships above the original battery.

Emeror of India was laid down as Delhi but was renamed in October 1913.
Protection
Main belt had 305mm thickness between barbettes "A" and "Y", 152-102mm belt extended fwd from barbette "A", ending in 13m from stem, and aft from barbette "Y", ending in 14m from stern, armour height was 6.25m at full length. Lower belt with some length as main belt extended between main and middle decks. Its thickness was 229mm (between barbettes "A" and "Y") - 152 - 102 - 64mm. Upper belt extended between barbettes "A" and "Y" between main and upper decks. Its thickness was 203mm. 305mm main belt was closed by fore 152mm and after 254mm bulkheads. Upper belt has 203mm bulkheads. Second fore 102mm bulkhead was at the end of 102mm part main belt, its thickness between main and upper decks was 38mm. End of 64mm after part of lower belt was closed by 64mm bulkhead. Upper deck between barbettes "A" and "Y" was 38mm. Main deck was 64mm between first and second fore bulkheads and first and second aft bulkheads, 25mm middle deck with 25mm slopes closed citadel. Lower deck was 102-76mm aft from barbette "Y" and 64 - 25mm fwd from barbette "A". Funnel uptakes had 38-25mm splinter protection.
Modernizations
1916, all: adding of 51 - 25mm of deck armour around barbettes, thickening of magazine bulkheads.

1918, all: + flying-off platforms on turrets "B" & "X"

(1931-9/1932), Iron Duke as gunnery TS: 21250t full load (7.92m draught), part of boilers was removed (18kts), armour belt was removed, armament consisted of 3 x 2 - 343/45 BL Mk V, 12 x 1 - 152/45 BL Mk VII, 2 x 1 - 102/45 QF Mk V, 2 x 1 - 76/45 20cwt QF Mk I
Naval service
Iron Duke was converted in 1931-1932 to gunnery TS: armour belt was removed, 2 x 2 - 343/45 ("B" & "Y" turrets) were removed, part of boilers was removed, maximal speed was reduced to 18 kts. In 1939-1945 she served with Home Fleet as depot ship, her 343mm and 152mm guns were landed for coastal defence. 17.10.1939 she was badly damaged by near miss bombs but was repaired. Marlborough was torpedoed 31.5.1916 at Jutland and was three months under repair. Marlborough, Benbow and Emperor of India were paid off into reserve in 1929, later first two ships were broken up and Emperor of India was sunk as gunnery target but later raised and sold for BU 6.2.1932.

Many thanks to Wolfgang Stöhr for additional information on this page.