Photo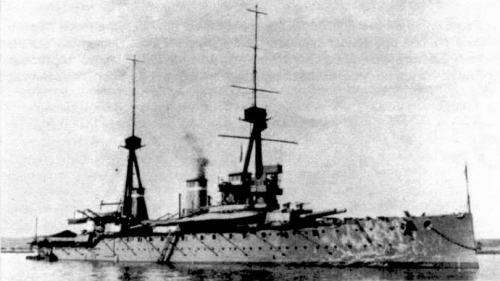 Invincible 1910
Ships
| Name | No | Yard No | Builder | Laid down | Launched | Comp | Fate |
| --- | --- | --- | --- | --- | --- | --- | --- |
| Indomitable | 77, 74, 05 | 445 | Fairfield, Govan | 1.3.1906 | 16.3.1907 | 6/1908 | stricken 3.1920 |
| Invincible | 85 | 785 | Armstrong, Elswick | 2.4.1906 | 13.4.1907 | 3.1909 | sunk 31.5.1916 |
| Inflexible | 83, 75, 47 | 374 | John Brown, Clydebank | 5.2.1906 | 26.6.1907 | 10/1908 | stricken 3.1920 |
Technical data
Displacement normal, t

17373

Displacement full, t

20078

Length, m

172.8

Breadth, m

22.1

Draught, m

8.00 mean

No of shafts

4

Machinery

Indomitable: 4 Parsons steam turbines, 31 Babcock & Wilcox boilers

Invincible, Inflexible: 4 Parsons steam turbines, 31 Yarrow boilers

Power, h. p.

41000

Max speed, kts

25.5

Fuel, t

coal 3085 + oil 710 - 725

Endurance, nm(kts)
6200(10)
Armour, mm

belt: 152 - 102, bulkheads: 178 - 152, turrets: 178 (all sides), 76 (roof), barbettes: 178 (over main deck) - 51 (under main deck), deck: 64 - 19, over magazines: 89, CT: 254 (face and sides) - 178 (rear) - 51 (roof)

Armament

4 x 2 - 305/45 BL Mk X, 16 x 1 - 102/40 QF Mk III, 7 x 1 - 7.7/94, 5 - 450 TT (4 beam, 1 stern)

Complement

784
Graphics
Project history
In the last years before Dreadnought each class of battleships had its corresponding class of armoured cruisers, for example, Minotaurs for Lord Nelson class. Logically, planned in 1902 design of an cruiser to be built in parallel with new battleship, included 152mm armour, 2 twin 234mm and 6 twin 190mm turrets and 35000hp machinery giving 25kts speed. The Admiralty built the Minotaur class instead, but they were too slow by Fisher`s standards.

The experience of Russo-Japanese War gave fresh impetus to plans for a new armoured cruisers and Fisher decided that high speed could be sufficient protection against heavy shells. The Committee on Designs, as soon it had finished with the Dreadnought design, turned to a discussion of a specification for new armoured cruiser equivalent for Dreadnought with 305mm guns, 152mm armour but only 25kts speed. In many cases design repeated Dreadnought and simultaneously older armoured cruisers. Having a much longer hull needed to accomodate additional boilers and machinery it was possible to install midships 305mm turrets en echelon, which permitted broadside firing of the whole armament, but only four turrets could be included. Forecastle deck was carried aft for two-thirds of the length, giving high command to the midships turrets, and 102mm guns replaced the 12pdr guns of Dreadnought.

On trials Indomitable reached a record speed of 25.3kts with 43700hp over a period of three days, and all three were economical steamers and handy ships with a small tactical diameter. Later she were condemned as a badly conceived and poorly executed design, but their trials were an outstanding success, showing that the ships met all specifications.

Invincible was fitted with electrically driven turrets of two designs, they were unsuccessful, they rate of 'creep' was too slow and uneven.
Protection
152mm main belt with 3.43m height extended from barbette "A" to the barbette "Y", closed at fore end by 178mm and by after end by 152mm bulkheads. Its full length was 95m (55% of ship length). Fore belt between barbette "A" and stem was 102mm. Main deck over citadel was 25mm with 25mm slopes (51mm over magazines), main deck from barbette "Y" to stern was 64mm with 64mm slopes, fore part from barbette "A" to stem was covered by 38mm deck.
Modernizations
1910,Indomitable; 1911, Inflexible; 1.1915,Invincible: raising of fore funnel.

10/1914, Invincible, 4.1915, Indomitable: + 1 x 1 - 76/45 20cwt QF Mk I

11/1914, Invincible: - 1 x 1 - 76/45; + 1 x 1 - 47/50 3pdr Vickers Mk I

11/1914, Inflexible: + 1 x 1 - 47/50 3pdr Vickers Mk I

4/1915, Invincible; 7.1915, Inflexible: + 1 x 1 - 76/45 20cwt QF Mk I

late 1916, both survived: additional 25mm armour on the turret roofs and 25mm of additional armour over the crowns of the magazines; - 1 - 450 TT (stern)

4/1917, Indomitable: - 16 x 1 - 102/40; + 12 x 1 - 102/50 BL Mk VII.

4/1917, Inflexible: - 1 x 1 - 47/50; + 1 x 1 - 102/50 BL Mk VII (AA)

4/1917, Indomitable: + 1 x 1 - 102/50 BL Mk VII (AA)

7/1917, Inflexible: - 16 x 1 - 102/40; + 12 x 1 - 102/45 BL Mk IX

1918, both survived: flying-off platforms on "P" & "Q" turrets for Sopwith Pup and 11.2-strutter.

1919, Inflexible: - 1 x 1 - 102/50 AA; + 1 x 1 - 76/45 20cwt QF Mk I
Naval service
Invincible received 5 shells from German battlecruiser Derfflinger in action at Jutland 31.5.1916. After last hit she blown up in half by explosion of magazines. All but 3 of complement were lost. Both survivors since 1919 placed in reserve, stricken in 1920 and sold for BU in December 1921.

Many thanks to Wolfgang Stöhr for additional information on this page.