Photo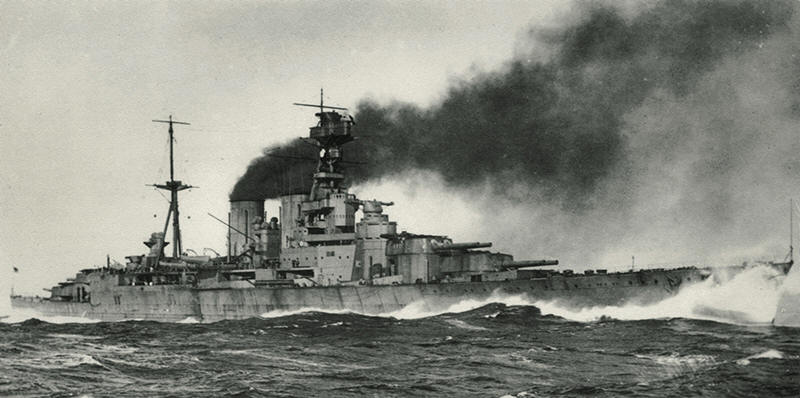 Hood running trials off Isle of Arran 03/1920 
Ships
| Name | No | Yard No | Builder | Laid down | Launched | Comp | Fate |
| --- | --- | --- | --- | --- | --- | --- | --- |
| Hood | 51 | 460 | John Brown, Clydebank | 31.5.1916, again 1.9.1916 | 22.8.1918 | 15.5.1920 | sunk 24.5.1941 |
| Rodney |   | 527 | Fairfield, Govan | 9.10.1916 | --- | --- | suspended 3.1917, cancelled 1918 |
| Howe |   | 834 | Cammell Laird, Birkenhead | 16.10.1916 | --- | --- | suspended 3.1917, cancelled 1918 |
| Anson |   | 909 | Armstrong, Elswick | 9.11.1917 | --- | --- | suspended 3.1917, cancelled 1918 |
Technical data
| | |
| --- | --- |
| Displacement normal, t | 42670 |
| Displacement full, t | 46680 |
| Length, m | 262.1 |
| Breadth, m | 31.7 |
| Draught, m | 8.70 |
| No of shafts | 4 |
| Machinery | 4 sets Brown-Curtis geared steam turbines, 24 Yarrow boilers |
| Power, h. p. | 144000 |
| Max speed, kts | 31 |
| Fuel, t | 3895 oil |
| Endurance, nm(kts) | 7500(14) |
| Armour, mm | main belt: 305, medium belt: 178, upper belt: 127, bulkheads: 127 - 102, turrets: 381 (face) - 305 - 279 (sides) - 279 (rear) - 127 (roof), barbettes: 305 - 127, deck protection: (76 with 51mm slopes) + 51 + 51 over magazines or (51 - 38 with 51mm slopes) + (51 - 19) over machinery, CT: 280 - 76 |
| Armament | 4 x 2 - 381/42 BL Mk I, 12 x 1 - 140/50 BL Mk I, 4 x 1 - 102/45 QF Mk V, 4 x 1 - 47/40 3pdr Hotchkiss Mk I, 6 - 533 TT (beam, 12) |
| Complement | 1477 |
Standard scale images

Hood 1940

Hood 1928
Graphics
Project history
Hood personified power of the Royal Navy throughout twenty years, being the largest warship in the world. She was originally designed as an experimental battleship with armament, protection and machinery as Queen Elizabeth class but with the new hull with moderated draught and the improved underwater protection, but very quickly the designing direction was displaced towards increase in the speed and, accordingly, lightened protection. Result was the increased Renown with fourth main turret and slightly thicker protection. Hood was laid down 31.5.1916, however the Jutland battle which has taken place that day, forced to reconsider the design completely towards cardinal strengthening of protection. The thickness of the main belt has increased in one and a half time (from 203 to 305mm), and its height was increased. Protection of turrets was improved, however a thickness of decks has changed slightly. Hood was re-laid in September, 1916, but ultimately the design was approved by Admiralty only 30.8.1917, in a year after the building beginning: a unprecedented case in history of British shipbuilding. For this time three-gun 15'' turrets have appeared in the design, but then have disappeared. The ultimate project returned to initial idea of a high-speed variant of Queen Elizabeth, but it was reached by displacement growth in one and a half time, to 42670/46 680ts.
Protection
Main 305mm belt extended between barbettes "A" and "Y" and was 2.89m deep, its lower edge connected with main deck slopes. Its thickness decreased to stem up to 152 and 127mm consequently and to stern up to 152mm. 305mm belt area was closed by 127mm fore and 102mm aft bulkheads. 178mm medium belt between end barbettes was 2.75m deep. Upper 127mm belt connected with forecastle deck. Thickness of hull plating was 51mm (38mm at ship ends). Ship sides and belts were inclined at 12° to the vertical. Main belt was closed by bulges as its inside bulkhead and extended to the double bottom as 38mm torpedo bulkhead. Underwater protection deep was 3.1m.

Main deck was 76mm in flat part over magazines and 51 - 38mm over machinery. There were 51mm slopes. This deck was flat outside citadel and was 25mm fore and 51mm aft from end barbettes. Medium deck disposed under the main deck level at full length except for machinery. Its thickness was 25mm, increasing to 76mm over steering gear and 51mm over magazines. Upper deck laid over main deck between end barbettes and was 19mm (51mm over magazines). Thickness of forecastle deck was 51 - 32mm (38mm over fore magazines).

Barbettes were protected by 305mm armour over main deck, armour thickness under main deck changed from 305 - 229mm (aft side of the "Y" barbette) and 254mm (fore side of the "A" barbette) to 152 - 127mm.
Modernizations 5.
1931: + 2 x 8 - 40/39 2pdr QF Mk VIII, 1 catapult F-IV-H with 1 seaplane, fuel tanks capacity increased to 4615t of oil, displacement: 45693 (normal) / 48000ts.

6/1932: - 1 catapult with seaplane; + 2 x 4 - 12.7/62

12/1937: - 2 - 533 TT; + 2 x 1 - 102/45 QF Mk V, 1 x 8 - 40/39 2pdr QF Mk VIII, 2 x 4 - 12.7/62

6/1938: - 2 x 1 - 140/50; + 2 x 1 - 102/40 QF Mk IV

6/1939: - 2 x 1 - 102/40; + 4 x 2 - 102/45 QF Mk XVI

8/1939: - 6 x 1 - 102/45; + 2 x 1 - 140/50 BL Mk I

5/1940: - 12 x 1 - 140/50; + 3 x 2 - 102/45 QF Mk XVI, 5 x 20 - 178 UP rockets projectors

early 1941: + type 79B, type 284 radars
Naval service
Hood blew up in action against battleship Bismarck and heavy cruiser Prinz Eugen 24.5.1941 in Northern Atlantic. One or more 380mm shells hits main shells magazine, 1419 men lost.

Many thanks to Wolfgang Stöhr for additional information on this page.

Many thanks to Borys Estrin for granted additional information