Photo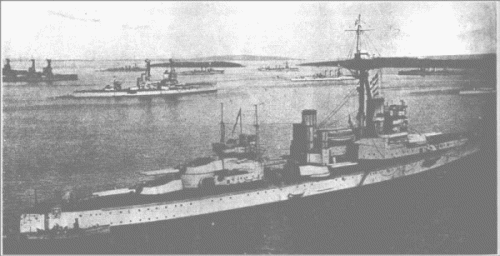 Hercules
Ships
| Name | No | Yard No | Builder | Laid down | Launched | Comp | Fate |
| --- | --- | --- | --- | --- | --- | --- | --- |
| Colossus | 93, 43, 24 | 430 | Scotts, Greenock | 8.7.1909 | 9.4.1910 | 7.1911 | stricken 1920, sold for BU 7.1928 |
| Hercules | 47, 69, 54 | 805 | Palmers, Jarrow | 30.7.1909 | 10.5.1910 | 8.1911 | sold for BU 11.1921 |
Technical data
Displacement normal, t

20225

Displacement full, t

23086

Length, m

166.4

Breadth, m

25.9

Draught, m

8.80 max

No of shafts

4

Machinery

Colossus: 4 Parsons steam turbines, 18 Babcock & Wilcox boilers

Hercules: 4 Parsons steam turbines, 18 Yarrow boilers

Power, h. p.

25000

Max speed, kts

21

Fuel, t

coal 2900 + oil 800

Endurance, nm(kts)
6680(10)
Armour, mm

belt: 279 - 178, bulkheads: 254 - 102, turrets: 279 (face) - 203 (sides and rear) - 102-76 (roof), barbettes: 254 (over main deck) - 102 (under main deck), deck: 102 - 45, CT: 279 (face and sides) - 203 (rear) - 76 (roof)

Armament

5 x 2 - 305/50 BL Mk XI, 16 x 1 - 102/50 BL Mk VII, 4 x 1 - 47/40 3pdr Hotchkiss Mk I, 3 - 533 TT (2 beam, 1 stern)

Complement

755
Standard scale images

Hercules 1918

Colossus 1918
Graphics
Project history
Improved variant of Neptune. The layout of main armament was unchanged, but to save weight the arrangement of siting the tripod mast abaft the fore funnel was reintroduced. The midships 'P' and 'Q' turrets were closer together, permitting a longer forward superstructure and better concentration of secondary guns. 533mm torpedo also replaced the 450mm, necessitating larger torpedo rooms below the waterline. It was vital to keep displacement down to avoid submerging the belt any further, and great efforts were made to improve protection on the gun positions and along the waterline. Unfortunately the designers were asked to do all this on the same length and beam as the Neptune, so the additional 25mm armour on the belt and 51mm on the barbettes could only result in thinner plating elsewhere. This was the last attempt to keep displacement down to an artifical limit, but the increase in size was accompanied by a big jump in gun calibre, which largely used up the additional margin created.
Protection
Main belt has 279mm (tapering to 203mm at the lower edge) thickness between barbettes "A" and "Y", 178mm between barbette "A" and stem (last 10m part from the stem was 64mm), 64mm between barbette "Y" and stern; its height was 2.08m. Upper belt over 279mm main belt was 203mm. Both belts closed by fore 152mm and after 254mm bulkheads. Second fore 102mm bulkhead was at the end of 178mm belt. Main deck was 38mm between barbettes "A" and "Y" and 64mm by other parts, 25mm middle deck with 25mm slopes closed citadel. Lower deck was 102-76mm aft from barbette "Y" and 64-44mm fwd from barbette "A". Outer sides of barbettes "P" and "Q" were 254mm. Funnel uptakes had 38-25mm splinter protection.
Modernizations
1912, both: raising of the fore funnel.

1912, Hercules: + shields for light guns.

1912, Colossus: + dropping lids for light guns` shields.

1917, both: removing of aft flying deck, - 3 x 1 - 102/50; + 1 x 1 - 102/50 BL Mk VII (AA), 1 x 1 - 76/45 20cwt QF Mk I
Naval service
Colossus became the only Grand Fleet battleship hit at Jutland 31.5.1916 (two heavy shell hits). In 1919-1920 she served as cadets` TS, stricken in 1920 but sold for BU only in July 1928. Hercules was damaged in collision with merchant vessel 22.3.1913.

Many thanks to Wolfgang Stöhr for additional information on this page.