Photo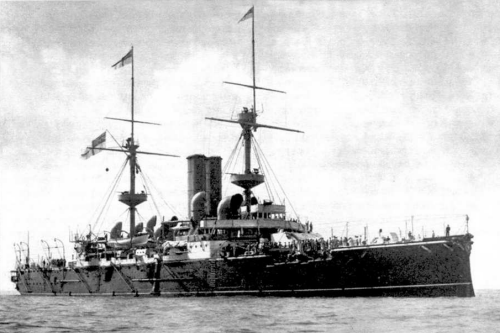 Barfleur
Ships
| Name | No | Yard No | Builder | Laid down | Launched | Comp | Fate |
| --- | --- | --- | --- | --- | --- | --- | --- |
| Centurion |   |   | Portsmouth DYd | 30.3.1890 | 3.8.1892 | 2.1894 | sold for BU 7.1910 |
| Barfleur |   |   | Chatham DYd | 12.10.1890 | 10.8.1892 | 6.1894 | sold for BU 7.1910 |
Technical data
Displacement normal, t

10500

Displacement full, t
 
Length, m

109.7 pp

Breadth, m

21.3

Draught, m

7.77

No of shafts

2

Machinery

2 3-cyl VTE, 8 cylindrical boilers

Power, h. p.

natural draught: 9000

forced draught: 13000

Max speed, kts

natural draught: 17

forced draught: 18.5

Fuel, t

coal 1125

Endurance, nm(kts)

9700(10)

Armour, mm

compound, nickel steel, Harvey nickel steel; belt (compound): 305 - 229, bulkheads (compound): 203, upper belt (Harvey NS): 102, gun houses (Harvey NS): 152, barbettes (compound): 229 - 127, casemates (Harvey NS): 152, decks (NS): 64 - 51, CT (compound): 305

Armament

2 x 2 - 254/32 BL Mk III, 10 x 1 - 120/40 QF Mk I/II/III/IV, 8 x 1 - 57/40 6pdr Hotchkiss Mk I, 12 x 1 - 47/40 3pdr Hotchkiss Mk I, 7 - 450 TT (1 bow, 6 beam)

Complement

620
Graphics
Project history
2nd class battleships constructed for colonial service on China and Pacific stations. Virtually small editions of Royal Sovereign class, the reduction in size was mainly for economic reasons with regard to both construction and running costs. Designed with a shallow draught, for navigation on Chinese rivers, they shipped a comparatively light armament, had a high speed and a high endurance (6000 compared with 4700nm at 10kts with normal coal stowage) and were fitted with wood and copper sheathing for tropical service. Their value was limited as they could not face 1st class battleships, although they were fast enough to escape from them, but could be employed against slow armoured cruisers in existence at the time of their completion, in particular Russian cruiser stationed in the Far East.

Both ships were good steamers and good seaboats. Under natural draught Centurion made 17.5kts with 9703hp and Barfleur 17.1kts with 9934hp. Under forced draught they made circa 18.5kts with 13214hp and 13163hp respectively. Forced draught in these and other ships was subsequently discontinued as it caused damage to boilers, greatly increased maintenance requirements and reduced efficiency.
Ship protection
Armour was disposed as in Royal Sovereign. The main belt was 61m long by 2.3m deep with 1.5m below the waterline, 305mm amidships reducing to 254mm fore and aft and 229mm at the ends. The main belt was closed by 203mm bulkheads, the upper belt by 76mm bulkheads. Barbettes were 229mm above the upper belt and 203-127mm behind it. Decks were 51mm over the belt and 64mm fore and aft of it. The main armament was provided with all round loading, allowing the use of circular barbettes of less weight than the pear shape previously used. The gun mechanism and crew were more exposed than in earlier ships, and a revolving, armoured hood with an open back, was fitted over the barbette, this being the origin of the armoured gun houses of later ships, which were soon become generally and incorrectly referred to as turrets. The upper belt, gun houses and casemates were of Harvey nickel steel, and the protective deck of nickel steel, the remainder being compound armour.
Modernizations
(1901-1903), Centurion; (1902-1904), Barfleur: armoured 127mm Krupp steel casemates were fitted for secondary guns, foremast was replaced with a light signal mast, aft bridge was removed; - 10 x 1 - 120/40, 5 - 450 TT (1 bow, 4 beam); + 10 x 1 - 152/40 QF Mk I/II
Naval service
Centurion was placed in reserve in August 1905. In May 1907 she became s special service ship with reduced crew, was commissioned again in April 1909 but towed to Motherbank in June 1909. Barfleur was laid up in reserve since January 1905. She was recommissioned in March 1907 with nucleus crew but towed to Motherbank in June 1909.