Photo

Canada
Ships
| Name | No | Yard No | Builder | Laid down | Launched | Comp | Fate |
| --- | --- | --- | --- | --- | --- | --- | --- |
| Canada (ex-Almirante Latorre, ex-Libertad, ex-Valparaiso) | 28, 26, 01 | 845 | Armstrong, Newcastle, UK | 27.11.1911 | 17.11.1913 | 30.9.1915 | to Chile 4.1920 (Almirante Latorre) |
Technical data
| | |
| --- | --- |
| Displacement standard, t | 28000 |
| Displacement full, t | 32300 |
| Length, m | 190.5 pp 201.5 oa |
| Breadth, m | 28.0 |
| Draught, m | 8.70 mean 9.10 max |
| No of shafts | 4 |
| Machinery | 4 Brown-Curtis(HP) & Parsons(LP) steam turbines, 21 Yarrow boilers |
| Power, h. p. | 37000 |
| Max speed, kts | 22.7 |
| Fuel, t | coal 3300 + oil 520 |
| Endurance, nm(kts) | 4400(10) |
| Armour, mm | belt: 229 amidships and 152 - 102 at the ends, upper belt: 178 - 114, bulkheads: 114 - 76, deck: 25 + 37, barbettes: 254 - 102, turrets: 254 - 102, casemates: 152, CT: 279, decks: 102 - 25 |
| Armament | 5 x 2 - 356/45 BL Mk I, 16 x 1 - 152/50 BL Mk XVII, 2 x 1 - 76/45 20cwt QF Mk I, 4 x 1 - 47/40 3pdr Hotchkiss Mk I, 4 - 533 TT (beam, 20) |
| Complement | 1167 |
Standard scale images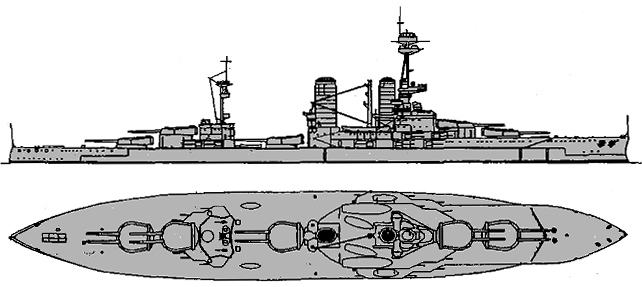 Canada 1916

Canada 1919
Graphics
Project history
The Chilean Navy's response to the Argentine and Brazilian battleships of 1910-11 was typically forthright: two much larger and altogether more powerful ships were ordered in Britain, armed with 356mm guns. Almirante LatorreAlmiranle Lalorre was afloat and well advanced in August 1914, but her sister Almirante Cochrane was still on the stocks. As Chile was a friendly neutral and supplier of nitrates vital to the munitions industry there could be no question of seizure, and Almirante Latorre was formerly purchased on 9 September 1914. Work was suspended on her sister, which was complete up to the forecastle deck, with her boilers and engines installed and plated over but side armour not yet in place. Although suspended, her 356mm guns were completed and put into reserve for her sister. She was formally taken over on 28 February 1918 for conversion to an aircraft carrier and renamed Eagle. The design was essentially similar to Iron Duke but longer, with a shorter forecastle but a much longer quarterdeck. As they were intended to be fast the engine and boiler rooms occupied more space than in Erin or her British contemporaries. Although having the same freeboard as Iron Duke class the Canada's massive funnels and tall tripod seemed to make her lower in the water, particularly forward. During completion the funnels were reduced in height and a single pole mast was stepped on the after superstructure. Like the other two purchased battleships she had a 'plough' bow.
Ship protection
Narrow 229mm belt covered space between end turrets, further it was consecutive become thinner to 152 and 102mm and, not reaching ship ends, was closed by 102mm bulkheads. If the ship was fully loaded the belt was completely under water. Over the main belt the upper 178mm belt was placed (114mm by upper edge), extended to an upper deck. Main protective deck had 37mm thickness, above it the upper 25mm deck was placed, and out of citadel only lower armoured deck was available with 51(fwd) or 102mm (aft) thickness. Turrets had 254mm faces, 229mm sides and 51mm roofs.
Modernizations
1916: - 4 x 1 - 152/50

1918: + flying-off platforms on 'B' and 'X' turrets
Naval service
In 1919-20 Canada was refitted to Devonport and returned to Chile in April 1920 under her original name.

Many thanks to Wolfgang Stöhr for additional information on this page.