Photo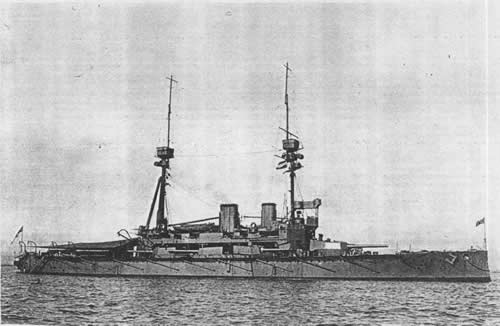 Agamemnon 1908
Ships
| Name | No | Yard No | Builder | Laid down | Launched | Comp | Fate |
| --- | --- | --- | --- | --- | --- | --- | --- |
| Agamemnon | 01, 03 | 484 | Beardmore, Dalmuir | 15.5.1905 | 23.6.1906 | 6.1908 | target ship 4.1921, sold 1.1927 |
| Lord Nelson | 04, 82 | 783 | Palmers, Jarrow | 18.5.1905 | 4.9.1906 | 10.1908 | sold 6.1920 |
Technical data
Displacement normal, t

Lord Nelson: 16090

Agamemnon: 15925

Displacement full, t

Lord Nelson: 17820

Agamemnon: 17683

Length, m

135.2 oa 125.0 pp

Breadth, m

24.2

Draught, m

7.92

No of shafts

2

Machinery

Lord Nelson: 2 4-cyl VTE, 15 Babcock boilers

Agamemnon: 2 4-cyl VTE, 15 Yarrow boilers

Power, h. p.

16750

Max speed, kts

18

Fuel, t

coal 2000 + oil 400

Endurance, nm(kts)
9180(10)
Armour, mm

belt: 305 - 203, upper belt: 203 - 102, citadel: 203, bulkhead: 203, citadel: 203, main turrets: 305, main barbettes: 305, secondary turrets: 203 - 178, deck: 102 - 25, CT: 305

Armament

2 x 2 - 305/45 BL Mk X, 4 x 2 - 234/50 BL Mk XI, 2 x 1 - 234/50 BL Mk XI, 24 x 1 - 76/50 12pdr 18cwt QF Mk I, 2 x 1 - 47/40 3pdr Hotchkiss Mk I, 5 - 450 TT (4 beam, 1 bow)

Complement

800
Graphics
Project history
Last British classic battleships and second British semi-dreadnoughts with mighty secondary armament, provided under 1904-05 Estimates. Designed displacement was 16500t. The progress towards a heavier armament, first seen in King Edward VII, was taken a stage further in this design: all 152mm guns were abandoned in favour of a complete secondary 234mm battery. All these guns were mounted in turrets, thus disposing of the unsatisfactory main deck batteries which, despite their limitations, had been repeated in every class since the Royal Sovereign. The only other gun armament was 76mm for torpedo boat defence, and these were mounted on a flying deck over a midship structure reminiscent of Reed`s turret ships. Owing to the limited space for shrouds, a tripod mainmast was adopted. Ships were slightly heavier than the King Edward VIIs but docking restrictions required that their length be limited, so beam and draught were increased, and a squarer hull form amidships allowed some fining of the lines fore and aft. This form of the hull was very successful, both battleships easily achieved contract 18kts speed, had exceptional manoeuvrability and were good artillery platforms and seaboats. 80% of side area was protected by armor. Main lack of idea of battleship with powerful secondary caliber were problems with fire control: splashes of 12`` and 9.2`` shells were similar. In the long term they were not successful ships because of this fire control problem. 305mm guns and mountings originally ordered for this pair were employed in the Dreadnought and their completion was delayed while new guns were manufactured.
Protection
The waterline belt extended over the full length of the hull and was 305mm amidships reducing to 229mm and 152mm forward and 102mm aft. The upper belt extended from the stem to the after barbette only, and was 203mm amidships reducing to 152mm and 102mm forward and closed by an 203mm bulkhead at the after end. Between the upper belt and upper deck the bases of the 234mm mountings were protected by a citadel of uniform 203mm armour extending from the forward to the aft barbette. There was a main protective deck over the full length, 25mm on the flat and 51mm on the slope, increasing to 102mm over main magazines forward and aft of the barbettes and 76-51mm over the steering gear. The main deck forward of the citadel was 38mm. The barbettes reduced to 76mm within the citadel and 203-76mm behind the belt. Main gun houses had 203mm walls with a 305mm face; the 234mm gun houses had 178mm walls, an 203mm face and 152mm bases.
Modernizations
1917, both: height of funnels increased.
Naval service
Agamemnon took part in all bombardments of Turkish fortresses in Dardanelles in spring 1916 and was struck by more than 50 projectiles, including 14`` stone shot. Agamemnon used as the radio-controlled target-ship from April 1923. In December 1926 she was sold and replaced by former battleship Centurion.

Many thanks to Wolfgang Stöhr for additional information on this page.