Photo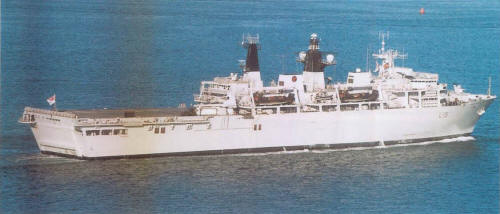 Bulwark 2007
Ships
| Name | No | Yard No | Builder | Laid down | Launched | Comp | Fate |
| --- | --- | --- | --- | --- | --- | --- | --- |
| Albion | L14 |   | VSEL, Barrow-in-Furness | 22.5.1998 | 9.3.2001 | 19.6.2003 | in service (2019) |
| Bulwark | L15 |   | VSEL, Barrow-in-Furness | 27.1.2000 | 15.11.2001 | 28.4.2005 | in service (2019) |
Technical data
| | |
| --- | --- |
| Displacement standard, t | 14600 |
| Displacement full, t | 18500 |
| Length, m | 162.0 pp 176.0 oa |
| Breadth, m | 25.6 wl 28.9 max |
| Draught, m | 7.20 |
| No of shafts | 2 |
| Machinery | 2 Wärtsilä-Vasa 16V32E diesel-generators + 2 Wärtsilä-Vasa 4R32E diesel-generators, 2 electric motors |
| Power, h. p. | 16320 |
| Max speed, kts | 18 |
| Fuel, t | diesel oil |
| Endurance, nm(kts) | 8000(15) |
| Armament | 2 x 7 - 30/77 Goalkeeper, 2 x 1 - 20/85 GAM-B01, 4 x 1 - 7.6/90, 4 helicopters (Sea King or Merlin) |
| Military load | 4 LCU Mk 10 or 2 LCAC, 4 LCVP Mk 5, 70 vehicles, 305 troops, 30t cargo |
| Electronic equipment | 2x type 1007, type 1008, type 996(2), 2x Goalkeeper radars, UAT(4) ECM suite, 8x DLJ(2) Sea Gnat decoy RL, type 2170 torpedo decoy, ADAWS 2000 Mod.1 CCS |
| Complement | 325 |
Standard scale images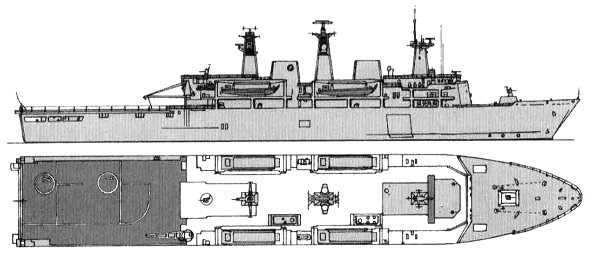 Albion 2010
Graphics
Project history
Were originally to have been ordered in 1988 to replace Intrepid and Fearless. The construction contract was awarded in 1996 after prolonged negotiations with the only bidder. Much of the prefabrication work for L15 was performed at the former Kvaerner yard at Govan.

Have two flight deck spots for Merlin-sized helicopters, four LCU Mk 10 landing craft (or two USN LCAC) in floodable well deck, and four LCVP Mk 5 landing craft in davits. When fully flooded, the docking well has 3m of water above the deck. An 11.8m side ramp is fitted to starboard forward, and there is a small door on either beam amidships for cargo pallet loading and offloading. The 17.2m-wide stern door articulates to form a 7.5m-wide by 10.5m-long vehicle ramp. Vehicle cargo capacity (twice that of Fearless) is 6 Challenger 2 main battle tanks or 16 2t trucks, 36 smaller vehicles, and 30t of stores. There are 550 linear meters of vehicle parking space, with MacGregor hoistable internal vehicle ramps from the lower vehicle deck to the upper deck aft and between the lower and mezzanine decks forward and amidships.

The hull form is adapted from that of modern commercial vehicle/passenger ferries and incorporates a bow bulb; its structure exceeds naval strength standards. A computerized ballasting system preserves trim while loading and unloading.
Modernizations 7.
2017, Albion: - 2 x 7 - 30/77, type 996(2), 2x Goalkeeper radars, ADAWS 2000 Mod.1 CCS; + 2 x 6 - 20/76 Phalanx Mk 15 Block 1B, type 997, 2x Mk 90 radars, CMS-1 CCS
Naval service
No significant events.