Photo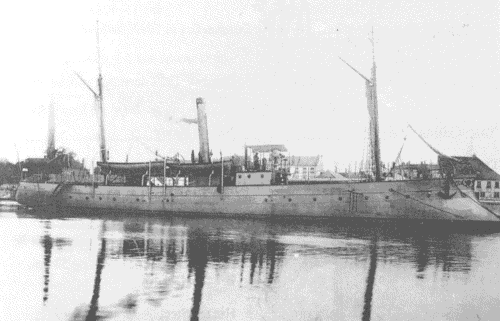 Ayintab during fitting out
Ships
| Name | No | Yard No | Builder | Laid down | Launched | Comp | Fate |
| --- | --- | --- | --- | --- | --- | --- | --- |
| Taşköprü |   |   | Schneider, Châlons-sur-Saone, France | 1907 | 1907 | 1908 | sunk 10.12.1915 |
| Nevşehir |   |   | Schneider, Châlons-sur-Saone, France | 1907 | 1908 | 1908 | sunk 30.1.1915 |
| Gökçedağ |   |   | Schneider, Châlons-sur-Saone, France | 1907 | 1907 | 1908 | sunk 7.1.1912 |
| Refahiye |   |   | Schneider, Châlons-sur-Saone, France | 1907 | 1907 | 1908 | sunk 7.1.1912 |
| Ayintab |   |   | A C de la Loire, Nantes, France | 1907 | 1907 | 1/1908 | sunk 7.1.1912 |
| Malatya |   |   | A C de la Loire, Nantes, France | 1907 | 1907 | 1/1908 | damaged 17.9.1916, never repaired |
| Seddülbahir |   |   | A C de la Loire, Nantes, France | 1907 | 1907 | 2/1908 | sunk 10.11.1912 |
| Ordu |   |   | A C de la Loire, Nantes, France | 1907 | 1907 | 2/1908 | sunk 7.1.1912 |
| Bafra |   |   | A C de la Loire, Nantes, France | 1907 | 1907 | 1/1908 | sunk 7.1.1912 |
Technical data
Displacement normal, t

Taşköprü, Nevşehir, Gökçedağ, Refahiye: 213

Ayintab, Malatya, Seddülbahir, Ordu, Bafra: 192

Displacement full, t

Taşköprü, Nevşehir, Gökçedağ, Refahiye: 315

Ayintab, Malatya, Seddülbahir, Ordu, Bafra: 309

Length, m

47.0 oa 45.0 pp

Breadth, m

6.20

Draught, m

1.90

No of shafts

1

Machinery

1 VTE, 1 Scotch boiler

Power, h. p.
480
Max speed, kts

12

Fuel, t

coal 44

Endurance, nm(kts)
 
Armament

2 x 1 - 47/50 M1902, 2 x 1 - 7.7/80, 1 x 1 - 450 TT

Complement
47
Standard scale images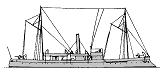 Malatya 1912
Graphics
Project history
A total of 8 gunboats built for coast guard work, suppression of piracy and smuggling and settlement of various disputes along the Turkish coasts in the Red Sea and the Persian Gulf. They had two masts rigged, carrying a 205m2 sail area. The 3pdrs (usually only 2 mounted instead of 3 planned), were placed one forward, one aft and the TT was a turntable mounting on the deck, forward of the superstructure.
Modernizations
1908, all: - 1 x 1 - 450 TT

1915, both survived: - 1 x 1 - 47/50
Naval service
Gökçedağ, Refahiye, Ayintab, Ordu, Bafra were sunk 7.1.1912 in the Red Sea action at Kunfuda, Asir, Arabia by the Italian light cruisers Piemonte, Puglia and Liguria and destroyers Artigliere and Garibaldino. Taşköprü was sunk by Russian destroyers at Kefken Ada 10.12.1915. Nevşehir was sunk by Turkish mine near Bosporus 30.1.1915. Malatya 17.9.1916 was damaged by Russian mine 17.9.1916 E of Karaburnu (Black Sea), towed to Istanbul but never repaired and was used as accommodation hulk. Seddülbahir was sunk 10.11.1912 by Greek TB at Aivala, N of Smyrna.