Photo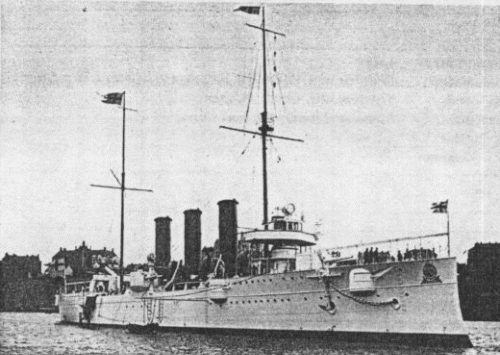 Fylgia 1907
Ships
| Name | No | Yard No | Builder | Laid down | Launched | Comp | Fate |
| --- | --- | --- | --- | --- | --- | --- | --- |
| Fylgia |   |   | Finnboda, Stockholm Bergsund | 10.1903 | 21.12.1905 | 21.6.1907 | stricken 1.1953 |
Technical data
Data variant
as completed
1941 modernization
Displacement standard, t
---

4240

Displacement normal, t

4310

Displacement full, t

4734

4980

Length, m

115.1 wl

115.1 wl 117.3 oa

Breadth, m

14.8

14.8

Draught, m

6.30 max

6.10 max

No of shafts

2

2

Machinery

2 4-cyl. VTE, 12 Yarrow boilers

2 4-cyl. VTE, 4 Penhoët boilers

Power, h. p.

12000

13000

Max speed, kts

21.5

23.5

Fuel, t

coal 850

oil 500

Endurance, nm(kts)
 
5770(10)
Armour, mm

belt: 100, deck: 35 - 22 with 50mm slopes, turrets: 125 (face) - 50, ammunition hosts: 100, CT: 100

belt: 100, deck: 35 - 22 with 50mm slopes, turrets: 125 (face) - 50, ammunition hosts: 100, CT: 100

Armament

4 x 2 - 152/49 K/50 M1903, 14 x 1 - 57/50 K/55 M1889B, 2 - 450 TT (beam)

4 x 2 - 152/49 K/50 M03, 4 x 1 - 57/50 K/55 M89B, 2 x 2 - 40/56 K/60 M32, 1 x 2 - 25/55 K/58 M32, 1 x 1 - 20/63 K/66 M40, 2 x 1 - 533 TT, 2 DCR

Complement

320

322
Standard scale images

Fylgia 1910

Fylgia 1940
Graphics
Project history
Fylgia became the first rigorous cruiser of Swedish Navy. According to management plans this ship should play a role of a scout at the main forces, and also of leader of torpedo boat flotillas in torpedo attacks. Swedish designers have not gone on a way of loan of foreign experience as in a case with destroyers and torpedo boats and have prepared own original enough design for time. Its main feature became an arrangement of all main artillery in twin turrets and armoured belt protecting boiler and engine rooms. So Fylgia was one of the smallest armoured cruisers in the world. The order has been given out 14.10.1902. As a whole Swedes valued the ship as successful despite mediocre 21.5kts.
Protection
100mm belt protected machinery spaces, its lower edge was connected by 50mm main deck slopes, flat part of main deck had 22mm thickness behind the belt. Main deck outside citadel had 35mm thickness and turtleback form. Turrets had 125mm faces and 50mm sides. Ammunition hoists had 100mm protection.
Modernizations
(1939-1941, Oscarshamn SYd): ship was rebuilt as TS. Boilers were replaced by 4 Penhoët oil-burning, boiler room No1 was rebuilt as accommodations for cadets, funnel No1 was removed, other funnels were shortened. Fwd superstructure was redesigned, bow received cruiser stem, length of the ship increased. Armament was modernized. Data was as given in the table.
Naval service
Fylgia was used as target after being stricken until 1957.