NAVYPEDIA Support the project with paypal
Photo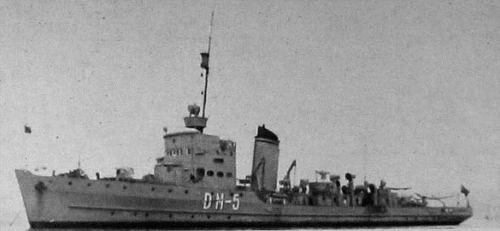 Guadalete 1953
Ships
| Name | No | Yard No | Builder | Laid down | Launched | Comp | Fate |
| --- | --- | --- | --- | --- | --- | --- | --- |
| Bidasoa | M01 |   | SECN, Cartagena | 12/1942 | 15.9.1943 | 4.1946 | stricken 11.1973 |
| Nervión | M02 |   | SECN, Cartagena | 12/1942 | 15.4.1944 | 9.1946 | stricken 7.1972 |
| Lérez | M03 |   | SECN, Cartagena | 12/1942 | 21.12.1944 | 2.1947 | stricken 6.1971 |
| Tambre | M04 |   | SECN, Cartagena | 6/1943 | 18.10.1944 | 8.1946 | stricken 5.1973 |
| Guadalete |   |   | SECN, Cartagena | 6/1943 | 18.10.1944 | 12.1946 | foundered 25.3.1954 |
| Segura | M05 |   | SECN, Cartagena | 5/1946 | 6.10.1948 | 12.1949 | stricken 11.1973 |
| Ter | M06 |   | SECN, Cartagena | 5/1946 | 18.2.1948 | 7.1948 | stricken 10.1972 |
Technical data
| | |
| --- | --- |
| Displacement standard, t | 585 |
| Displacement full, t | 748 |
| Length, m | 57.6 pp 61.9 oa |
| Breadth, m | 8.50 |
| Draught, m | 2.64 |
| No of shafts | 2 |
| Machinery | 2 VTE with exhaust steam turbines, 2 boilers |
| Power, h. p. | 2400 |
| Max speed, kts | 16.5 |
| Fuel, t | coal 150 |
| Endurance, nm(kts) | 3000(10) |
| Armament | 1 x 1 - 88/45 MPLC/30 or 1 x 1 - 102/45 Vickers Mk LA, 1 x 1 - 37/83 Ein LC/34, 2 x 1 - 20/65 L/30, 2 DCR(12), mechanical minesweeping gear |
| Complement | 90 |
Standard scale images

Bidasoa 1965
Bidasoa 1954
Graphics
Project history
Built under drawings of German minesweepers of M1940 type, gained in 1940. Modified Spanish design was designated as No6 or DG-41m. Ships were ordered 30.5.1941. They differed by poor construction quality and bad seaworthiness, really they were outfitted till mid-1950s. Partly ships received old Spanish 102mm/45 guns removed from stricken ships. Whereas Germans till 1945 had not time to deliver modern sweeps to Spain, Bidasoa class ships practically had no possibilities on sweeping non-contact mines. They were used basically as patrols.
Modernizations
1960s, all survived: presumably + radar
Naval service
Guadalete was foundered during a storm at Ceuta 25.3.1954.
© 2007-2022 - navypedia.org