NAVYPEDIA Support the project with paypal
Photo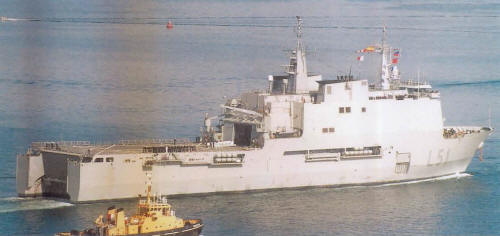 Galicia 2007
Ships
| Name | No | Yard No | Builder | Laid down | Launched | Comm | Fate |
| --- | --- | --- | --- | --- | --- | --- | --- |
| Galicia | L51 |   | Bazán, Ferrol | 31.5.1996 | 21.7.1997 | 30.4.1998 | in service (2019) |
| Castilla | L52 |   | Bazán, Ferrol | 11.12.1997 | 14.6.1999 | 26.6.2000 | in service (2019) |
Technical data
Displacement standard, t

10850

Displacement full, t

13800

Length, m

142.2 pp 163.1 oa

Breadth, m

23.3 wl 25.0 oa

Draught, m

5.23 hull 5.90 propellers

No of shafts

2

Machinery

4 Bazán-Caterpillar 3612 diesels

Power, h. p.

21800

Max speed, kts

20

Fuel, t

diesel oil 800 + aviation fuel 200 + fuel for landing craft 50

Endurance, nm(kts)

6000(12)

Armament

1 x 12 - 20/120 Meroka Mod. 2B (fitted for), 2 x 1 - 20/90 GAM-B01, 6 helicopters (6 AB-212 or 4 SH-3D/H Sea King)

Military load

L51: 4 LCM or 2 LCAC, 2490t of vehicles or 33 tanks, 543 troops

L52: 4 LCM or 2 LCAC, 2490t of vehicles or 33 tanks, 404 troops + 65 HQ personnel

Electronic equipment

L51: 2x Kelvin Hughes, VPS-2 radars, Aldebaran ECM suite, 4x Mk 36 SRBOC decoy RL, SLQ-25 Nixie torpedo decoy, Tritan CCS

L52: TRS-3D 16, 2x Kelvin Hughes, VPS-2 radars, Aldebaran ECM suite, 4x Mk 36 SRBOC decoy RL, SLQ-25 Nixie torpedo decoy, Tritan, SICOA CCS

Complement

L51: 116

L52: 190
Standard scale images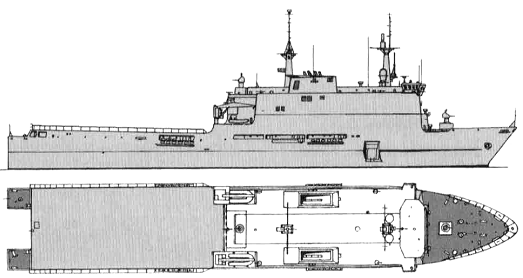 Galicia 2010 (as planned with 2 Meroka)
Graphics
Project history
Galicia ordered in 1994, approval to construct Castilla was granted by Council of Ministers in 1997. The design was prepared by Royal Schelde and Spain's lzar. Sister Rotterdam was built for Netherlands Navy service, and similar ships are on order for the UK, with others possibly to be ordered by Belgium and Germany. Castilla has enhanced command-and-control capabilities for service as an amphibious force flagship; this is to result in fewer troops but a larger staff being accommodated.

Built to merchant marine standards but have degaussing coils and a gas-tight citadel. The Spanish Navy version has straight diesel propulsion, whereas the Dutch version has a diesel-electric propulsion plant and different weapon and sensor systems. Galicia has accommodations for up to 127 ship's company. Have dual helicopter hangar (510 m² tot.) and two landing spots on 60x25m (1340m²) helicopter deck; can carry up to six helicopters in the hangars. Have 1010 m² internal vehicle parking space and can use 885m² docking well (55x16 m) for additional vehicles; further vehicles can be carried on the helicopter deck and in the helicopter hangar. Normal vehicle load expected to be five M60A3 tanks, three LVTP-7 amphibious armored personnel carriers, 10 trucks with trailers, 31 light vehicles with trailers, two ambulances, one crane, one push-truck, and one forklift; 33 M60 tanks alone could be carried. Maximum cargo is 2488 tons. Docking well to accommodate 4 LCM(8) landing craft (up to 347t) or up to 818t of vehicles. Carry 300t potable water. Ballast tanks (to flood down docking well) accommodate 4000t seawater. Troop cargo includes 400m³ total equipment stowage plus 30m³ (about 112t) ammunition storage. Hospital facilities in Galicia include two operating rooms, 100 beds, and 10 intensive-care berths.

Have an infrared surveillance system and some form of combat data system. To permit use as secondary ASW platforms, are equipped with a sonobuoy and weapons storage compartment capable of accommodating 25t of stores. Castilla has the SICOA (sistema de mando y control para operaciones anfibias) command-and-control system and enhanced communications and support facilities for a 65-person Marine Corps staff (at the expense of some troop berthing) and an enhanced radar suite.
Modernizations
None.
Naval service
No significant events.
© 2007-2022 - navypedia.org