Photo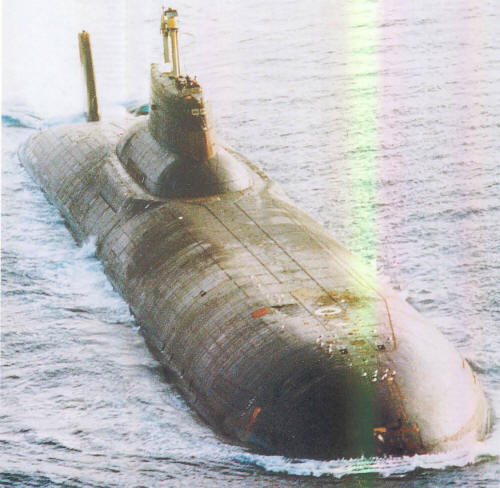 TK-20 1997
Ships
| Name | No | Yard No | Builder | Laid down | Launched | Comp | Fate |
| --- | --- | --- | --- | --- | --- | --- | --- |
| ТК-208 [TK-208] (ex-К-208 [K-208]), 10.2000- ТК-208 Дмитрий Донской [TK-208 Dmitriy Donskoy] | 824 | 711 | Northern Yd, Severodvinsk | 30.6.1976 | 27.9.1980 | 29.12.1981 | in service (2019) |
| ТК-202 [TK-202] |   | 712 | Northern Yd, Severodvinsk | 22.4.1978 | 23.9.1982 | 28.12.1983 | stricken 1999 |
| ТК-12 [TK-12] |   | 713 | Northern Yd, Severodvinsk | 19.4.1980 | 17.12.1983 | 26.12.1984 | stricken 2000 |
| ТК-13 [TK-13] |   | 724 | Northern Yd, Severodvinsk | 23.2.1982 | 30.4.1985 | 26.12.1985 | stricken 1998 |
| ТК-17 [TK-17], 11.2002- ТК-17 Архангельск [TK-17 Arkhangelsk] |   | 725 | Northern Yd, Severodvinsk | 9.8.1983 | 12.12.1986 | 15.12.1987 | for disposal 2015 |
| ТК-20 [TK-20], 6.2000- ТК-20 Северсталь [TK-20 Severstal'] |   | 727 | Northern Yd, Severodvinsk | 27.8.1985 | 11.4.1989 | 19.12.1989 | for disposal 2015 |
| ТК-210 [TK-210] |   | 728 | Northern Yd, Severodvinsk | 1986 | --- | --- | cancelled 1990 |
Technical data
Displacement standard, t

 

Displacement normal, t

23200 / 30460

Length, m

711-724: 170.0

725: 172.6

727, 728: 173.1

Breadth, m

23.3

Draught, m

11.5

No of shafts

2

Machinery

2 OK-9 geared steam turbines units, 2 OK-650M nuclear reactors

Power, h. p.

100000

Max speed, kts

13 / 27

Fuel, t

nuclear

Endurance, nm(kts)

practically unlimited

Armament

20 R-39 SLBM (20 R-39 (3M65)), 6 - 533 TT (bow, 22, inc. URPK-6 Vodopad-PL SSM/ASuM (83R, 84R)), RPK-2 Vyuga ASuM (81R), Shkval rocket torpedoes), 1 x 1 Igla-1 SAM (48 9M313)

Electronic equipment

711: MRKP-58 Radian radar, MGK-500 Skat-KS sonar suite, MG-519 Arfa, MG-512 Vint sonars, MRP-21A ECM suite, MG-74 Korund-2 decoys, MVU-132 Omnibus CCS

others: MRKP-59 Radian-U radar, MGK-540 Skat-3 sonar suite, MG-519 Arfa, MG-512 Vint sonars, MRP-21A ECM suite, MG-74 Korund-2 decoys, MVU-132 Omnibus CCS

Complement

163

Diving depth operational, m

380
Standard scale images

TK-208 1990
Graphics
Project history
This submarine, designed by Rubin, was intended for the final phase of a sustained nuclear war. It would go out to sea, dive under the ice, and remain on the bottom for a year, surviving during a nuclear exchange. It would then be available for a reprisal attack on a recovering enemy. Hence the enormous emphasis on habitability; the submarine is extraordinary roomy, with a sauna and even an aviary. However, the effective limit on crew endurance is 120 days.

The unique configuration consists of five cylinders, mostly wrapped in the outer hull: two main units running the length of the submarine; one forward for the TTs, the torpedoes (and tactical missiles) and the bow sonar sphere, one for command/control (under the sail); and one aft for steering. Each of the main hulls contains a 190mW reactor, a 50000shp turbine, and an 800kW diesel generator. Apparently it was impossible to obtain sufficient volume in a single-cylinder of practicable dimensions, and the missiles require such large hull penetrations that it would have been impossible to place two rows side-by-side in a conventional hull. Flat decking abeam the sail contains two crew escape modules.
Modernizations
2002, TK-208 Dmitriy Donskoy - under Project 941UM: - 2 R-39 SLBM, MGK-500 Skat-KS sonar, Omnibus CCS; + 2 R-30 Bulava SLBM (2 3M30)), MGK-520M Skat-2M sonar, Omnibus-U CCS
Naval service
No significant events.