Photo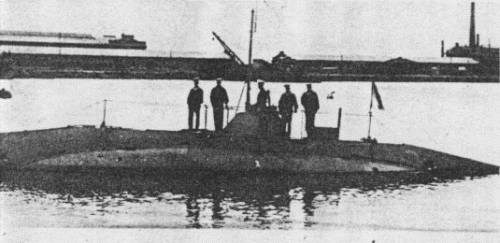 Peskar'
Ships
| Name | No | Yard No | Builder | Laid down | Launched | Comp | Fate |
| --- | --- | --- | --- | --- | --- | --- | --- |
| Сом [Som] (ex-Fulton) |   |   | Lewis Nixon, San Francisco, USA | 1901 | 15.6.1901 | 10/1904 | sunk 23.5.1916 |
| Щука [Shchuka] |   |   | Nevsky Wks, St. Petersburg | 5/1904 | 28.10.1904 | 6/1905 | captured by Germany 25.2.1918 |
| Пескарь [Peskar'] |   |   | Nevsky Wks, St. Petersburg // Libava N Yd | 5/1904 | 10/1905 | 6/1906 | captured by Germany 25.2.1918 |
| Стерлядь [Sterlyad'] |   |   | Nevsky Wks, St. Petersburg // Libava N Yd | 5/1904 | 1905 | 5/1906 | captured by Germany 25.2.1918 |
| Белуга [Beluga] |   |   | Nevsky Wks, St. Petersburg // Libava N Yd | 5/1904 | 10/1905 | 5/1906 | captured by Germany 25.2.1918 |
| Лосось [Losos'] |   |   | Nevsky Wks, St. Petersburg | 5/1904 | 9/1905 | 5/1906 | captured by Germany 1.5.1918 |
| Судак [Sudak] |   |   | Nevsky Wks, St. Petersburg | 1907 | 1907 | 1907 | captured by Germany 1.5.1918 |
Technical data
Displacement standard, t

 

Displacement normal, t

Som: 105 / 120

others: 105 / 124

Length, m

Som: 19.3

others: 19.8

Breadth, m

Som: 3.58

others: 3.60

Draught, m
2.90
No of shafts

1

Machinery

1 gasoline engine / 1 electric motor

Sudak: 1 diesel / 1 electric motor

Power, h. p.

160 / 70

Max speed, kts

8.5 / 6

Fuel, t

gasoline

Endurance, nm(kts)
430 - 500 (6) / 30 - 40 (4.5)
Armament

1 - 450 TT (bow, 3)

Complement
18 - 22
Diving depth operational, m

30 max
Standard scale images

Beluga 1906
Graphics
Project history
Six ordered under the 1904 Emergency Programme while Fulton was purchased a month later and delivered in sections to facilitate assembly of the whole series.
Modernizations
1910, Som, Shchuka, Peskar', Sterlyad', Losos': were re-engined with diesels

1910, Beluga: was re-engined with Körting gasoline engine

1915, Som, Shchuka, Peskar', Sterlyad', Beluga: + 1 x 1 - 37/20 Hotchkiss
Naval service
Only Som ('Sheath fish') and Shchuka were delivered by rail to Vladivostok in time and became operational in April and November 1905 respectively. The former boat was the most active submarine of the Siberian Flotilla as she covered over 1300 miles during her war patrols. Losos and Sudak transferred to the Black Sea in 1907, the others remained on the Baltic.

Som 23.5.1916 was rammed by Swedish s/s Ingermanland off Olandshaf (Alands) and lost with all hands. Shchuka, Peskar', Sterlyad' and Beluga were under repair at Revel in 1918 where they were sized by Germans 25.2.1918. Losos' and Sudak were captured at Sevastopol by Germans 1.5.1918, later re-captured by British-French troops and scuttled by them in 1919.