Photo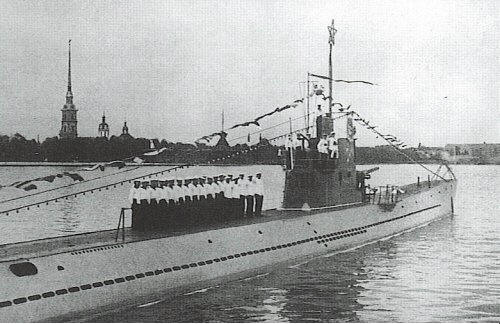 N-1
Ships
| Name | No | Yard No | Builder | Laid down | Launched | Comp | Fate |
| --- | --- | --- | --- | --- | --- | --- | --- |
| Н-1 [N-1], 10.1937- С-1 [S-1] |   | 266 | 189 Yd (Ordzhonikidze Yd), Leningrad | 12.1934 | 8.8.1935 | 9.1936 | scuttled 23.6.1941 |
| Н-2 [N-2], 10.1937- С-2 [S-2] |   | 267 | 189 Yd (Ordzhonikidze Yd), Leningrad | 12.1934 | 21.12.1935 | 9.1936 | sunk 3.1.1940 |
| С-3 [S-3] (ex-Н-3 [N-3]) |   | 268 | 189 Yd (Ordzhonikidze Yd), Leningrad | 4.1935 | 30.4.1936 | 7.1938 | sunk 24.6.1941 |
Technical data
Displacement standard, t

 

Displacement normal, t

840 / 1070

Length, m

77.8

Breadth, m

6.40

Draught, m

4.40

No of shafts

2

Machinery

N-1, 2: 2 MAN M6V49/48 diesels / 2 P72/35 electric motors

S-3: 2 1D diesels / 2 P72/35 electric motors

Power, h. p.

4000 / 1100

Max speed, kts

19.5 / 9

Fuel, t

diesel oil 100

Endurance, nm(kts)
7500(8.4) / 132(2.4)
Armament

1 x 1 - 100/49 B-24, 1 x 1 - 45/43 21K, 6 - 533 TT (4 bow, 2 stern, 12)

Electronic equipment
Merkuriy or Mars-A or Mars-DM or Mars-ShM hydrophone
Complement

45 - 46

Diving depth operational, m

75
Standard scale images

N-1 1936
Graphics
Project history
In the end of 1932 Soviet delegation visited German-Dutch "IvS" designing bureau, where it was informed about design of modern submarines, and in the next January Soviet representatives visited trials of Spanish submarine E1 (later sold to Turkey as Gür). The contract with Deschimag was signed in April, 1933 on working out of the design of new medium submarine. To the beginning of 1935 drawings were ready. A year later mass building of IX-bis series has begun. They were originally designated as N (Nemetsky [German]) class, since October, 1937 as S (Sredniy [Medium]) class. Saddle-tank hull, with mixed construction (riveted pressure hull and welded light hull). Maximal diving depth was 100m. S-1 and 2 received diesels made by MAN, S-3 had domestic-made supercharged engines. Fore gun on IX series boats took places behind a streamline shield. Since 1941 the CT on submarines was covered.
Modernizations
1940-1941, some presumably: - hydrophone; + Mars-12 hydrophone
Naval service
S-2 was lost 21.1.1940 during the Soviet-Finnish war, possibly on a mine off Alands or as a result of accident at ice navigation. S-1 on the night of 24.6.1941 was blown up at Libava. S-3 was sunk 24.6.1941 by German MTBs S35 and S60 off Vindava.