Photo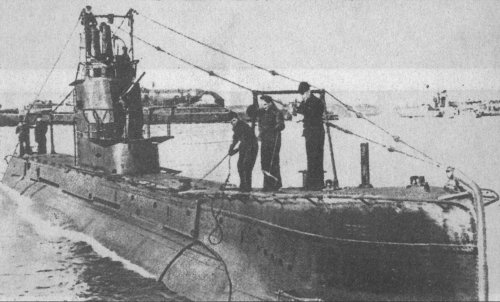 Shch-303 1943
Ships
| Name | No | Yard No | Builder | Laid down | Launched | Comp | Fate |
| --- | --- | --- | --- | --- | --- | --- | --- |
| Щука [Shchuka], 9.1934- Щ-301 [Shch-301] |   | 199 | 189 Yd (Ordzhonikidze Yd), Leningrad | 2.1930 | 1.12.1930 | 10.1933 | sunk 28.8.1941 |
| Окунь [Okun'], 9.1934- Щ-302 [Shch-302] |   | 200 | 189 Yd (Ordzhonikidze Yd), Leningrad | 2.1930 | 6.11.1931 | 10.1933 | sunk 11-14.11.1942 |
| Ёрш [Yorsh], 9.1934- Щ-303 [Shch-303], 6.1949- С-303 [S-303] |   | 201 | 189 Yd (Ordzhonikidze Yd), Leningrad | 2.1930 | 6.11.1931 | 11.1933 | stricken 9.1954 |
| Комсомолец [Komsomolets] (ex-Язь [Yaz'], ex-Ударник [Udarnik]), 9.1934- Щ-304 [Shch-304] |   | 550/1 | 112 Yd (Krasnoye Sormovo Yd), Gorkiy // 189 Yd (Ordzhonikidze Yd), Leningrad | 2.1930 | 2.5.1931 | 8.1934 | sunk 29.10.1942 |
Technical data
Displacement standard, t

 

Displacement normal, t

578 / 706

Length, m

57.0

Breadth, m

6.20

Draught, m

3.80 - 3.90

No of shafts

2

Machinery

Shchuka, Okun': 2 MAN 8V28/38 diesels / 2 PGV-8 electric motors

Yorsh, Komsomolets: 2 38B8 diesels / 2 PGV-8 electric motors

Power, h. p.

Shchuka, Okun': 1000 / 800

Yorsh, Komsomolets: 1370 / 800

Max speed, kts

Shchuka, Okun': 11.6 / 8.5

Yorsh, Komsomolets: 12.5 / 8.5

Fuel, t

diesel oil 52

Endurance, nm(kts)
3130(8.5) / 112(2.8)
Armament

1 x 1 - 45/43 21K, 6 - 533 TT (4 bow, 2 stern, 10)

Electronic equipment
Merkuriy or Mars-A or Mars-DM or Mars-ShM hydrophone
Complement

41

Diving depth operational, m

75
Standard scale images

Shch-301 1935
Graphics
Project history
Well-known "Shchukas" ("pikes"): the most mass series of Soviet WWII-era submarines. They were designed since 1928 as patrol small (later medium) submarines for Baltic. The big effect on the design was rendered by raised British submarine L55 from which there was borrowed architectural type: saddle-tank with bulge tanks, and a hull form. III series submarines differed by only one 45mm gun, all subsequent submarines received two, nevertheless, weakness of artillery armament during war remained one of the main lacks of the project.

Maximal diving depth for all series was 90m.
Modernizations
1939, Shch-304: - hydrophone; + Orion sonar

1940-1941, Shch-301, Shch-302, Shch-303: - hydrophone; + Mars-12 hydrophone

1944, Shch-303: + type 129 sonar
Naval service
Shch-301 was lost 28.8.1941 on a mine en route from Tallinn to Kronshtadt. Shch-302 was lost presumably 11-12.10.1942 on mines in Gulf of Finland or sunk 14.10.1942 by Finnish SB bomber at Porkkala-Udd. Shch-304 was lost after 29.10.1942 by unknown cause.