NAVYPEDIA Support the project with paypal
Photo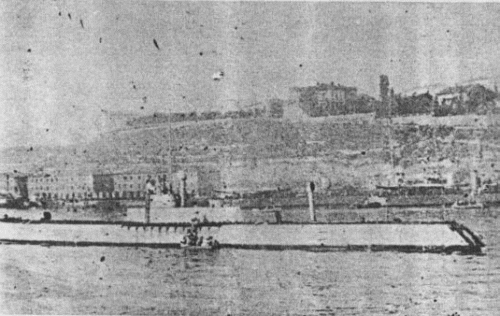 Krab
Ships
| Name | No | Yard No | Builder | Laid down | Launched | Comp | Fate |
| --- | --- | --- | --- | --- | --- | --- | --- |
| Краб [Krab] |   |   | Naval, Nikolayev | 12/1909 | 25.8.1912 | 7/1915 | captured by Germany 1.5.1918 |
Technical data
| | |
| --- | --- |
| Displacement standard, t |   |
| Displacement normal, t | 533 / 737 |
| Length, m | 52.8 |
| Breadth, m | 4.34 |
| Draught, m | 3.54 |
| No of shafts | 2 |
| Machinery | 4 gasoline engines / 2 electric motors |
| Power, h. p. | 1200 / 660 |
| Max speed, kts | 11.8 / 7.1 |
| Fuel, t | gasoline |
| Endurance, nm(kts) | 1700(8.6) / 82(4.1) |
| Armament | 1 x 1 - 37/20 Hotchkiss, 2 x 1 - 7.6/94, 2 - 450 TT (bow, 4), 60 mines |
| Complement | 53 |
| Diving depth operational, m | 37 |
Standard scale images

Krab 1915
Graphics
Project history
Naletov design, ordered in 1908 she was the world's first submarine minelayer but not being completed until July 1915 and was overtaken by the German UC-boats. Single hull type. The mines were stowed horizontally in two tubes within the hull casing and were moved aft by electrically-powered chain conveyor.
Modernizations
1916: - 1 x 1 - 37/20; + 1 x 1 - 75/48 Canet
Naval service
On her first war cruise she sailed under commercial colours, laying a minefield off the Bosphorus in which the Turkish gunboat Isa Reis was damaged. She participated in a second mining of the Bosphorus in 1916 and later in that year laid a minefield off Varna which cost the Bulgarians the torpedo-boat Shumni lost and Strogi damaged. She was seized by the Germans 1.5.1918 and surrendered by them to the British in November. Scuttled off Sevastopol to avoid capture by the Reds. The wreck was raised in 1935 and scrapped.
© 2007-2022 - navypedia.org